A Michigan Vintage Fall Farmhouse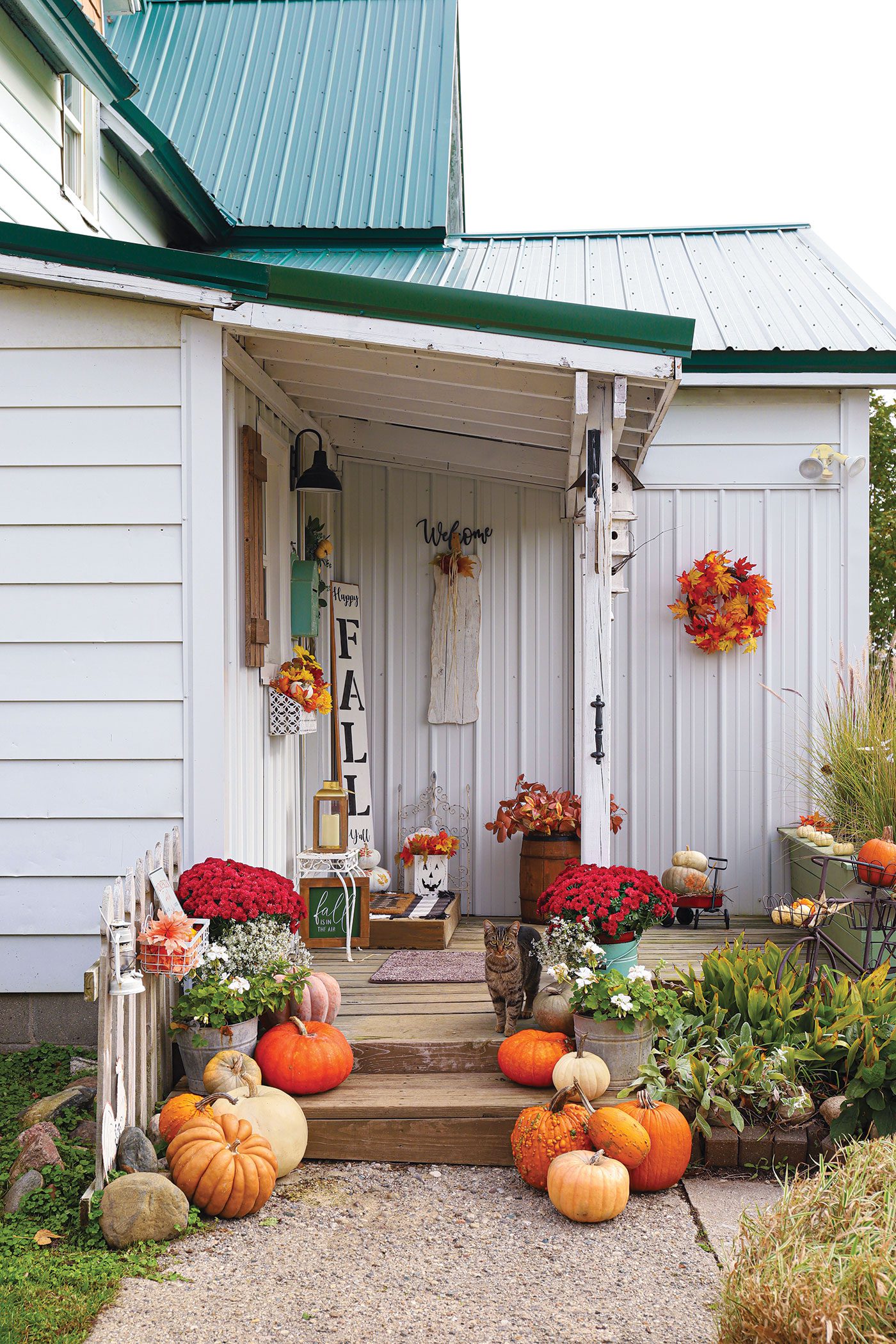 DIY projects, natural elements and old treasures bring a neutral, vintage-inspired fall look to this 1880s farmhouse in Michigan.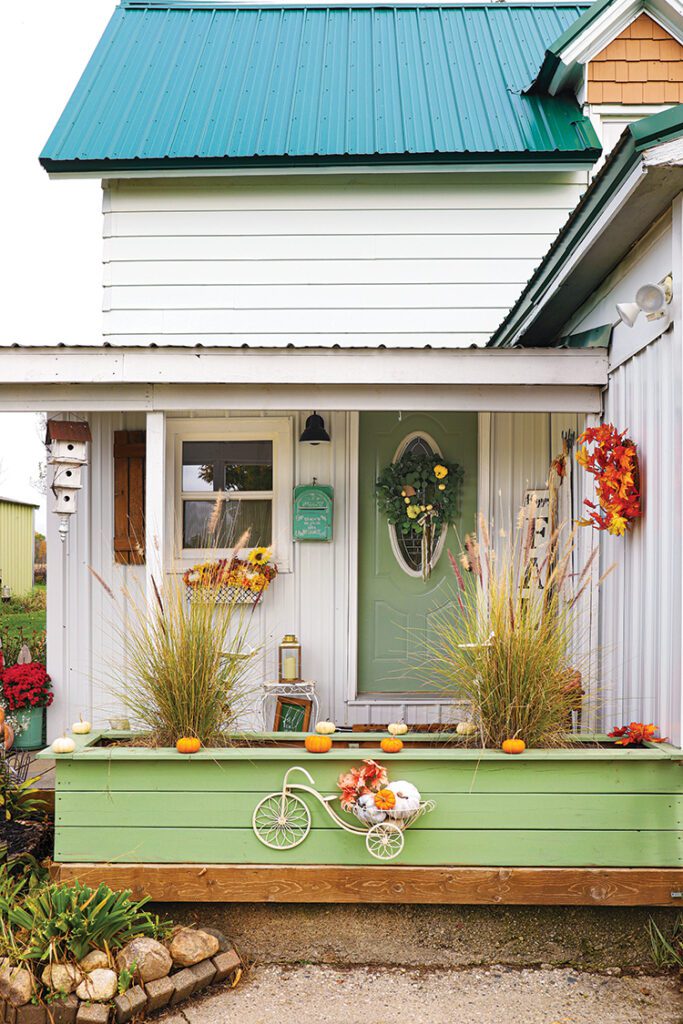 Old homes have a way of capturing our hearts and transporting us back to a simple life. Vintage furniture and décor can do the same, which is why Instagrammer Corine Mapes of @junk_gems prefers old treasures to new items. "I don't really buy anything new," she says. "And if I do like something new, my husband, Phil, and I will just make it."
Since they now live in an 1889 farmhouse in Carson City, Michigan, Corine decorates her home seasonally in a way that honors its age, using vintage treasures, plenty of texture and natural accents to evoke the feeling of fall.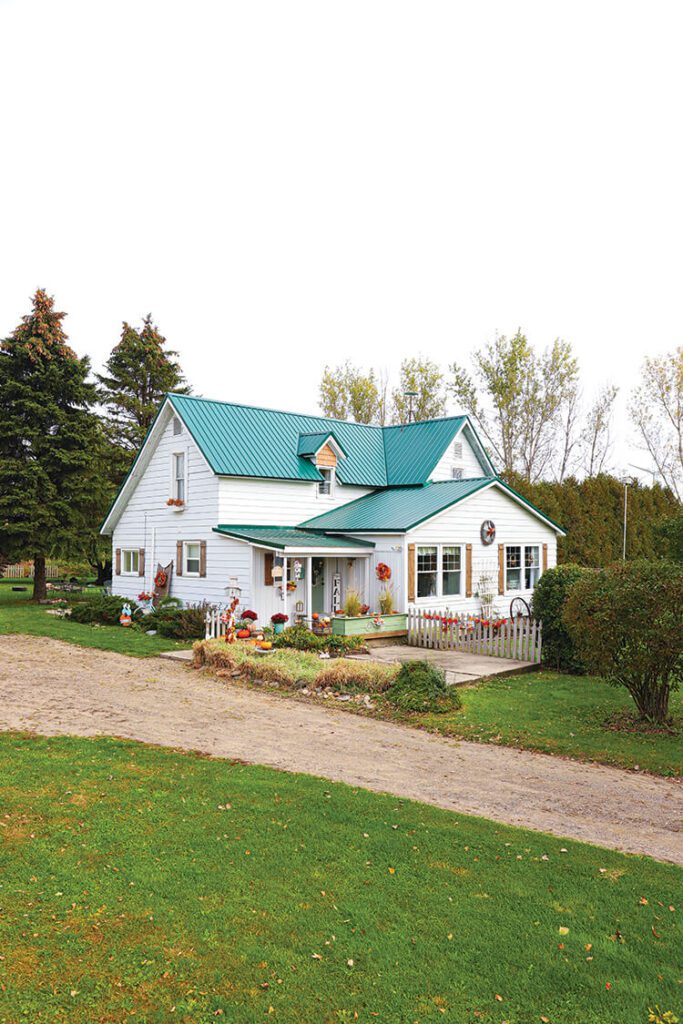 History Reimagined
Corine and her family were going through a tough time when they happened upon this property. "We sold our house in two days, and this one fell into our hands," she says.
Though the home wasn't in the best condition when they bought it, they saw it as an opportunity to get their hands dirty and turn this property back into the charming farmhouse of its time. "My husband is a builder, so we were able to do a lot of the work ourselves," Corine says. "When we bought it, the house had been abandoned for years. It was dark, dreary and raccoon infested. But it just felt like home for some reason."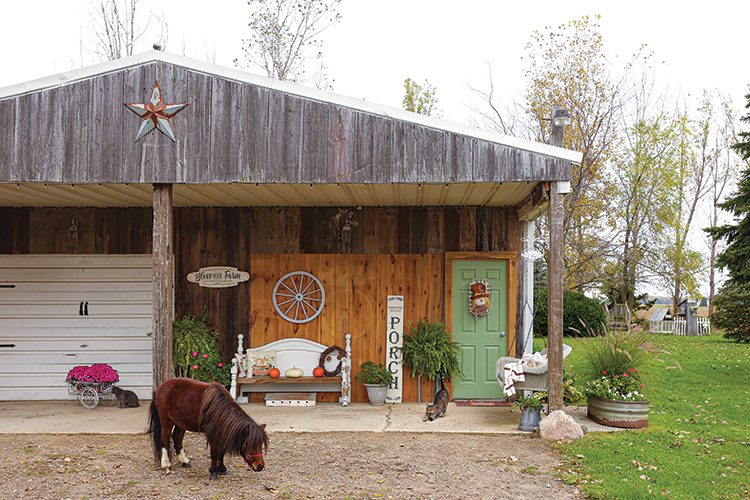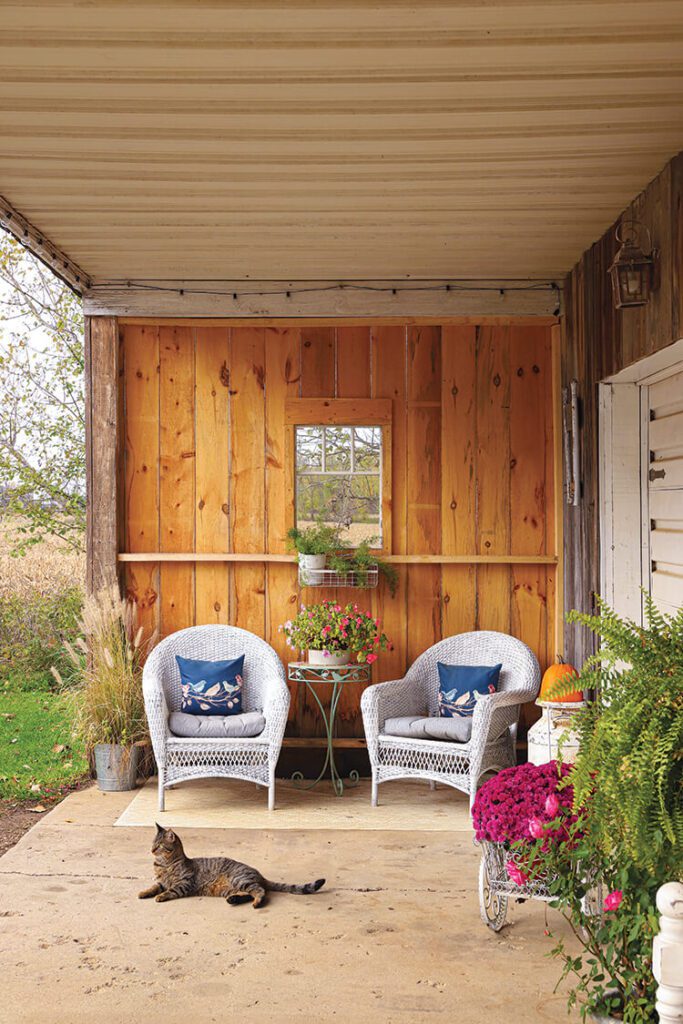 Previous owners had increased the home's footprint to make it livable. "When the house was built, it was just the bedroom," says Corine. "Through the years, people built additions. The last addition was the living room in 1990." Corine and Phil have worked for the last four years to bring back the home's original character, including replacing the floors, gutting the kitchen and adding shiplap to the walls.
Natural and Neutral in the Vintage Michigan Fall Farmhouse
Corine has furnished the home with vintage décor, in keeping with the home's history. For fall, she prefers a neutral palette and a natural aesthetic to complement her vintage style. "I like to go neutral on my walls and with my furniture and add in pops of color with accessories like planters, pillows and vases," she says. "It changes for every season, but for fall, I like white, brown and beige."
The foundation of Corine's décor is built upon repurposed items, such as architectural salvage and wood scraps, as well as thrift store and flea market finds. Corine decorates with natural elements on top of that. "We have a large garden every year and grow all our pumpkins," she says. "I also cut hydrangeas and leaves from our yard."
Mixing in these elements with her vintage finds is an effective and budget-friendly way to make their home cozy for the season. She places dried flowers in vintage baskets, displays pumpkins in cubby holes and drapes garlands along her mantel or hangs them from the ladder in her kitchen. The overall look is simple, yet effective in bringing a vintage-inspired fall look to the old farmhouse.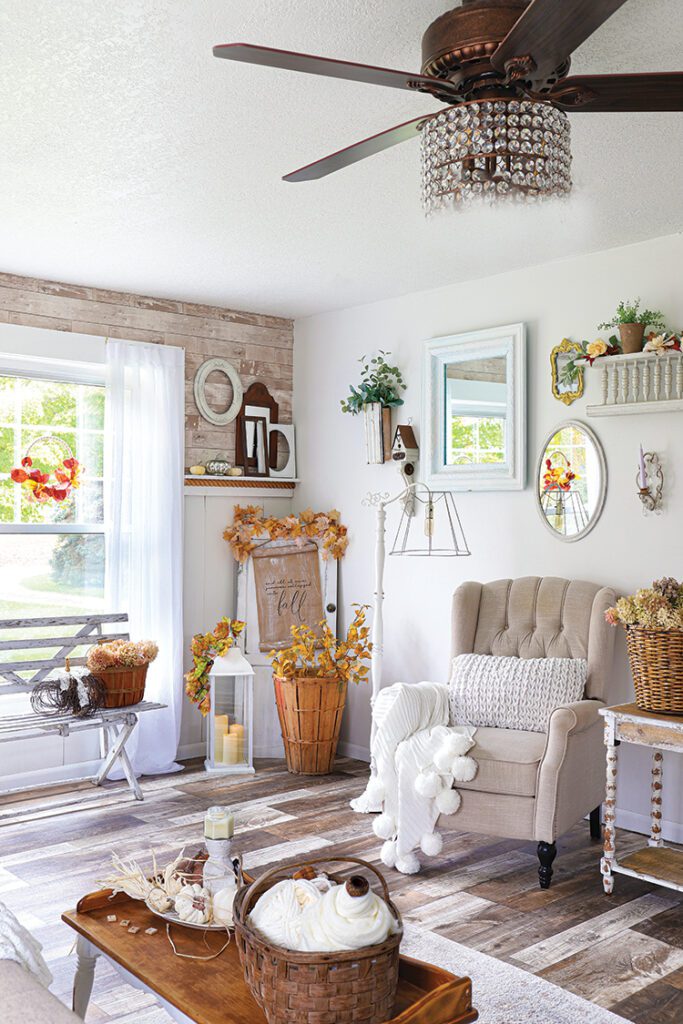 3 Tips for A Vintage-Inspired Fall Aesthetic
Need help pairing fall décor with your favorite vintage finds?
Here are a few tips to keep your home looking cohesive and cozy for the season.
Bring out fall-specific vintage. Your year-round vintage pieces are the foundation on which to build fall décor. But think about which vintage treasures are fall specific. "When fall is arriving, I bring out my amber bottles to decorate my fireplace mantel," says Corine. "I add vintage baskets for texture, bring out my collected copper pieces, switch out my summer art for fall art and light candles for extra cozy spaces."
Keep it natural. Another great way to add a fall feel to your home is to think outside the box—literally. Go outside and gather what you can from your backyard or garden. "Keeping your fall décor natural complements your vintage items," says Corine. She grows orange and white pumpkins every year to include in her décor. She'll also gather and dry hydrangeas, leaves, corn stalks and wheat to put in vases and baskets or hang from lighting.
Add fabric for soft texture. Not every piece in your home has to be vintage. Add textured blankets and pillows with fall colors for a cozy look. "I bring out my green velvet throw pillows and mix them with sweater pillows," says Corine.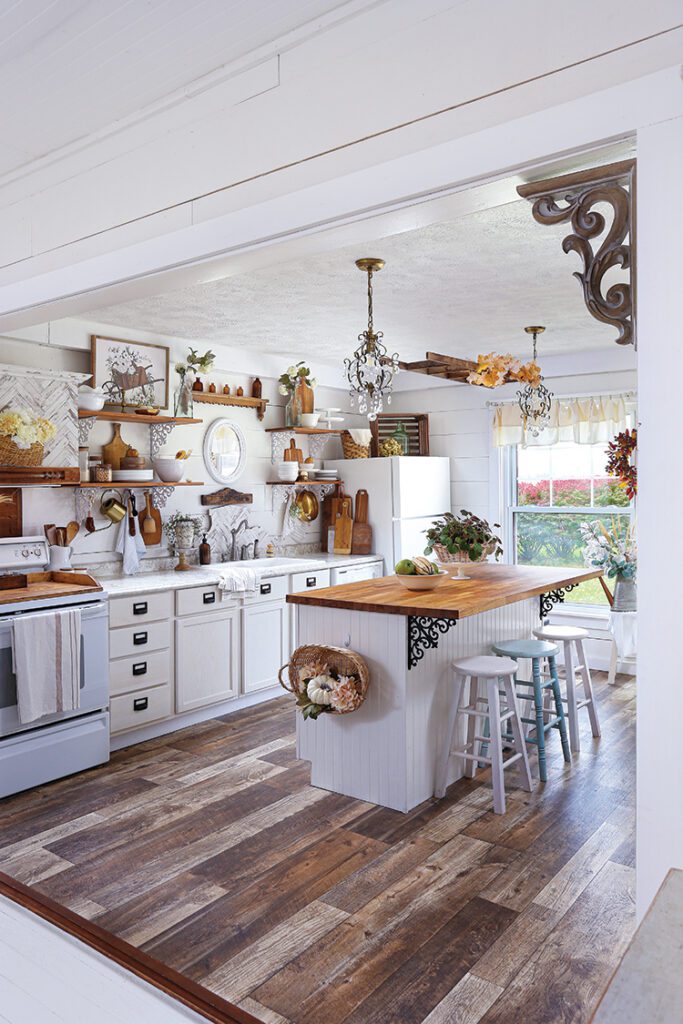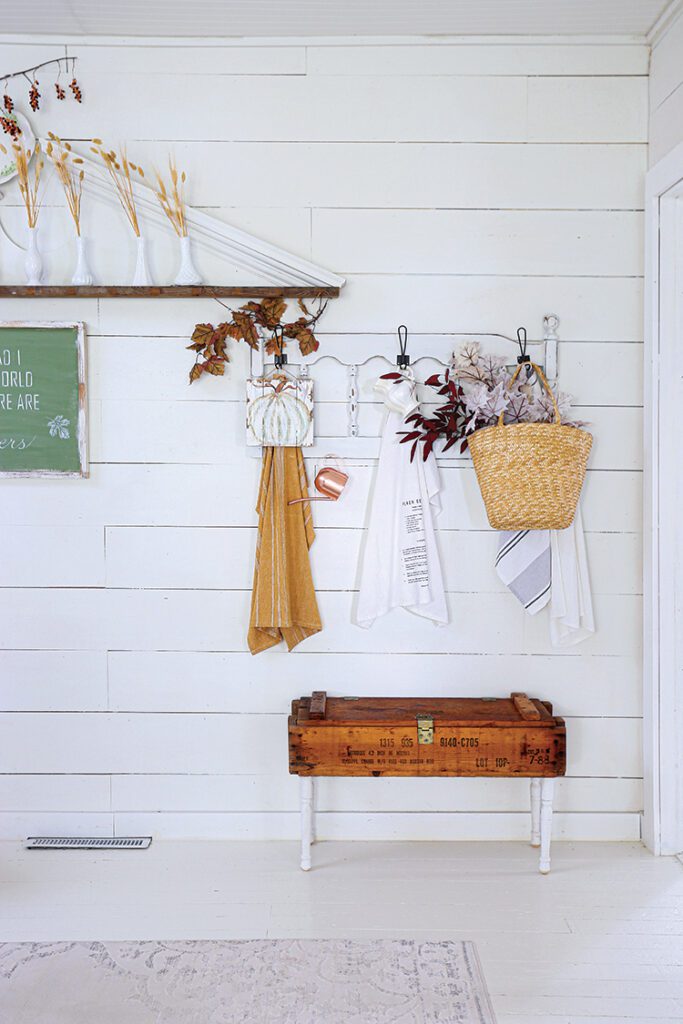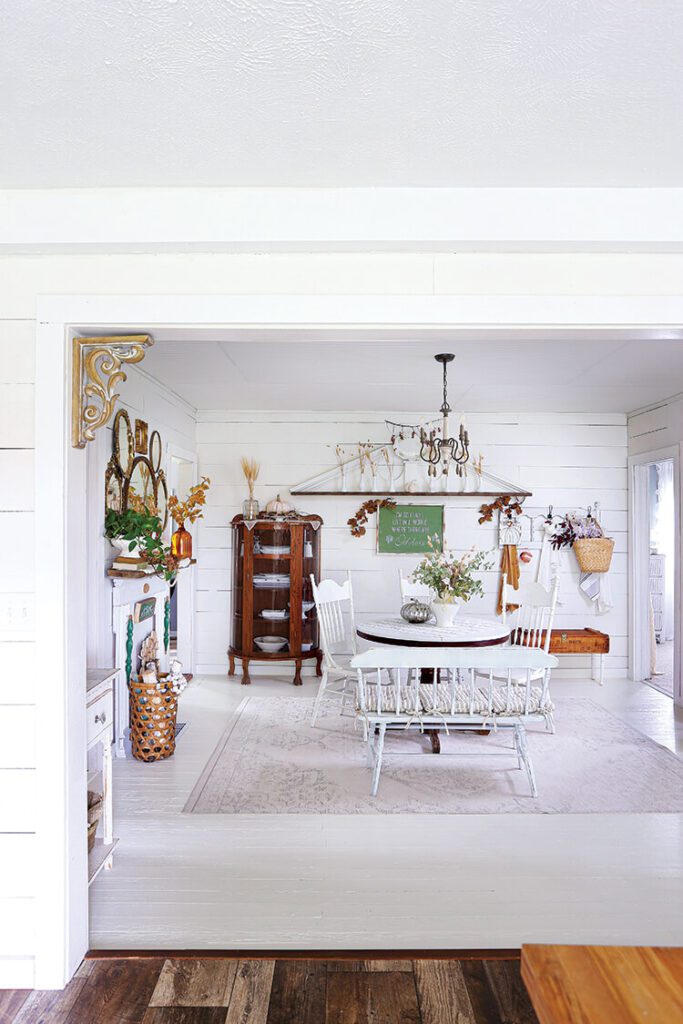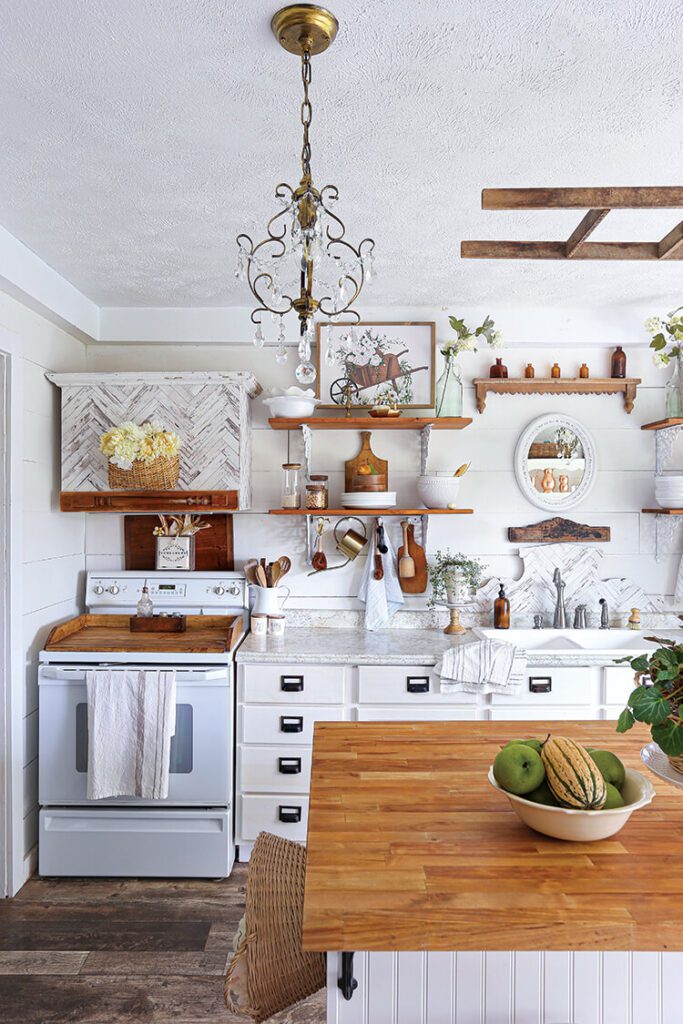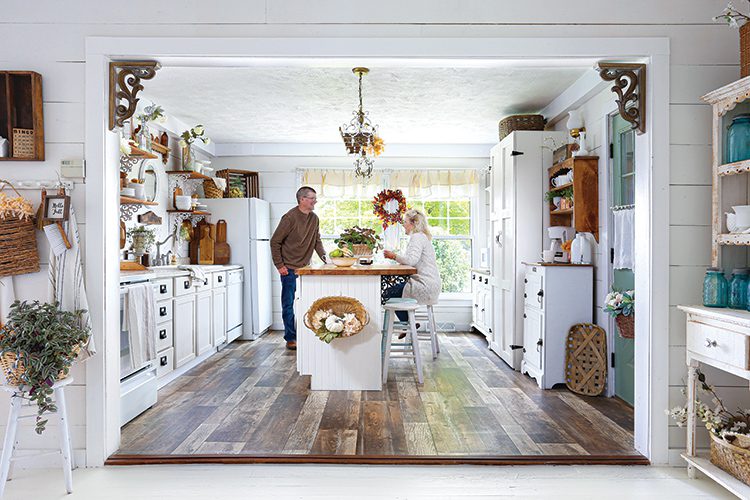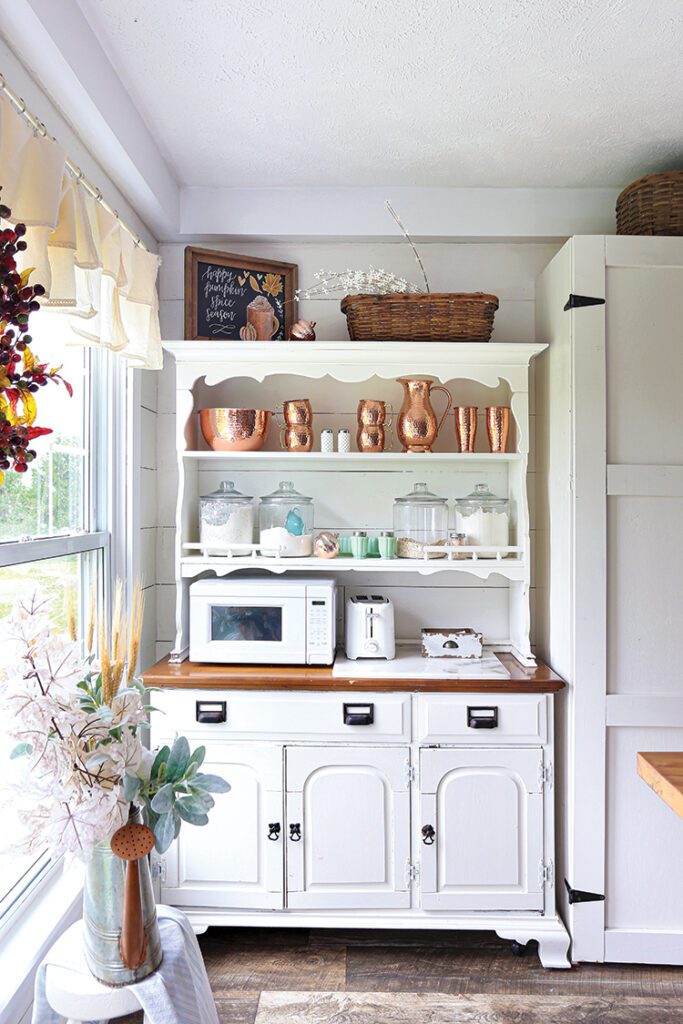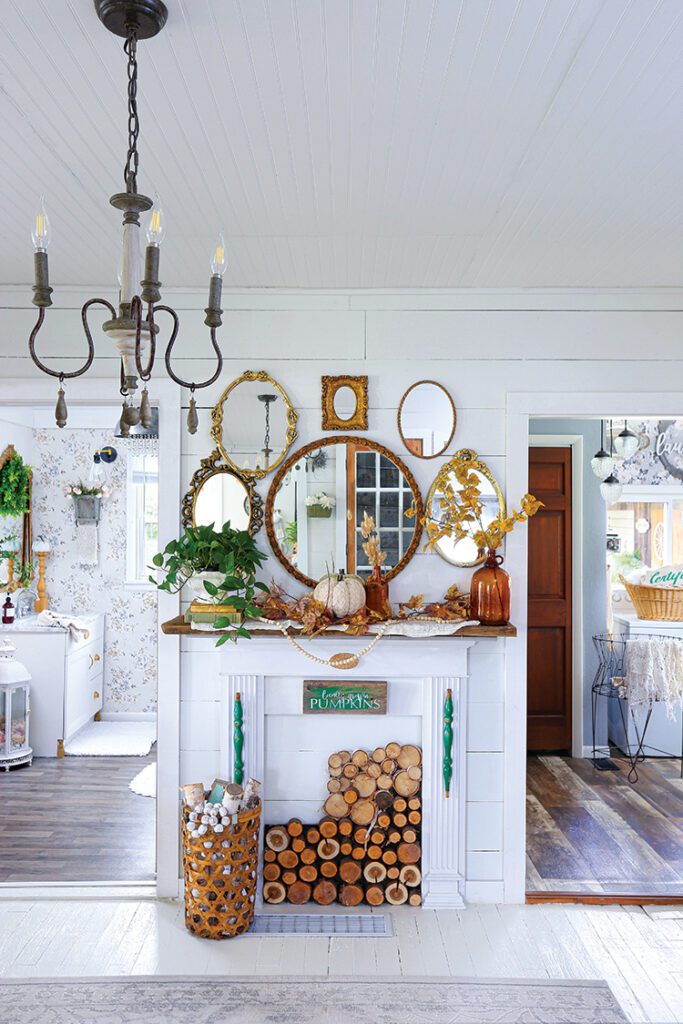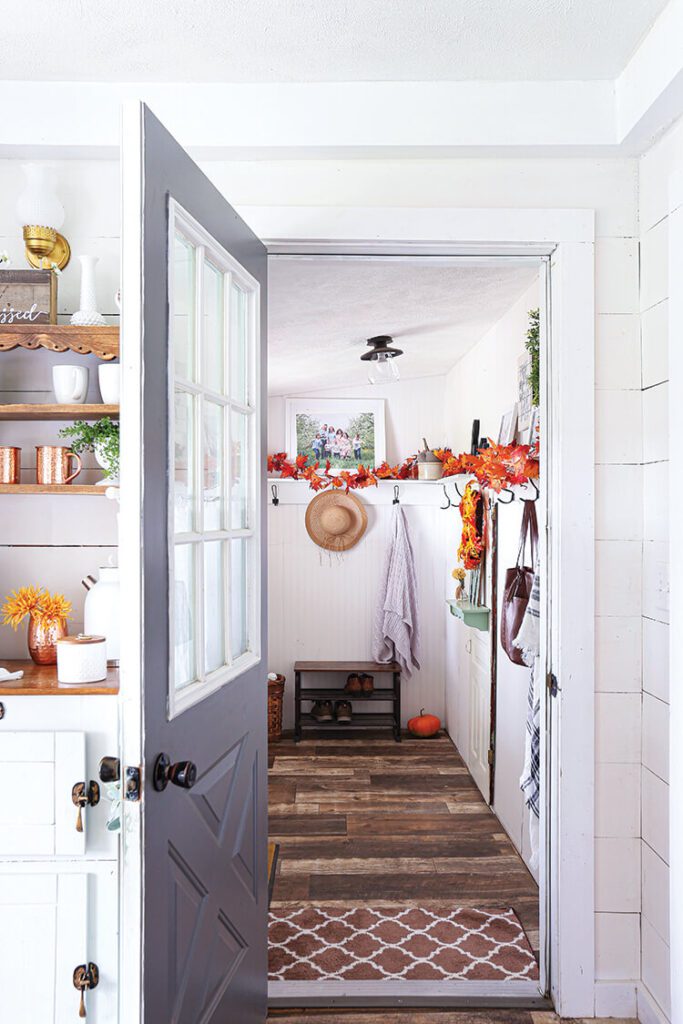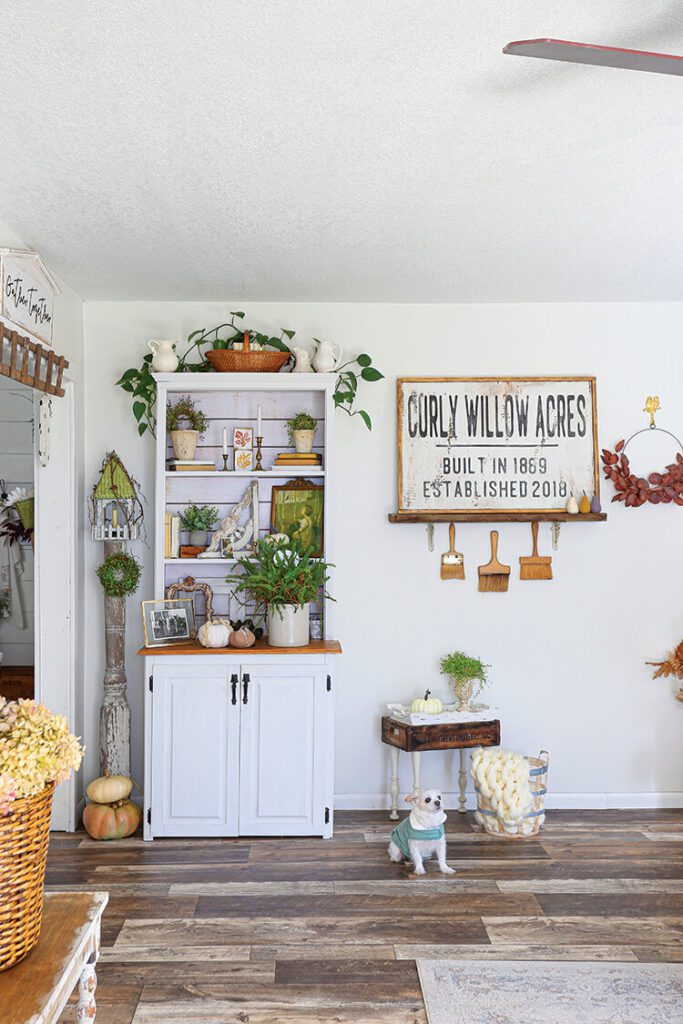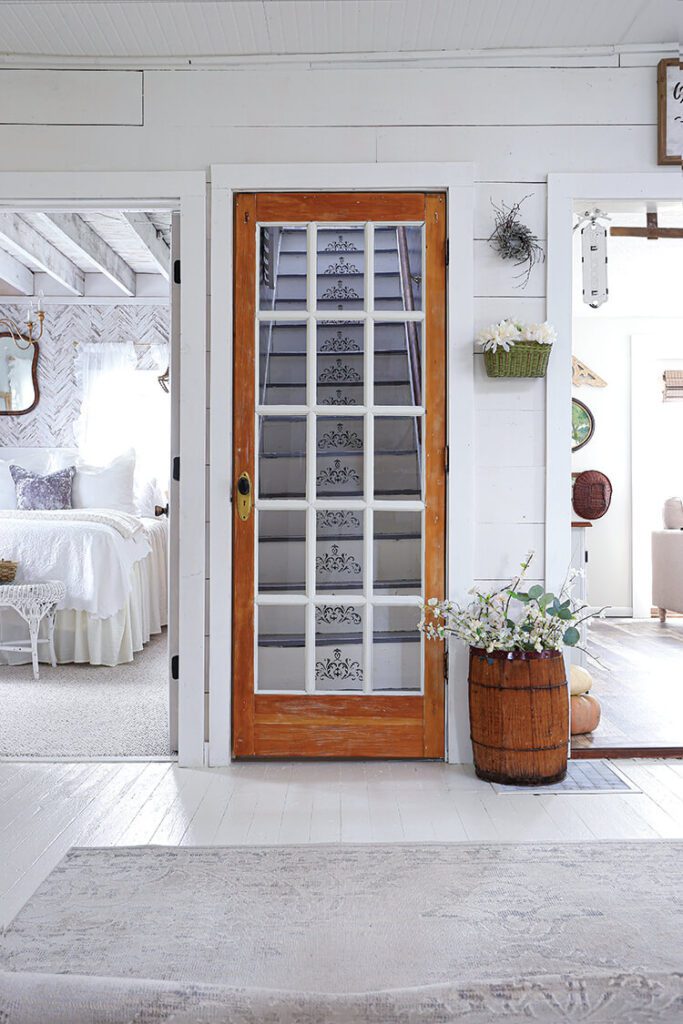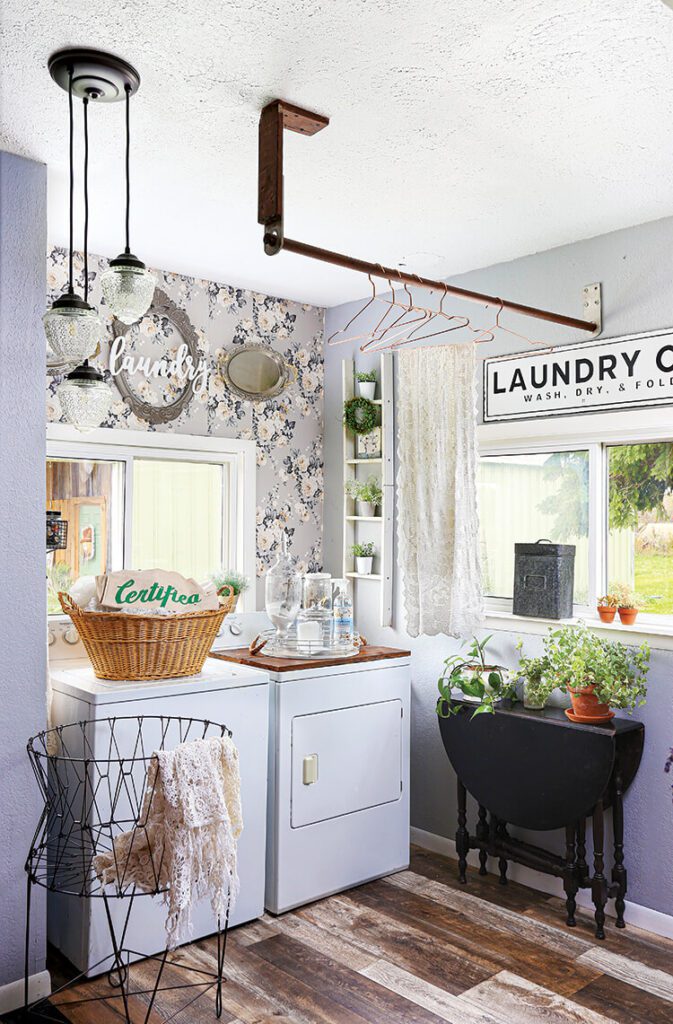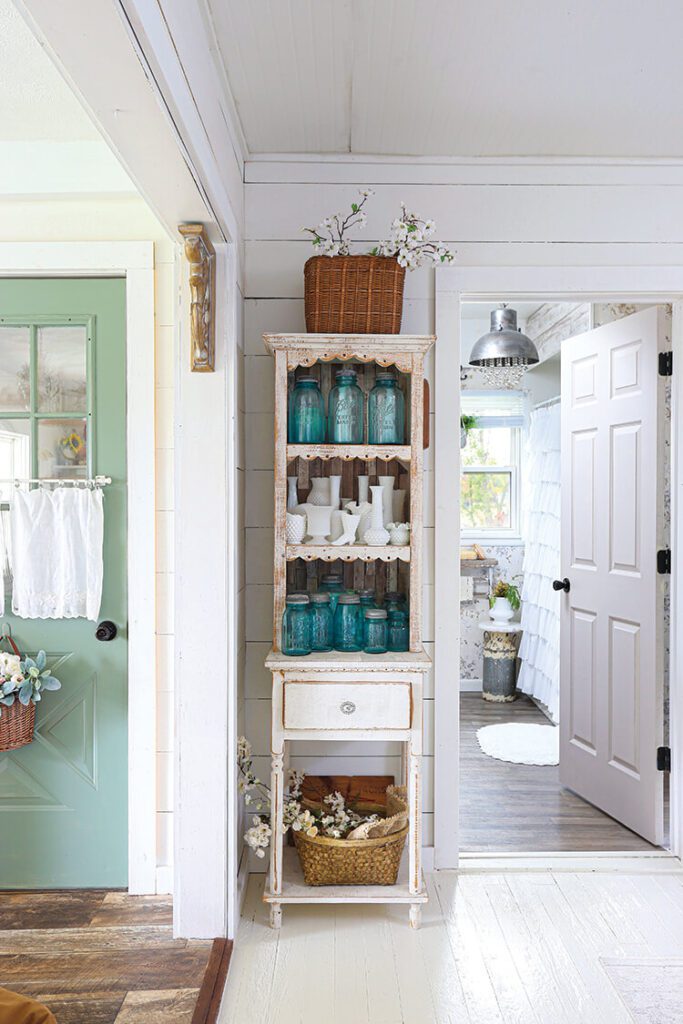 Milk Glass Collecting 101
Among Corine's many vintage collections, one of her favorites is milk glass. Learn where she collects them and how she uses them.
The History
Some people discover a love of vintage items at a young age, and that was certainly the case for Corine. She remembers admiring items like milk glass at her grandpa's home as a child. "He would find things in dumpsters and sell them at flea markets," she says. Eventually, she began looking for special treasures of her own.
The Hunt
Corine finds milk glass in several places, such as Goodwill, flea markets, thrift stores and yard sales, and she always looks for a deal. "I have to find them at a reasonable price," she says. "Usually, I find them for around $3, but sometimes I can get them for 25 and 50 cents at yard sales." Her favorite brand is Fenton Hobnail, as she loves their signature texture. "I look for unusually shaped vases or containers, such as the little boot I found at a yard sale for 25 cents," she says.
Due to the rising number of newer reproductions, Corine has a trick to determine whether or not a piece of milk glass is genuinely vintage. "You should hold it up to the light and see a rainbow of colors if it's vintage," she says.
The Use
Because Corine chooses fun textures and shapes, her milk glass collection serves its purpose as a display. However, she also likes to use certain pieces as vases or transform them into something new. "Sometimes I'll make pieces into a cake plate," she says. If you're thinking of starting your own collection, remember to buy what you love.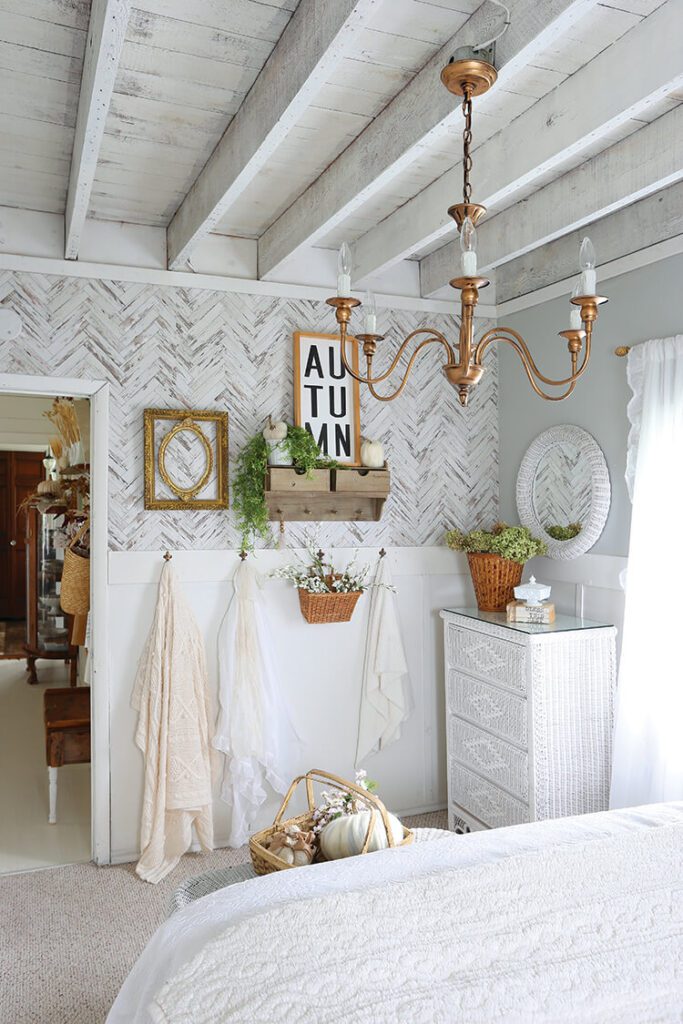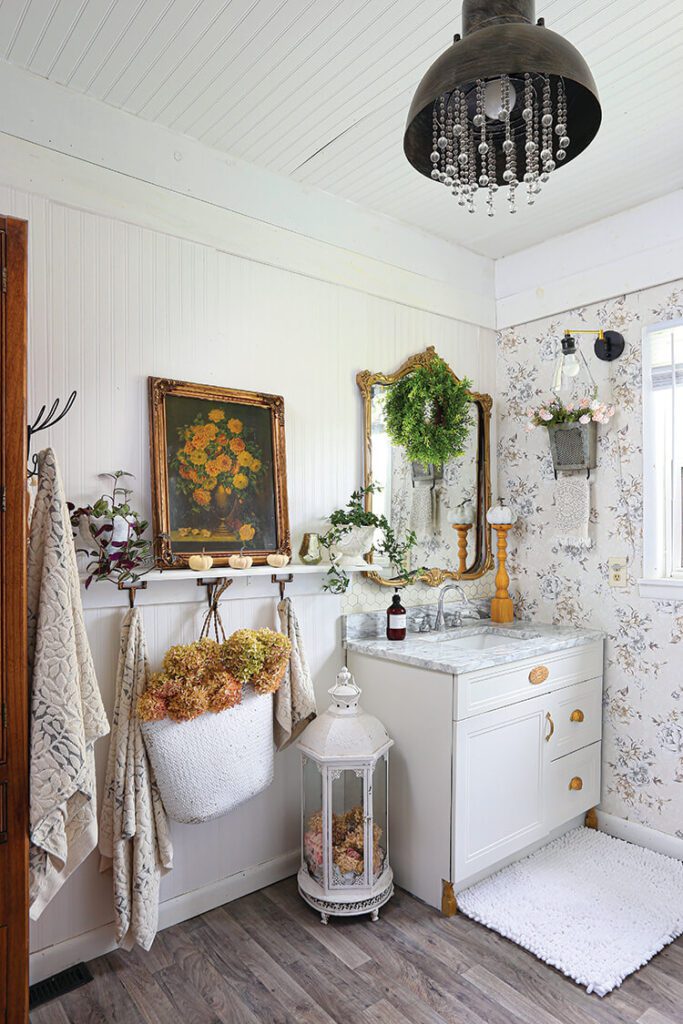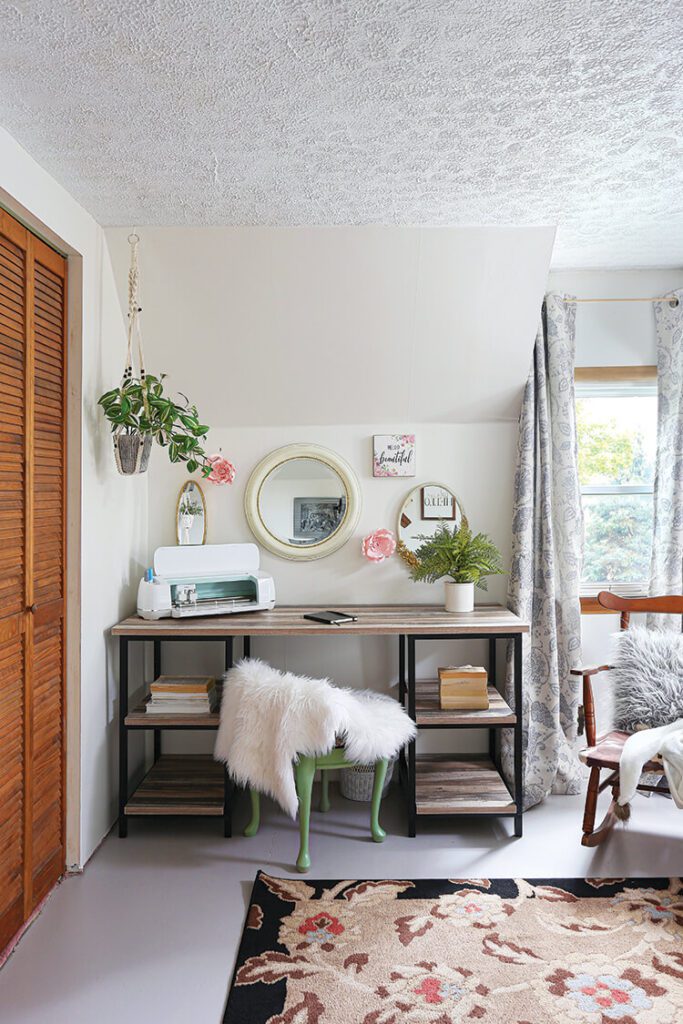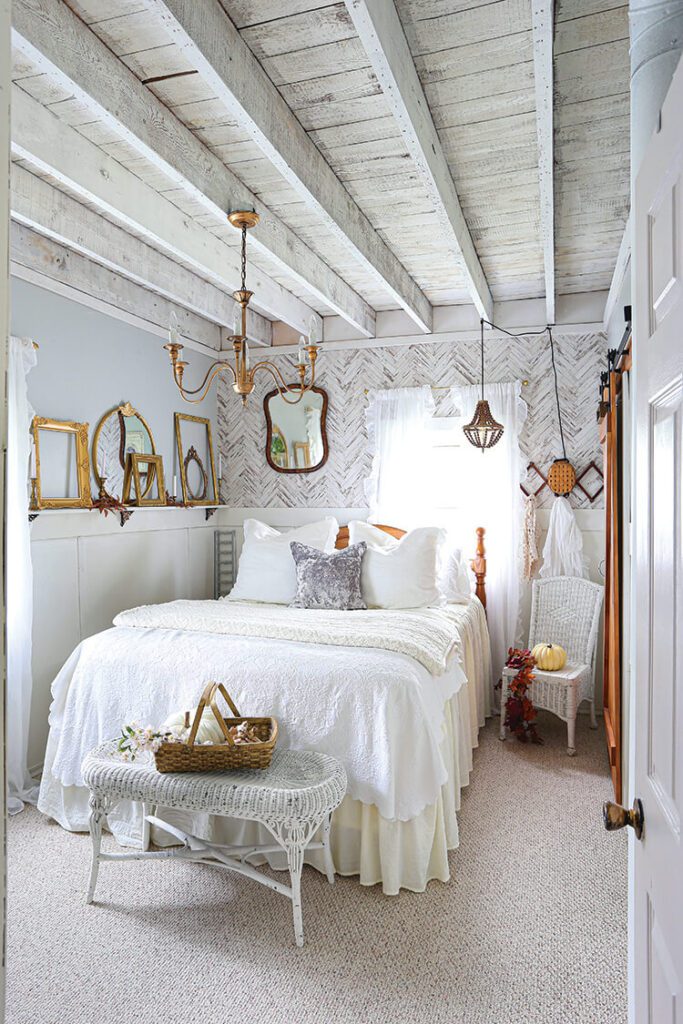 Feeling inspired by fall? Check out A Farm-Cottage Fall, 10 Hot Fall Cocktails to Try, and Rustic Country Fall Tablescape. Of course, don't forget to follow us on Instagram, Facebook and Pinterest to get your daily dose of farmhouse inspiration!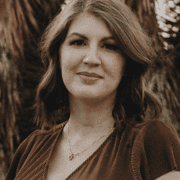 Kristin Dowding
Kristin Dowding is a freelance writer, contributing articles to both print magazines (American Farmhouse Style, Cottages and Bungalows and Atomic Ranch) and websites. She enjoys editing novels, reading and flipping old furniture. To check out some of her projects, you can follow her on Instagram @kristin_dowding.