Our 2019 Project House Reveal
Photography by Ridgelight Studio, LLC
Styling by Heather Alton, Amy Mitchell and Joanne Palmisano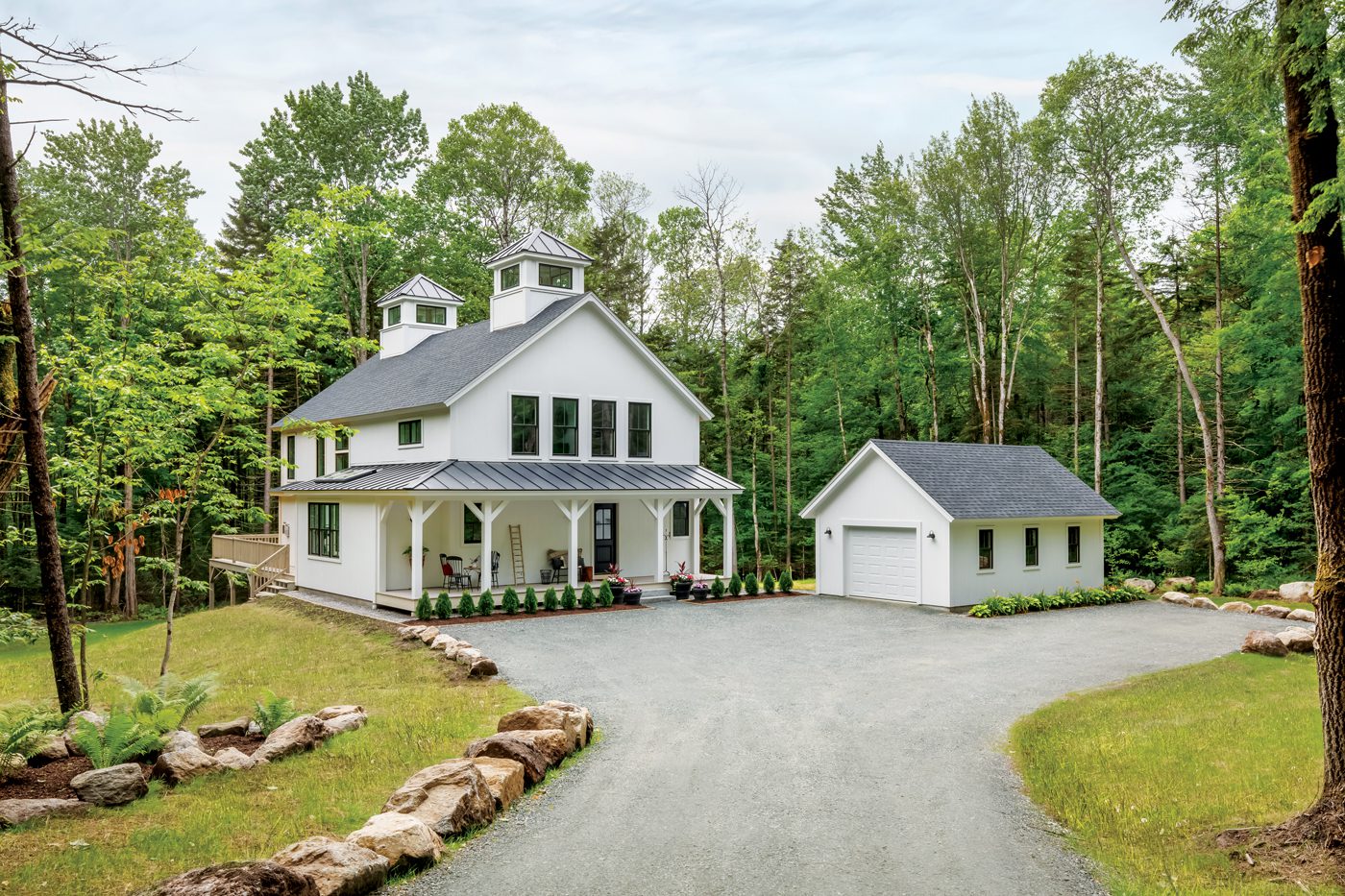 Photography by Ridgelight Studio, LLC
Styling by Heather Alton, Amy Mitchell and Joanne Palmisano
At the beginning of 2019, we announced our project house. We worked in partnership with Yankee Barn Homes to build from scratch our dream farmhouse cottage. After a year of prep, brainstorming, mood boards, floor plans and color swatches, we're excited for the house reveal!
To recap, the build is in Springfield, New Hampshire. And our editors, Victoria Van Vlear of American Farmhouse Style and Jickie Torres of Cottages and Bungalows, worked closely with Yankee's Creative Director Jeffrey Rosen, three talented designers and top-notch sponsors to bring to fruition the idea of blending farmhouse style with cottage charm. Follow along as we uncover the house reveal of all the spaces in this unique project home.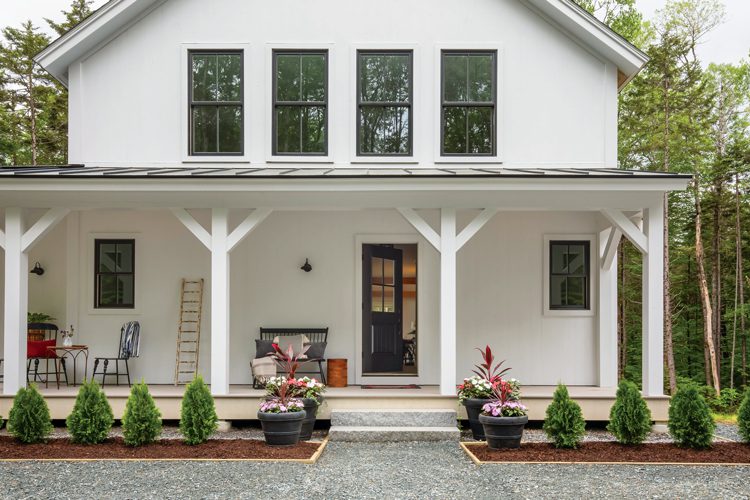 Exterior/Porch
With a wraparound porch, double cupolas, exposed beams and board-and-batten siding, the house reveal of the exterior has eye-catching farmhouse appeal. Designer Heather Alton of New England Design Elements created simple seating areas with vintage-inspired furniture and décor. The combination helped increase the cottage vibe, where homeowners can sip iced tea and enjoy the surrounding scenery.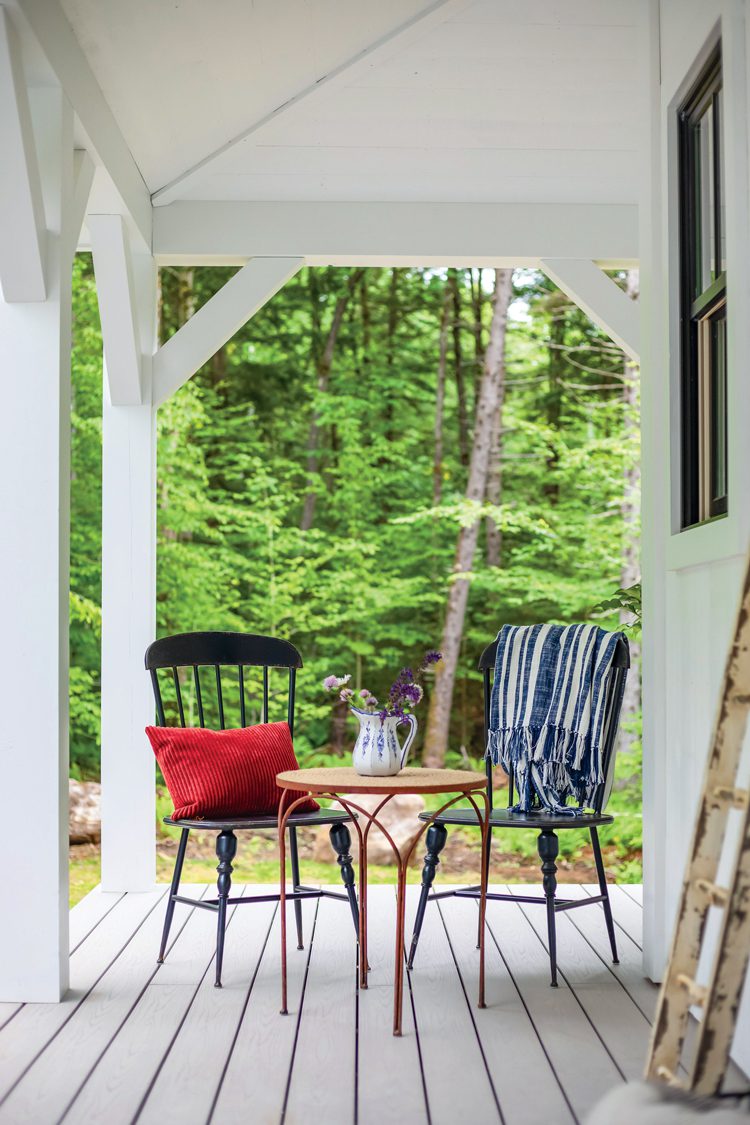 Mudroom/Powder Room
The mudroom and powder room are both charming, bright and practical with the help of a few accessories and a striking foundation. The attractive Cherokee Brick flooring, with its durable qualities and historic appeal, was a perfect choice. "Farmhouse style is all about variety and texture," says Victoria. "So the flooring, from the wood to the brick, sets a good base that will last for many years, while also providing texture." A few simple elements such as wall hooks and a bench keep the mudroom functional. And accessories such as pillows and a blanket make it inviting.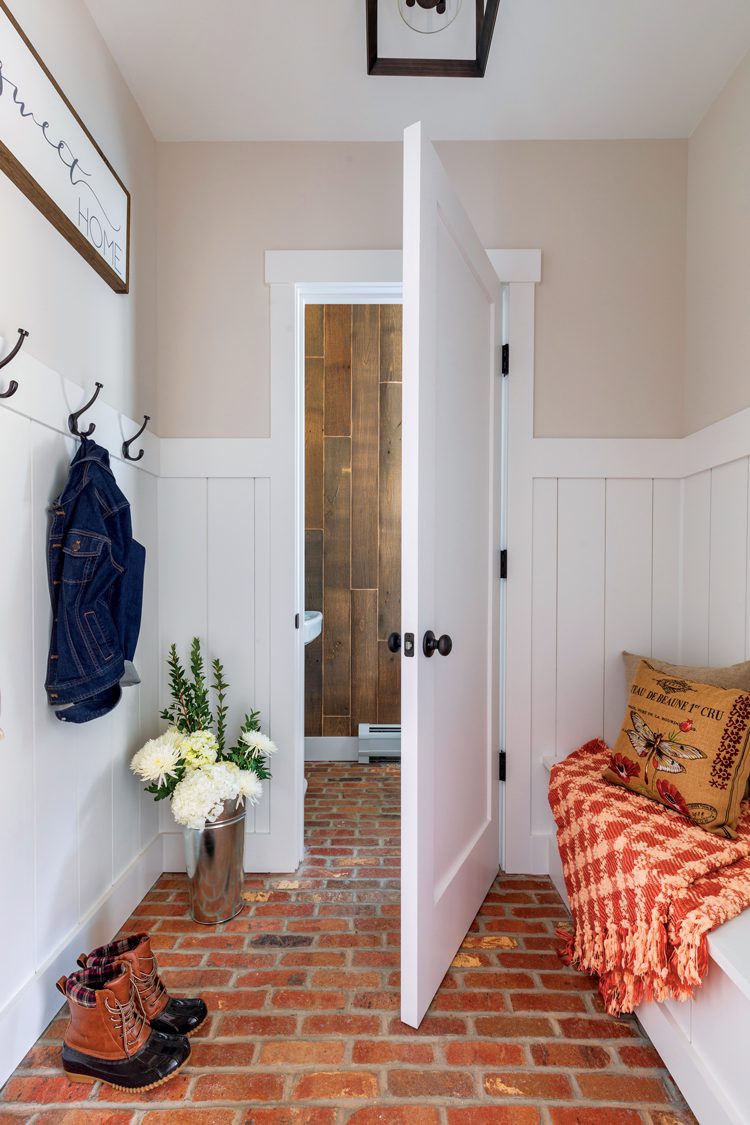 Laundry Room
Making the laundry room both welcoming and functional was a priority in this home. We all know a tedious task such as laundry is better when your surroundings appeal to you. Heather kept a neutral palette in this space for a clean, utilitarian look with period farmhouse touches.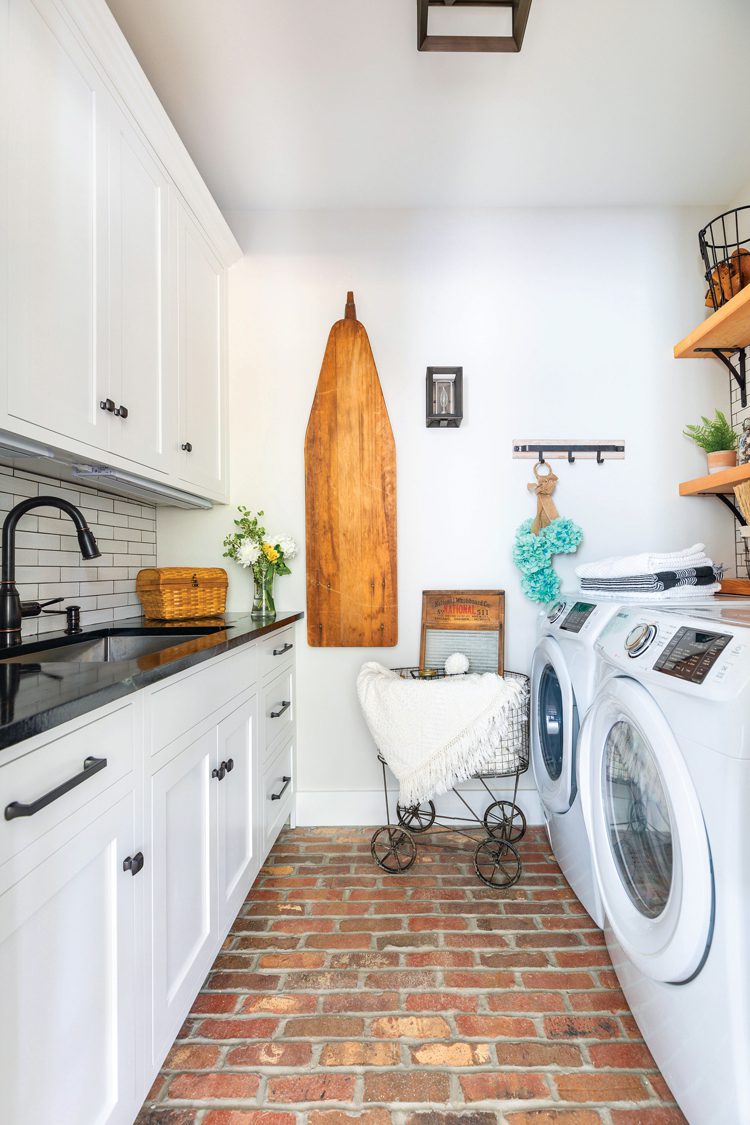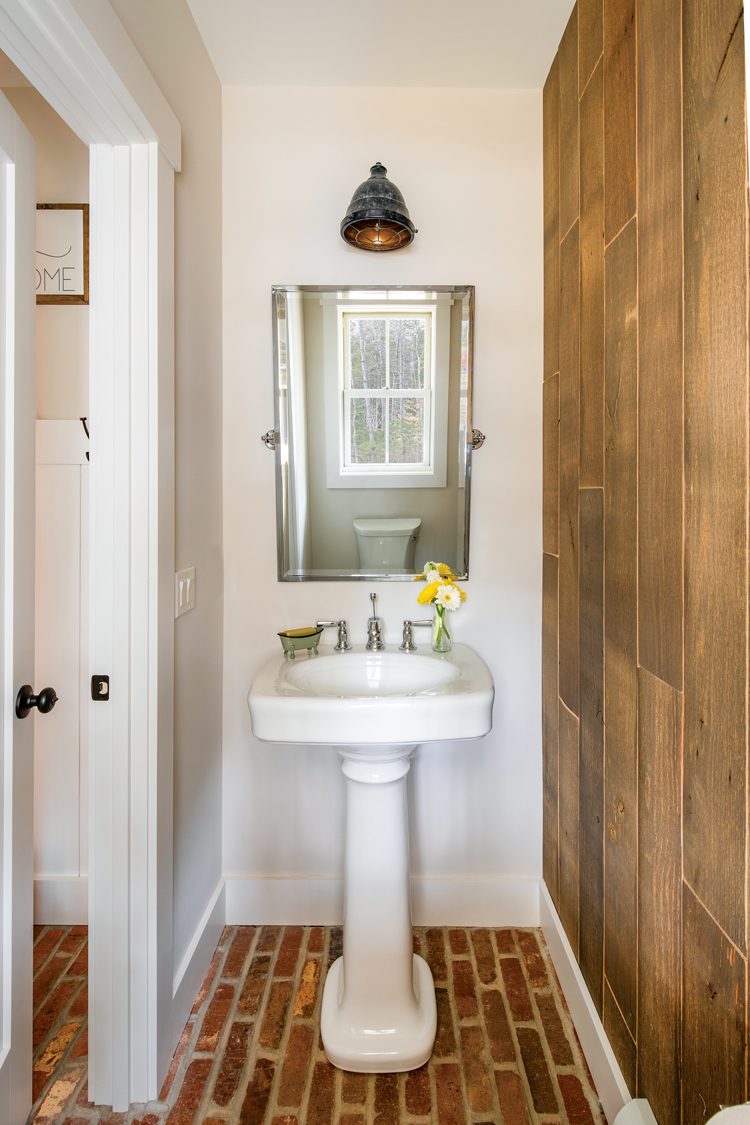 Great Room/Dining Room
"I have to admit, the great room is my favorite," says Jeffrey. "It's a two-story volume which is cupola topped and full of post-and-beam timber structure. There's light from the three walls of glass windows/doors and warmth from the stone fireplaces that anchor both ends of the room. It's truly the soul of the house."
This is a show-stopping space in our project house reveal. With high ceilings and numerous large windows by Marvin®, designer Amy Mitchell of Home Glow Design made sure to balance that height with cozy furniture, while highlighting the stunning architecture of the space. "The architecture really speaks to farmhouse style," says Victoria. "Even just the building style of the post-and-beam house sets a ground floor for farmhouse elements. These include exposed beams, large windows and an open floorplan."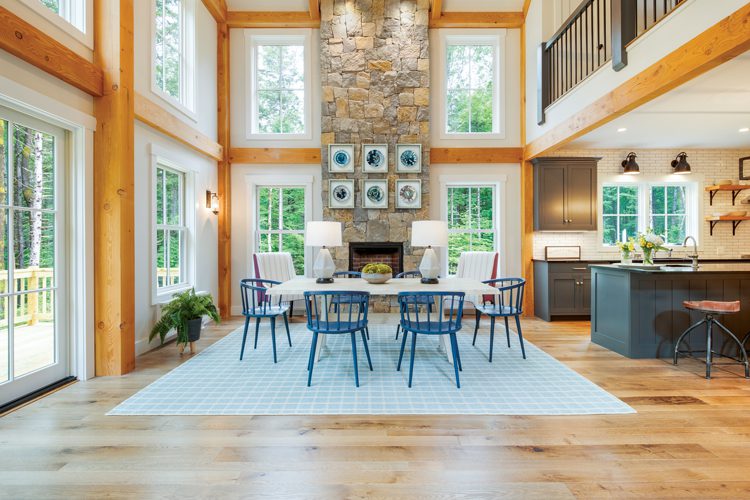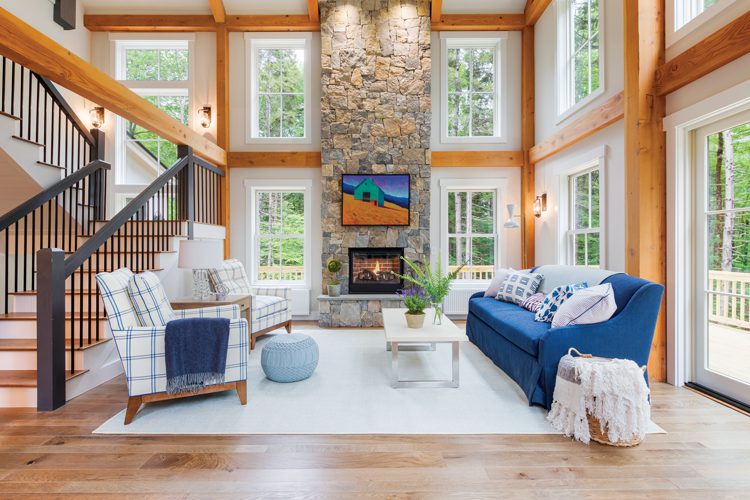 Kitchen
Jeffrey gave the kitchen, the heart of the home, a touch of drama with gray-colored Shaker-style cabinets by Crown Point Cabinetry. It flows naturally into the great room, so the space had to be both open and functional. A large island, open shelving, soapstone countertops and rustic lighting came together to achieve that goal, really showcasing the blend of a cottage/farmhouse vibe. "The styles work well together because the lifestyles are so compatible," says Victoria. "Both farmhouse and cottage enthusiasts love warm, friendly spaces that work for family life, and that's what this home has."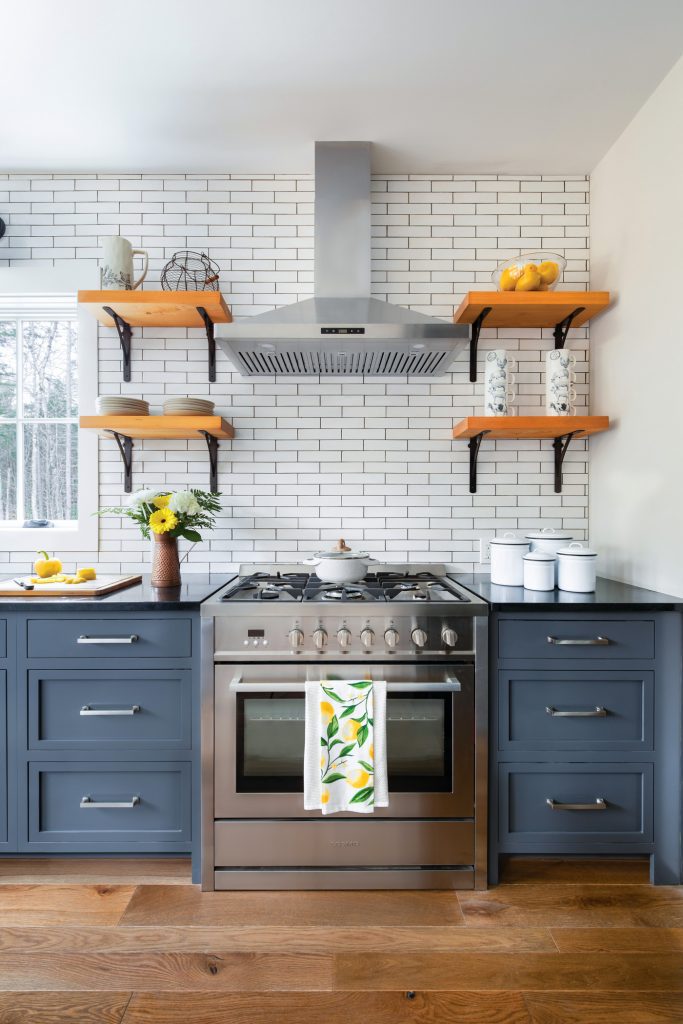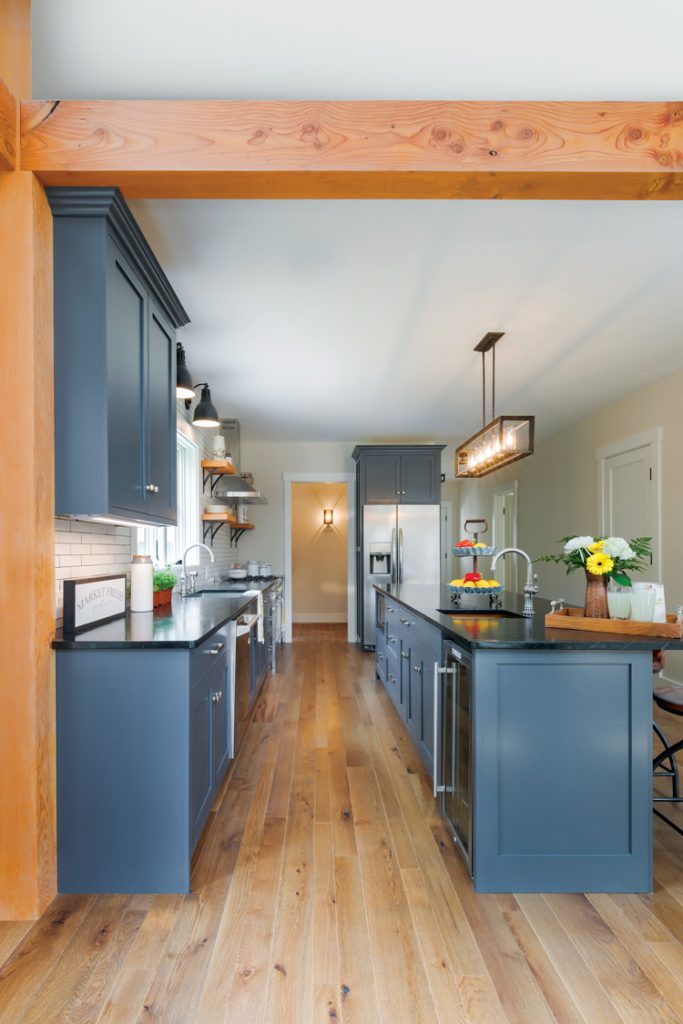 Loft
Heather designed the loft to be a relaxing studio hangout with eclectic elements. The space uses a vibrant color palette of reds, yellows and blues. These colors are based on the colorful farmhouse boho style in the wingback chair with the peacocks. To balance the open space for the house reveal, she created three work zones with furniture: a work desk for more serious work, an armchair for less concentrated tasks and a comfy window seat for reading and conversation.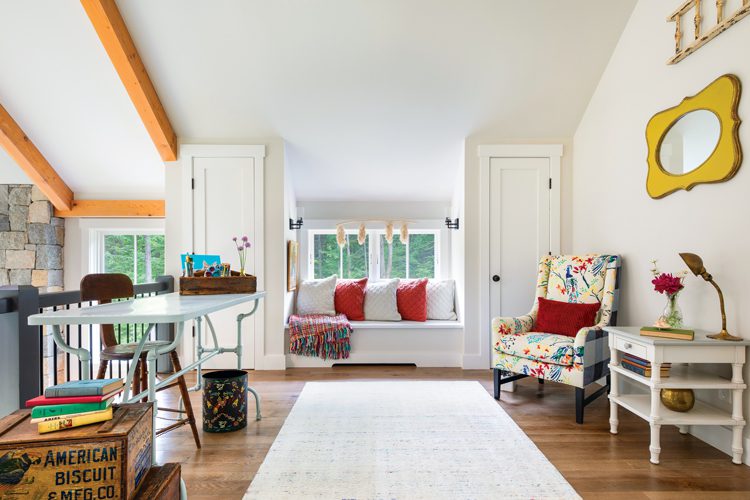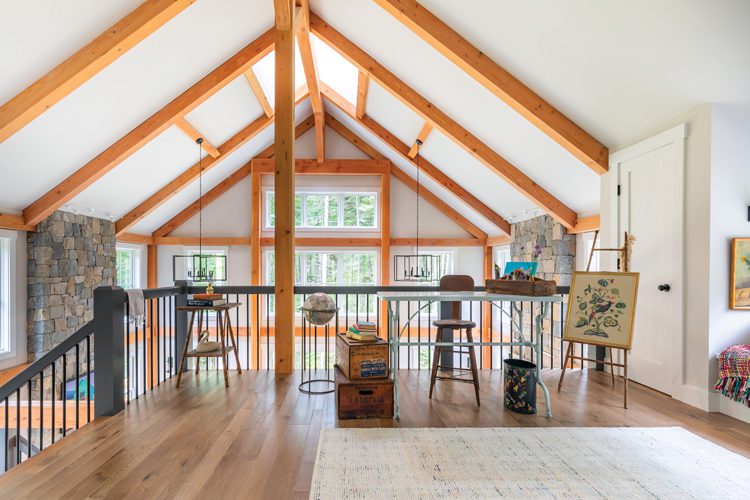 Master Bedroom/Bathroom
Beautiful blue tones create a calming presence in the master bedroom. Designer Joanne Palmisano went for an eclectic modern farmhouse vibe with the mix of vintage décor and classic furniture with contemporary patterns in the rug and wallpaper. "It's my favorite space in the house with the skylights and window seat," says Victoria. "I'm a reader, so I love that it has a spot next to those big windows to curl up with a good book."
Hardwood floors from Olde Wood create a flow in the first-floor rooms, and the window seat highlights the surrounding scenery. Jeffrey kept the master bathroom white for a clean and timeless look in the house reveal.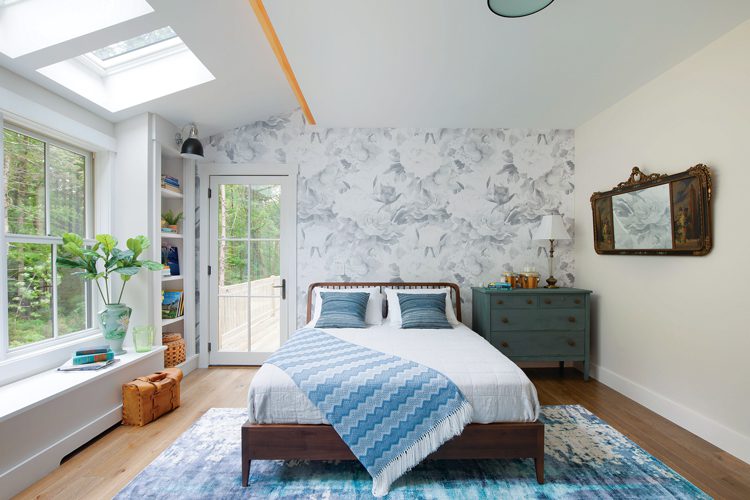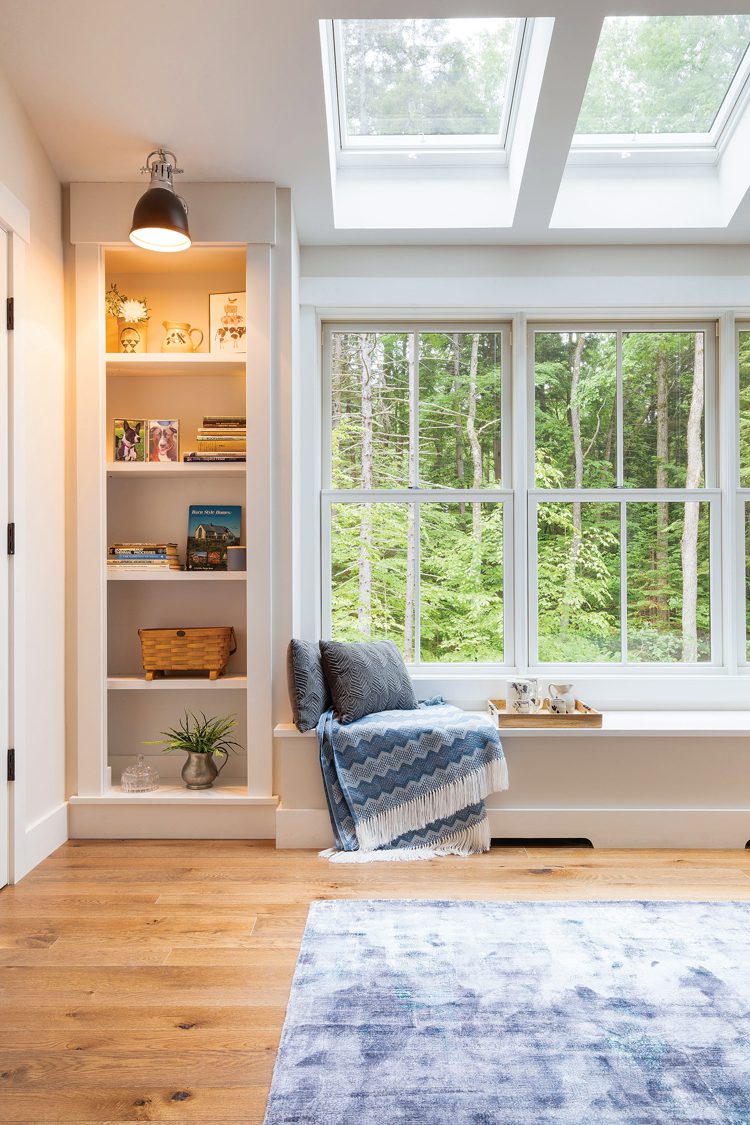 Guest Rooms
Joanne had fun with color and chose to vary the guest rooms with modern and classic touches. One of the rooms has vibrant green accents and modern patterns. And the other room uses soft pink touches and traditional features. The result is a unique vibe for each space.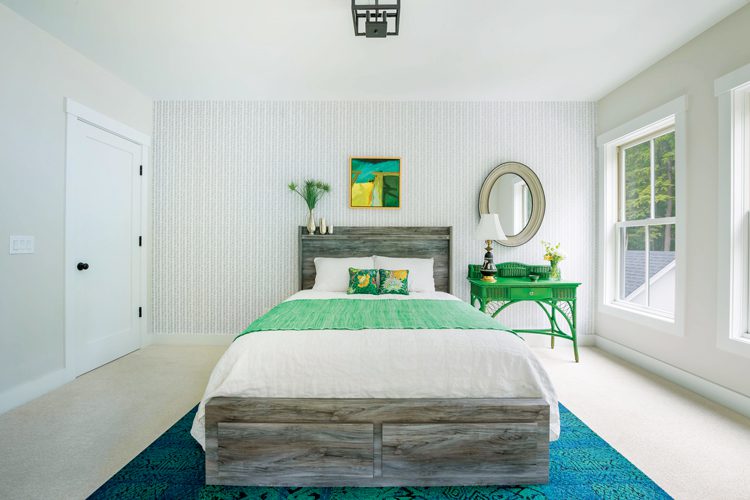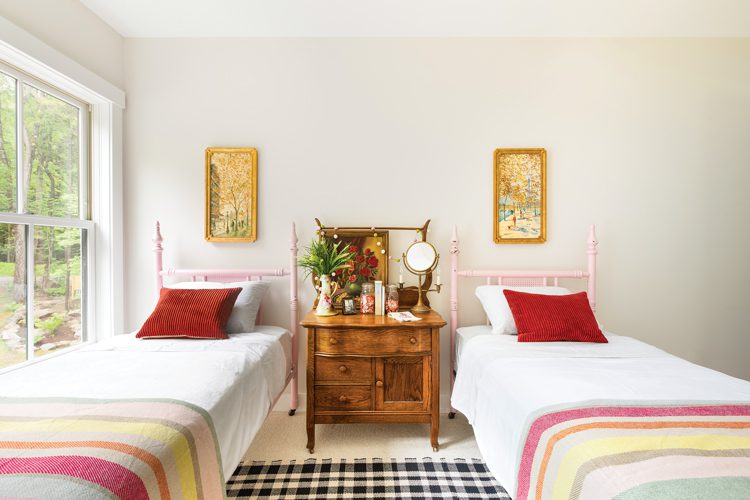 In the End
"This home was a success through the right collaboration," says Jeffrey. "The magazines came to us with a wish list and we ran with it. We incorporated all the Yankee Barn Homes gusto we could, using the architectural languages we are known for to pull it all off. I think we are all happy with the end result."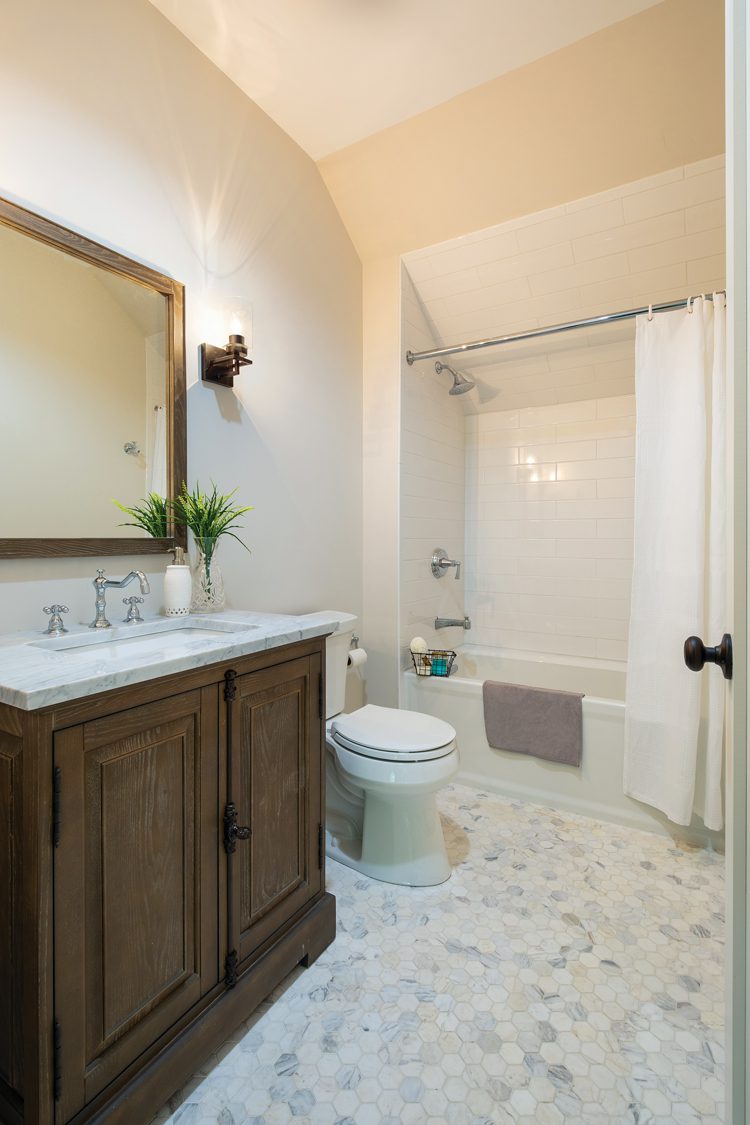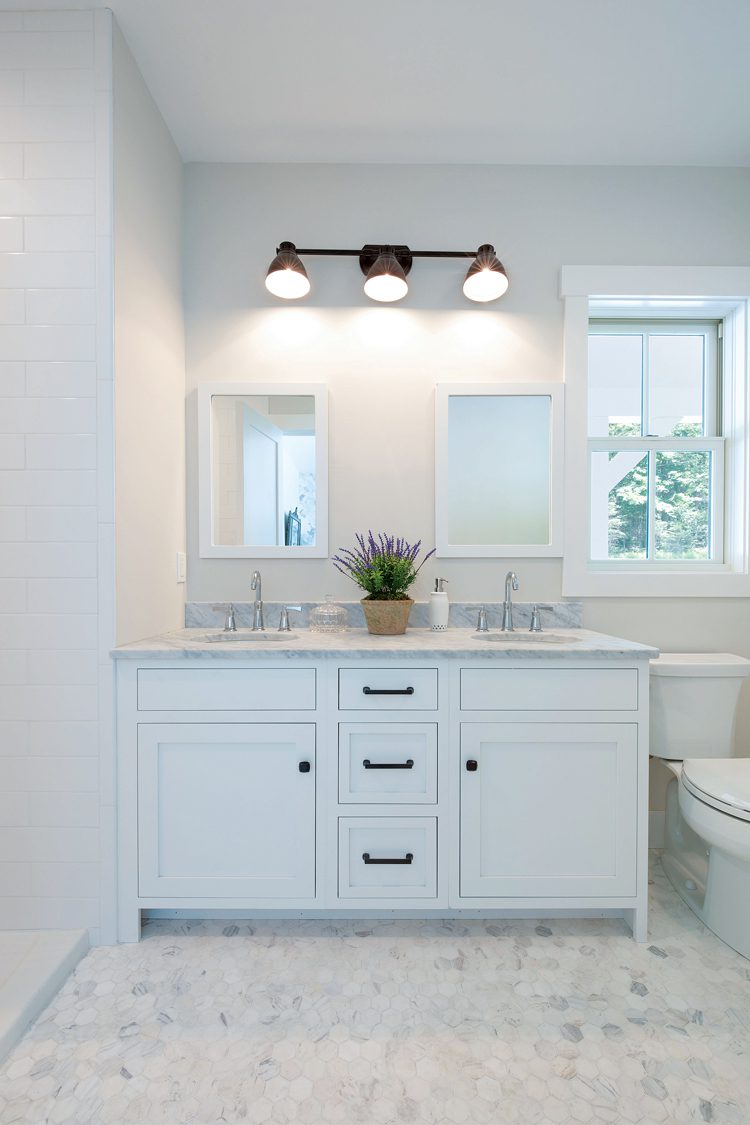 ---
Just learning about our Project House reveal? Check out the beginning here. And of course, don't forget to follow us on Instagram, Facebook and Pinterest to get your daily dose of farmhouse inspiration!