Collecting Vintage Tablecloths at Christmas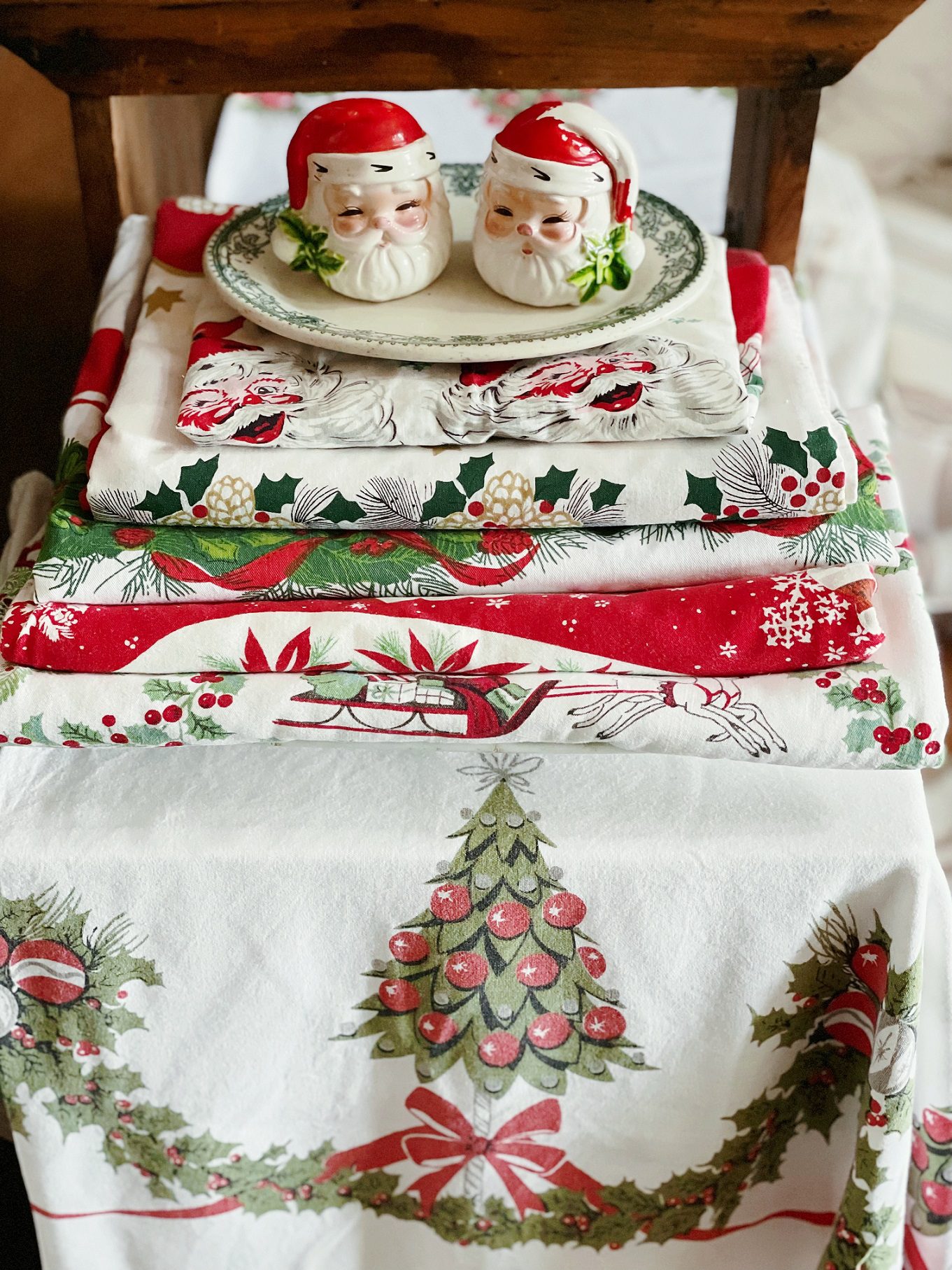 Every vintage collection starts with falling in love. For Instagrammer and vintage shop owner Jennifer Shaffer of Poodle and Hound Vintage, her collection of Christmas tablecloths started with an old Martha Stewart article.
"They featured vintage tablecloths back in the day, and I fell in love with the graphics and patterns," she says. "The Santa faces from that era are so iconic, and the idyllic carriage rides through the snow."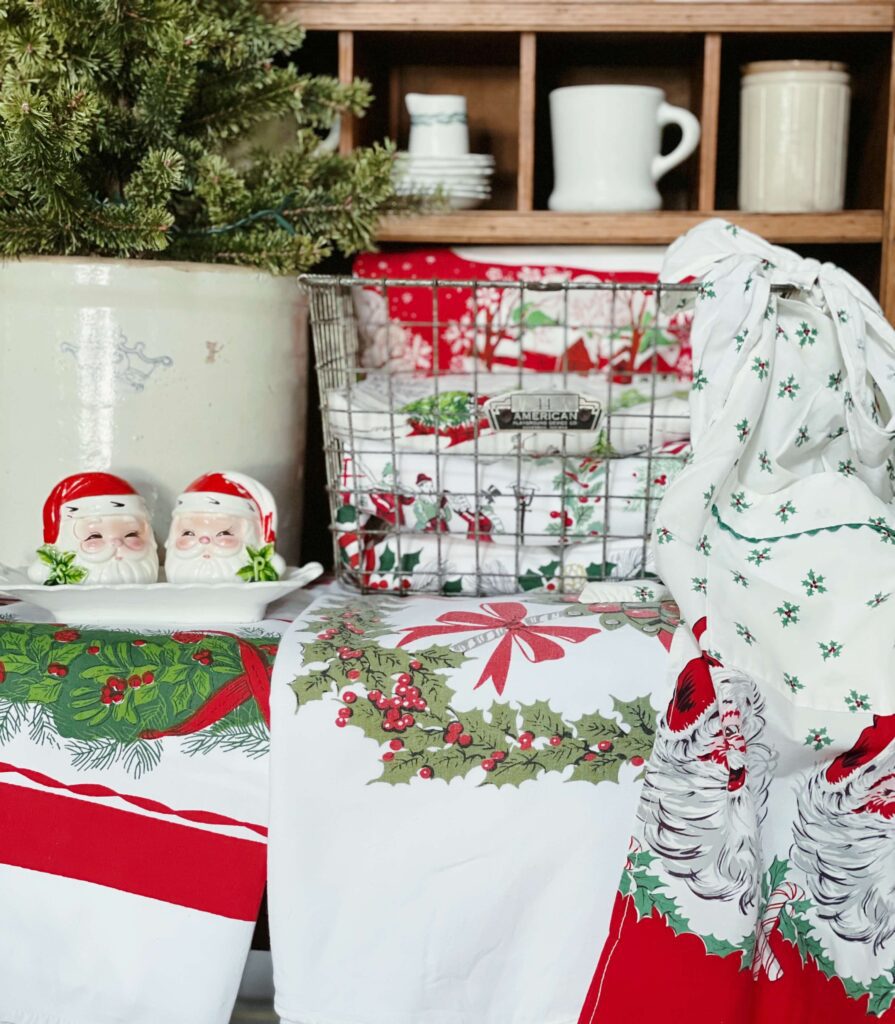 Hunting
Jennifer and her husband have an antiques business, so she's constantly on the hunt for vintage items. She finds her tablecloths all over, though she prefers to shop in person rather than online. "I really like finding them out in the wild," she says. Her collection now includes 30-40 vintage tablecloths that she's kept for herself.
Identifying
When you find a vintage tablecloth, there are a few ways to help identify it. "Some have tags, so then you can look up the brand and find out what the manufacturing dates are," Jennifer says. But if there's no tag, it'll be your best guess (and perhaps the vintage dealer's) as to the age of the tablecloth. "I make a lot of assumptions," Jennifer laughs. "Most of the ones I have are probably from the '40s and '50s. You can tell that from the patterns and colors."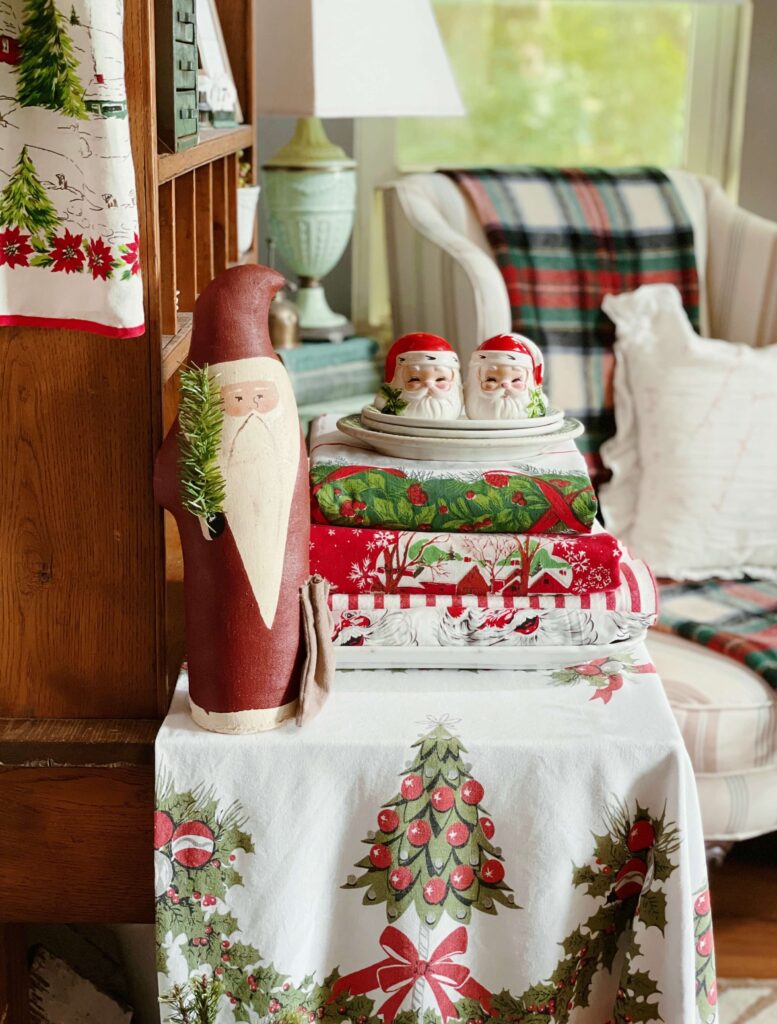 Pricing
When it comes to price, you can typically expect to spend $10-$50. "If I'm keeping it for myself, I'm usually willing to pay $25-$35, but I prefer to spend less," Jennifer says. The price will depend on a number of factors, including the popularity of the pattern and the condition of the tablecloth. "Stains, rips, hems coming undone, the colors being really faded, that's what makes them go down in price," Jennifer says.
Condition
If you do fall in love with a vintage tablecloth that has a stain, you can try to get it out yourself. "I soak it in Biz," Jennifer says. "You have to be careful to remove the stain but not the color. If the stain is on one of the prominent colors, it can be difficult. You don't want to make it worse or more obvious, and you don't want to use bleach."
Figure out where the stain is on the tablecloth, and whether you actually need to remove it or can just cover it when you use it. "It depends on where the stain is, if you can put a platter on top of it," Jennifer says.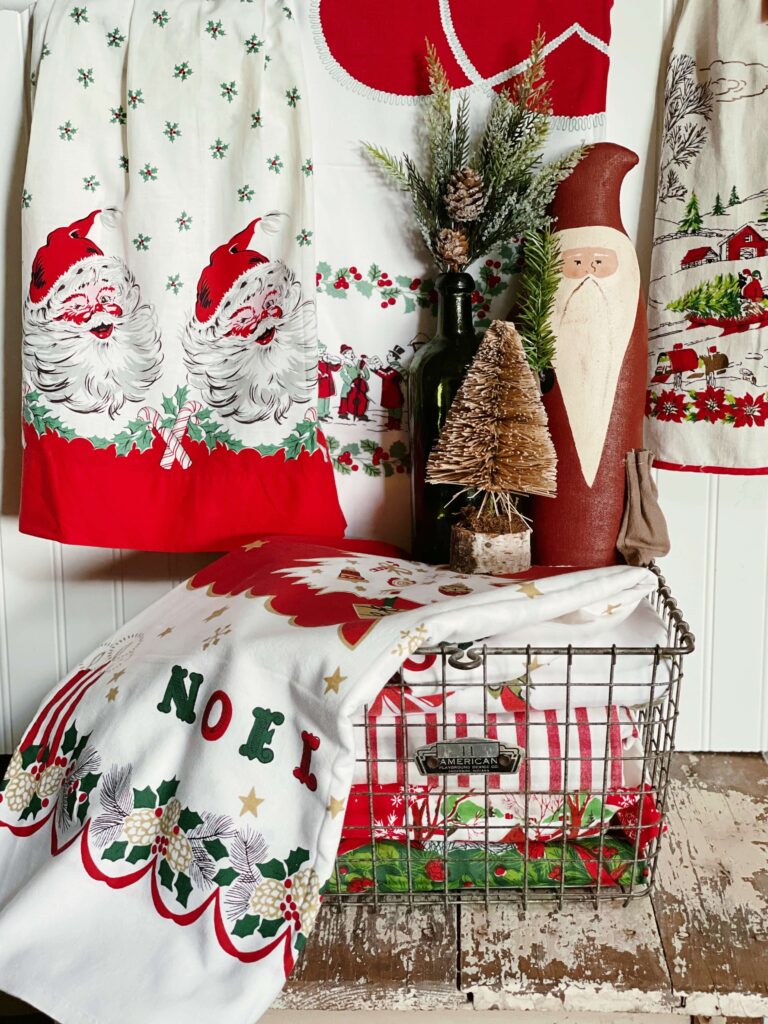 Usage
Jennifer uses her vintage tablecloths for her annual Christmas parties. "If I have different food and drink stations, I use different patterned ones," she says. "It creates a vibe that's fun and festive.
Does Jennifer do anything specific to try and protect her vintage tablecloths when she uses them? Nope. "I am not fussy about antiques," she says. "My philosophy is that it does not good to just keep it in a cabinet," she says. "I use everything I have, and if it gets dirty, I wash it right away and hope the stain comes outs. If it doesn't, I just flip it around."
If you do want to protect the tablecloth, try placing a clear plastic tablecloth on top of the vintage piece. It will wipe away food easily while also protecting your vintage tablecloth underneath.
---
Want more Christmas ideas? Tour this cozy Christmas cabin! Of course, don't forget to follow us on Instagram, Facebook and Pinterest to get your daily dose of farmhouse inspiration!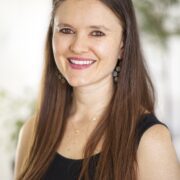 Victoria Van Vlear
Victoria is the editorial director of American Farmhouse Style. She shapes the editorial direction of the brand, both through the physical magazine and digitally on the brand's website and social media platforms. As a home décor enthusiast and DIYer herself, she knows what a little paint and patience can do for a room! Victoria is also a wife and mom to three little ones: two on earth and one in heaven. With any (not so spare) time, she devours book and dabbles in fiction writing. You can follow her on Instagram @victoriavanvlear