A Neutral Utah Farmhouse Christmas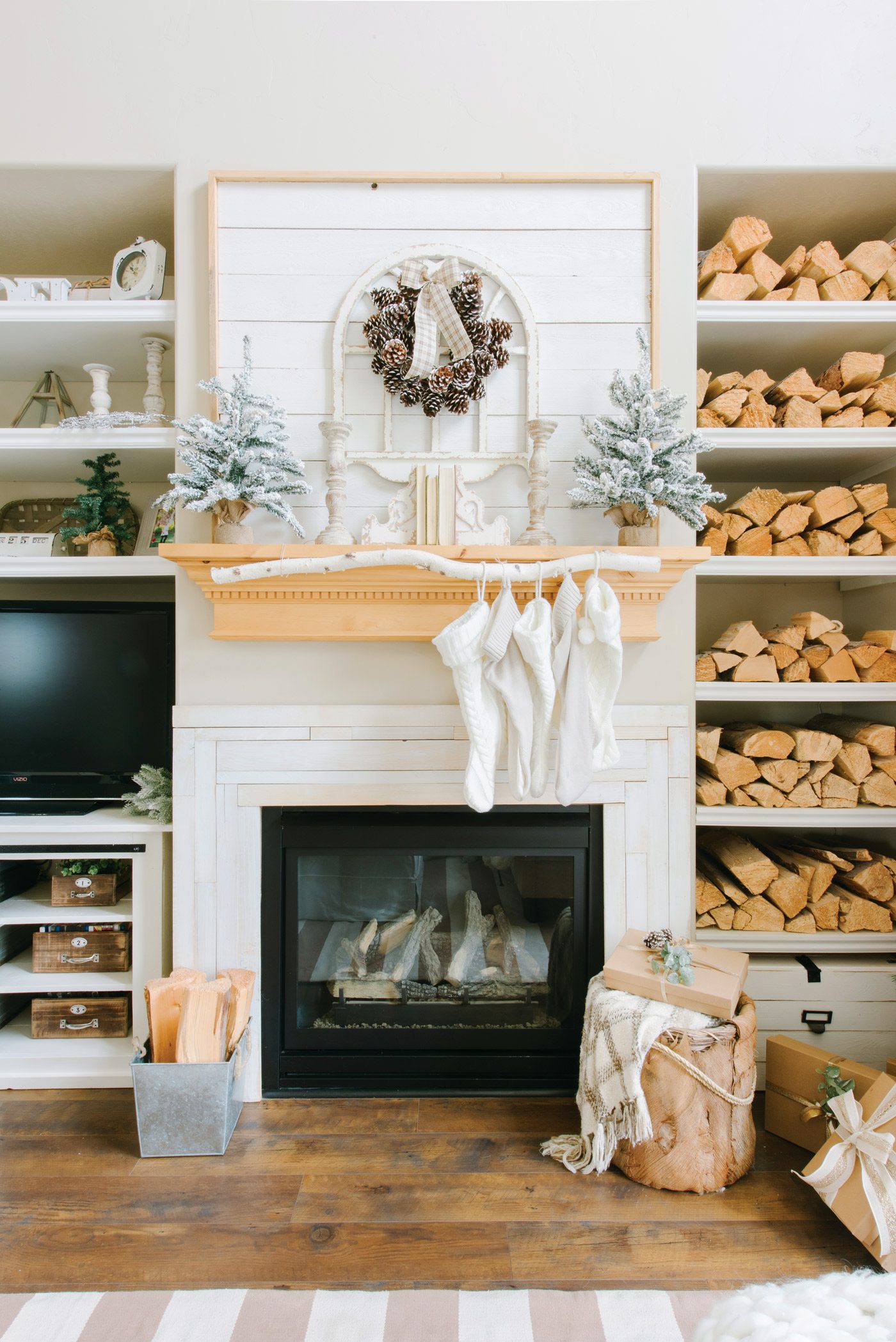 Old character. Shiplap. Detailing. Those were the items on Alicia Kimbrough's new home wish list. On her husband's? A new build. So when they headed to tour the Utah farmhouse they would end up purchasing, Alicia was uncertain. It was a standard new build, just as her husband desired, but it was also monochromatic with nary a piece of shiplap in sight.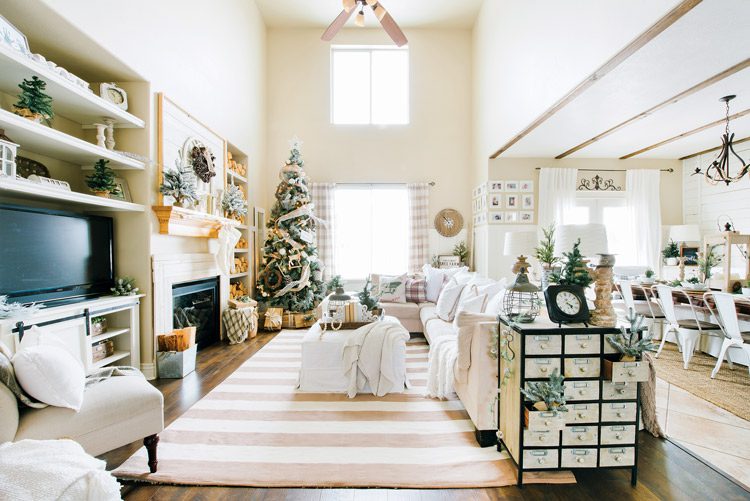 "It was pretty much the same color, from the walls to the tile to the carpet," she says. Still, as she walked from room to room, her imagination took flight. "There were 20-foot ceilings, an open entry, molding and arches. The house didn't have the historic details I wanted, but I knew I could add character," she says.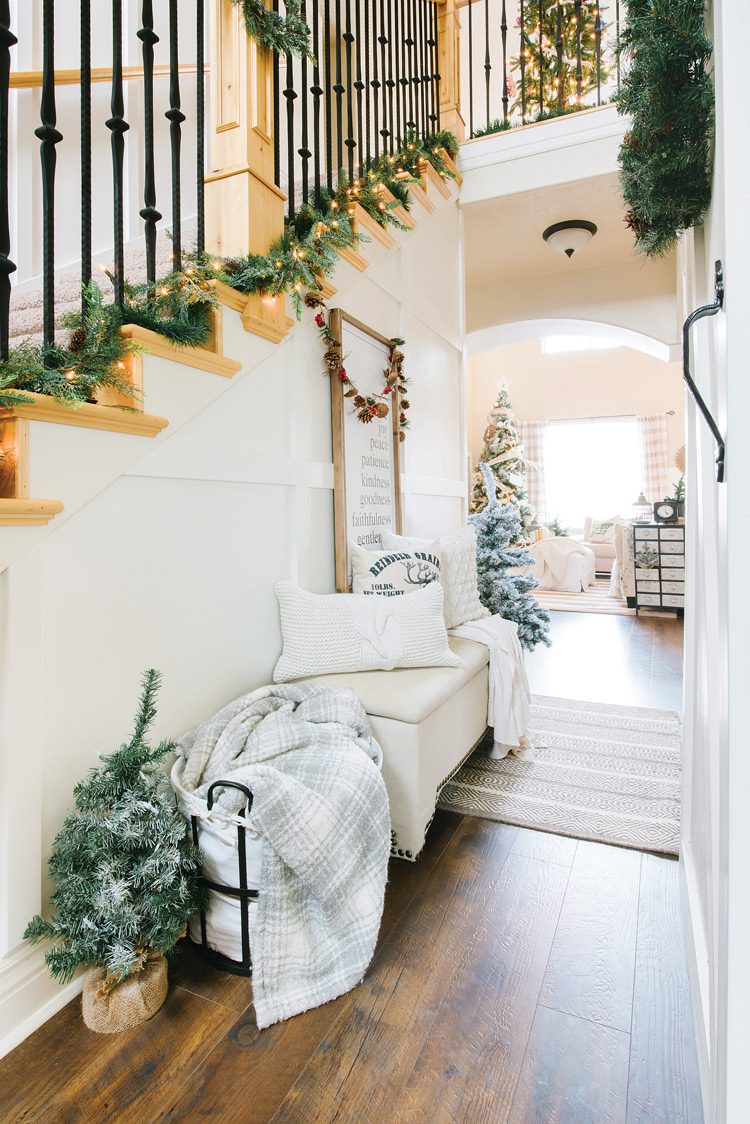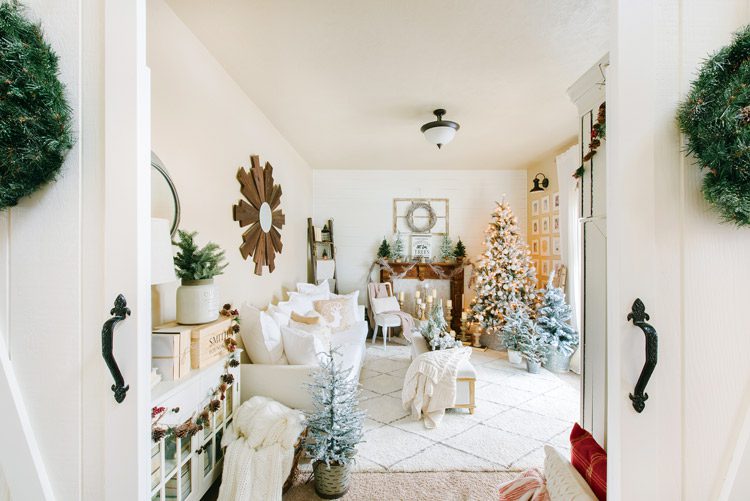 After all, while Alicia is a marketing director by day, by night she's the voice and vision behind the DIY and home décor blog, Thrifty and Chic. Over time, she has transformed the standard build into a charming space bursting with farmhouse style. It's the perfect backdrop to enjoy family life.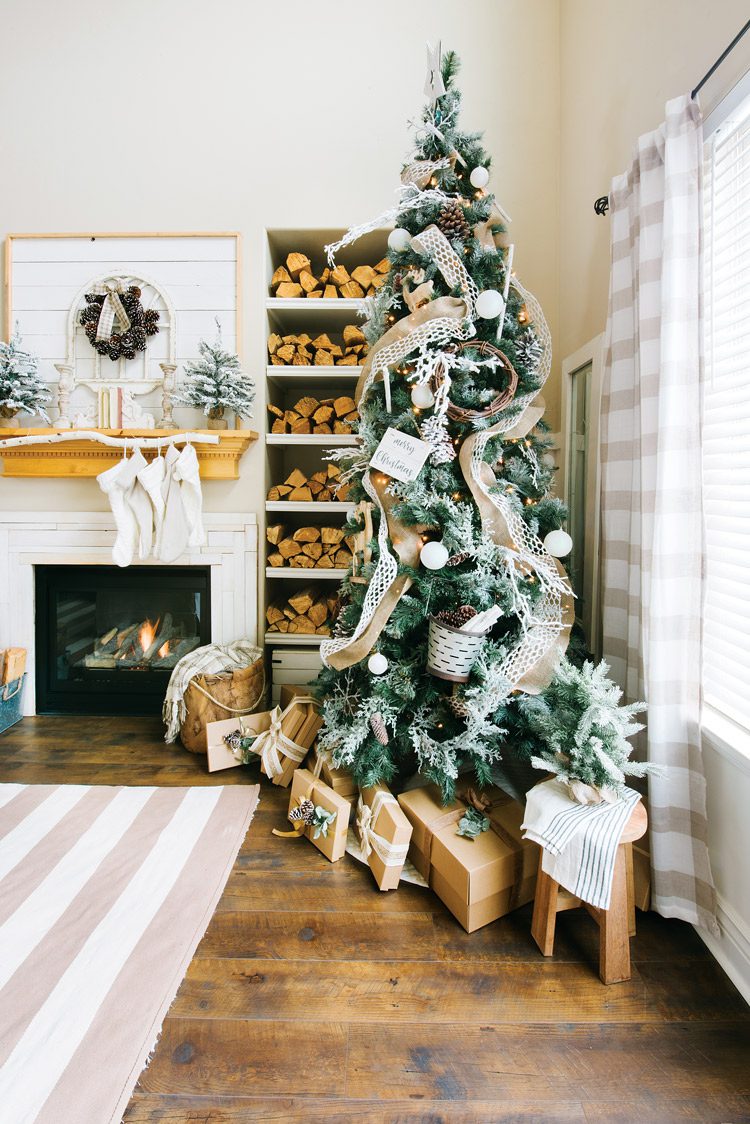 During Christmas, Alicia takes her cues from the existing color palette and creates neutral yet cozy interiors for the holidays. "I love neutral holiday décor because it's easy to add in non-holiday themed pieces," she says. "Plus, it goes with my existing décor, and I don't have to take it down immediately after Christmas—it transitions easily into winter décor!"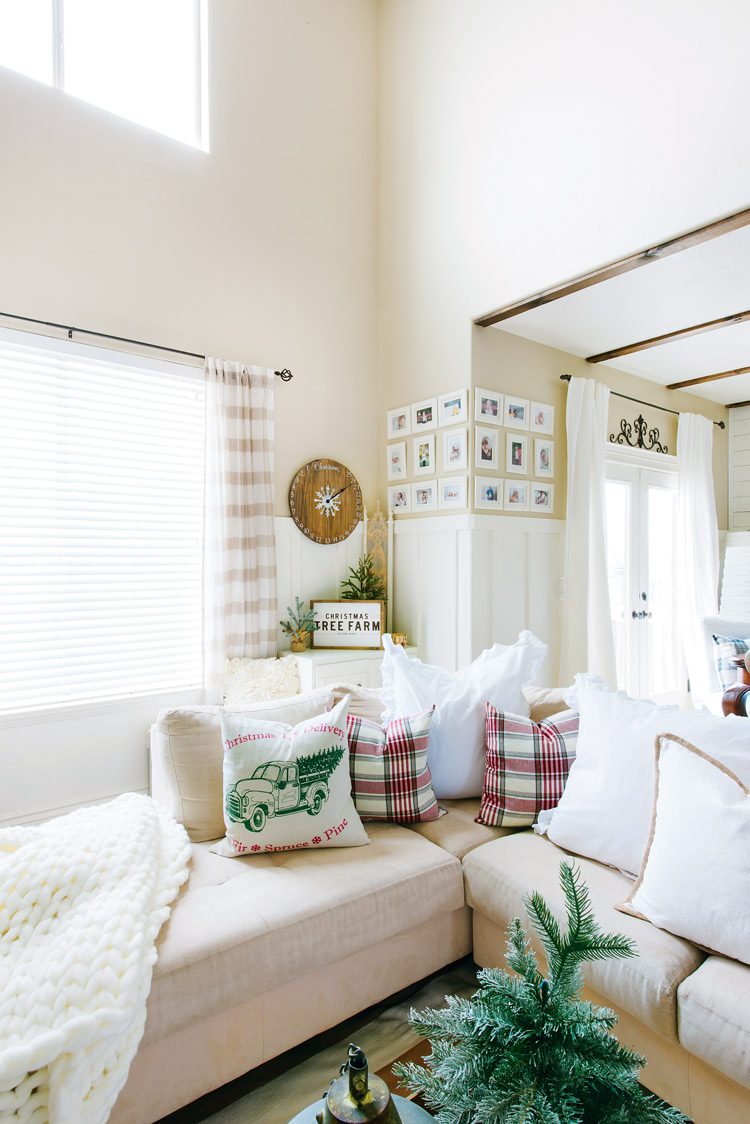 Light, Bright Living Room
The living room is the heartbeat of the Kimbrough home, pulsing with life lived out in conversations, reading and entertaining. "We spend the majority of our time here," Alicia says. When they first moved in, the living room suffered from a severe case of beige. Alicia broke up the color by adding board and batten to the walls and shiplap over the fireplace.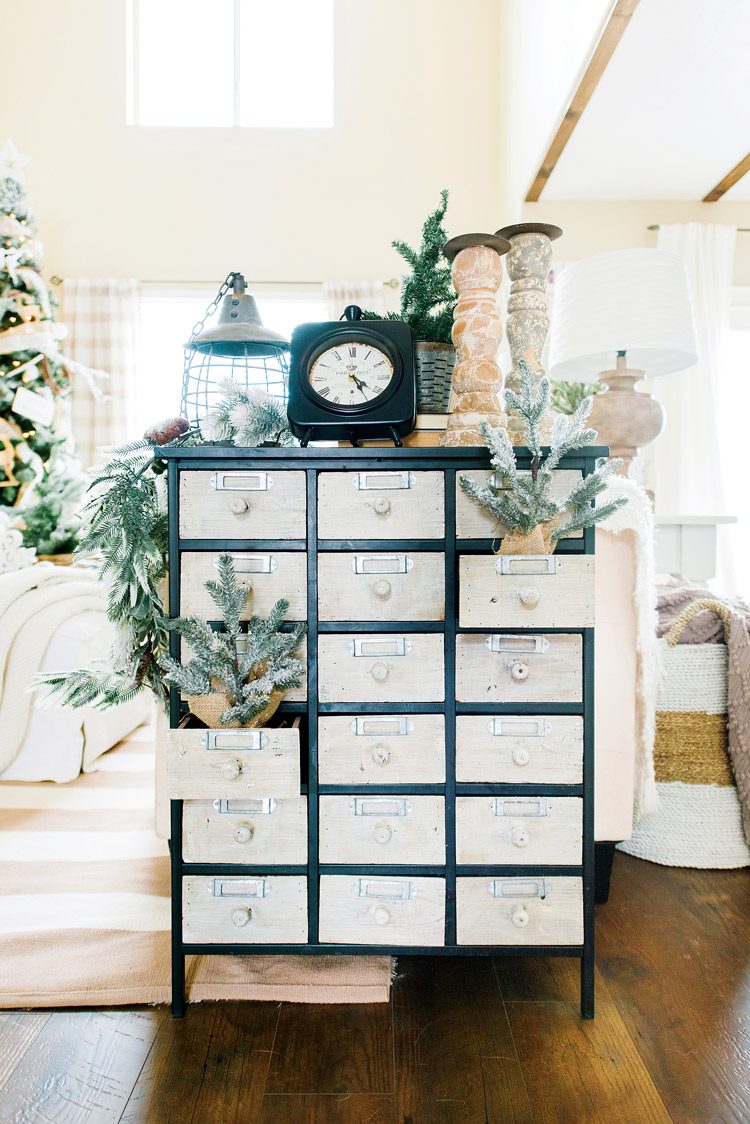 Since there were empty alcoves built into the walls, Alicia added shelves to balance out the room and then filled them with firewood. Though the firewood stays in the alcove year-round, it takes on a wintry feel during the cold months, especially when flanked by the holiday mantel décor and a Christmas tree festooned in cream and tan ornamentation.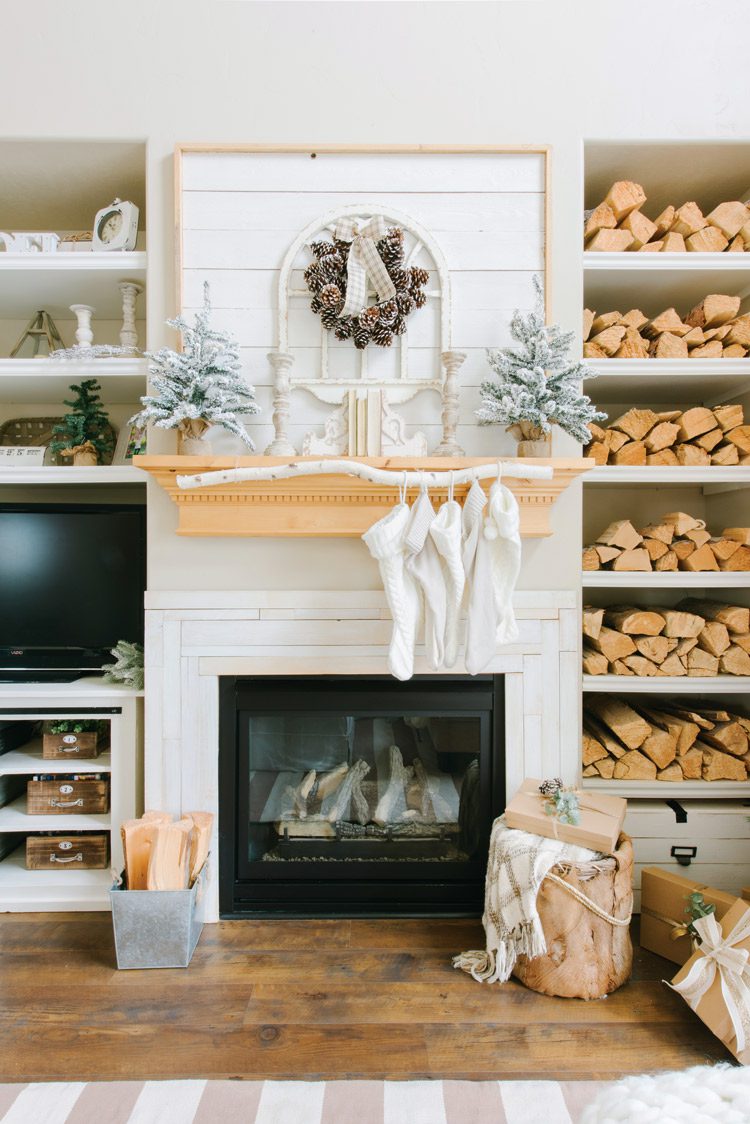 The living room is serene when I decorate it for the holidays," Alicia says. "It draws us in." The soothing, neutral tones of the living room take on a variety of textures during Christmas, with chunky knit blankets on the sofa, flocked mini trees atop the mantel and yarn stockings hanging from a white birch branch. The once too-beige room has become awash in holiday serenity.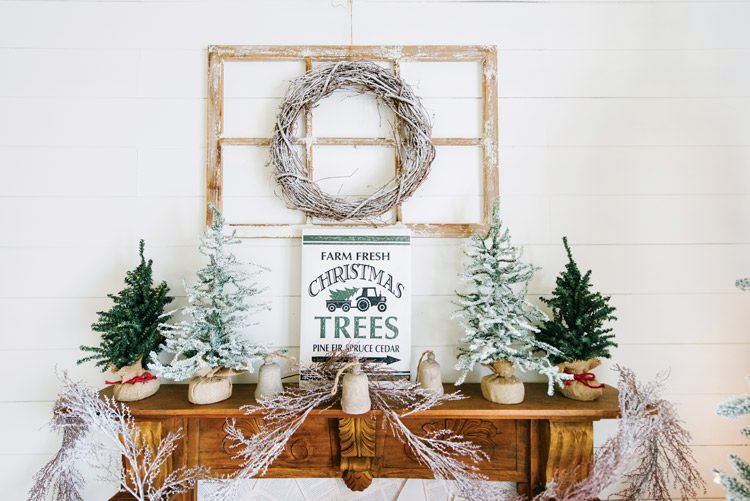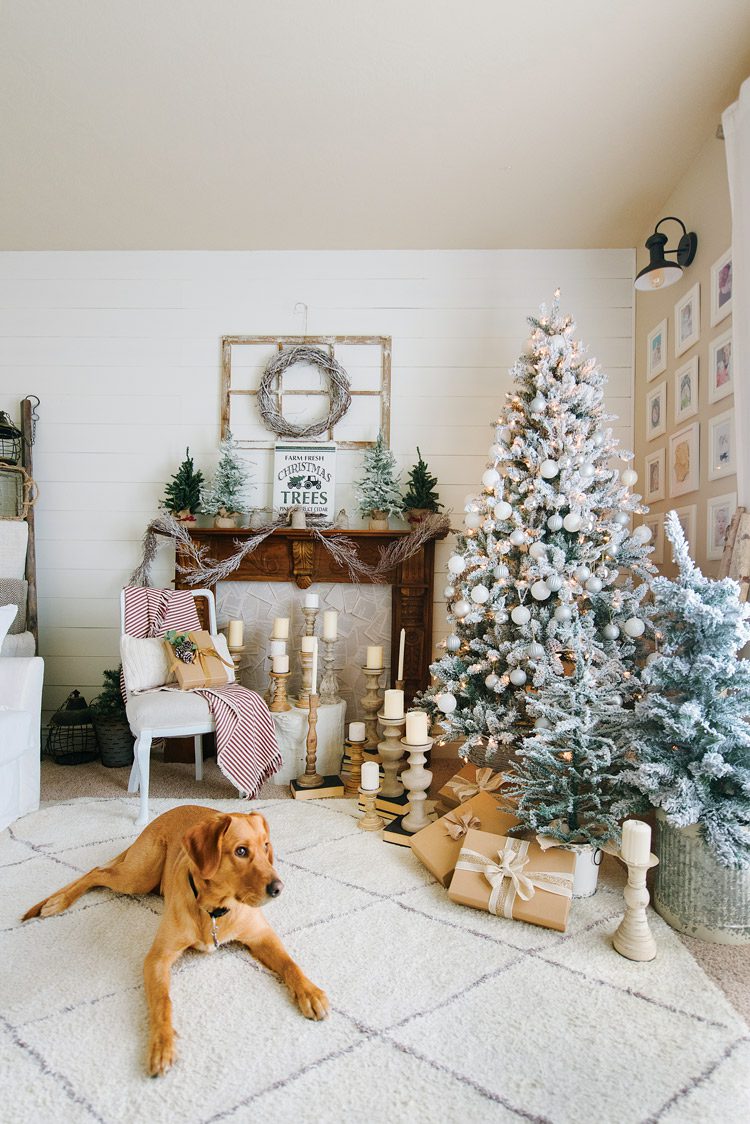 Gather Round
Rethink what you know about the statement wall concept. Alicia gave the trend a new twist by adding shiplap planking and a series of frames to the main wall in the dining room. She then sought to add the vintage character she loves in old homes. "The table was given to us by my mother-in-law," she says. "I added slipcovered host chairs to break up the brown and industrial side chairs juxtaposed with the wooden table and fabric-covered chairs."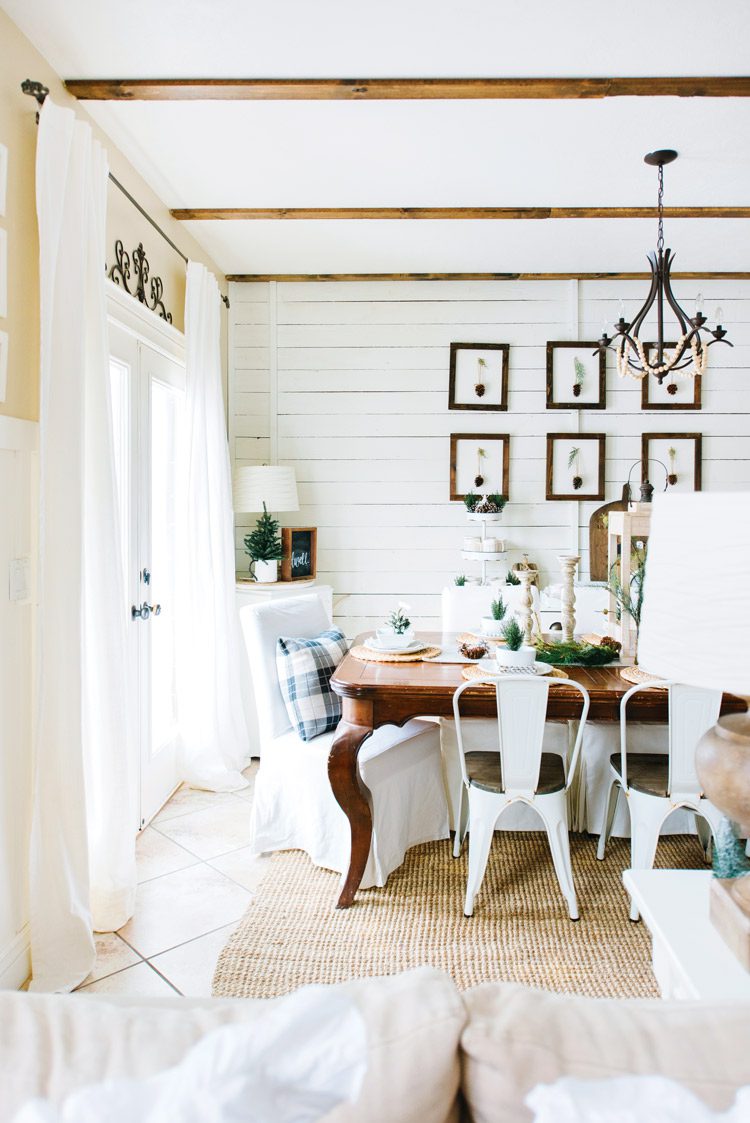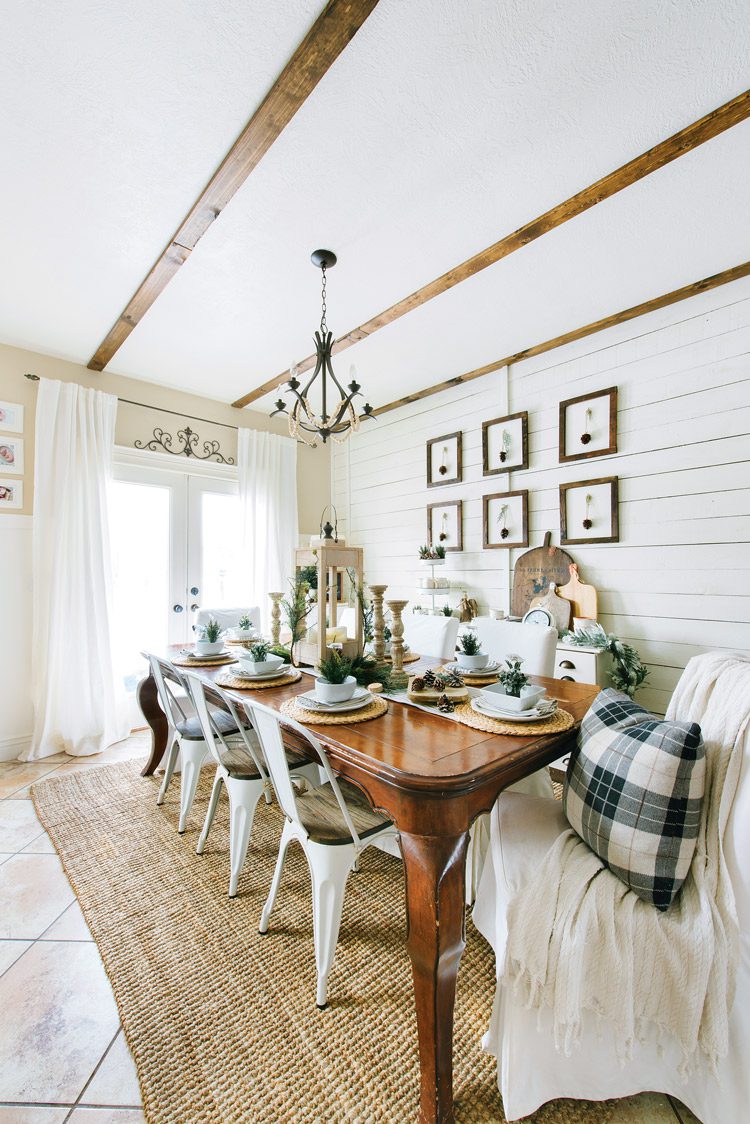 Usually the frames on the walls feature lavender sprigs. But for the holidays, Alicia switches the sprigs out for pinecones hanging on jute ropes. She incorporates just a hint of color by tying greenery to the tops of the pinecones.
She also implements micro Christmas details at each table setting, such as small pots of greenery that double as place-card holders and flocked pinecones woven around wood candlesticks and a lantern—all in her signature neutral colors, of course. Guests feel as though they have their very own enchanted winter forest at their place setting.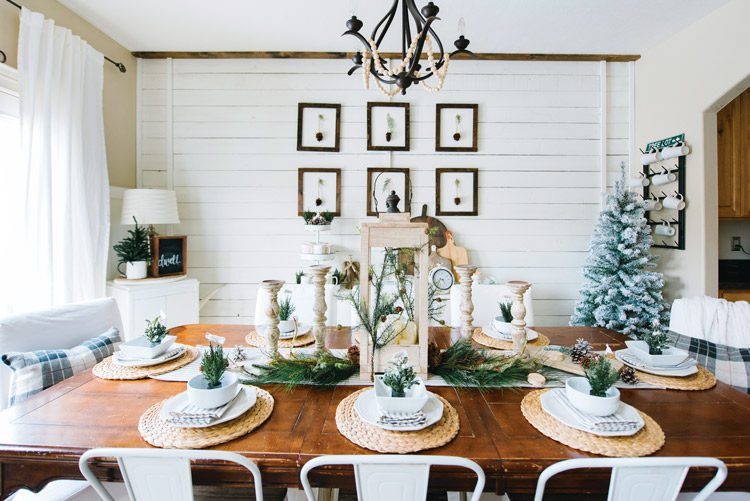 For Alicia, there is nothing standard about her standard-build home. Instead, with her hands-on approach, it's become a place full of love and style—and just the right home for the holidays.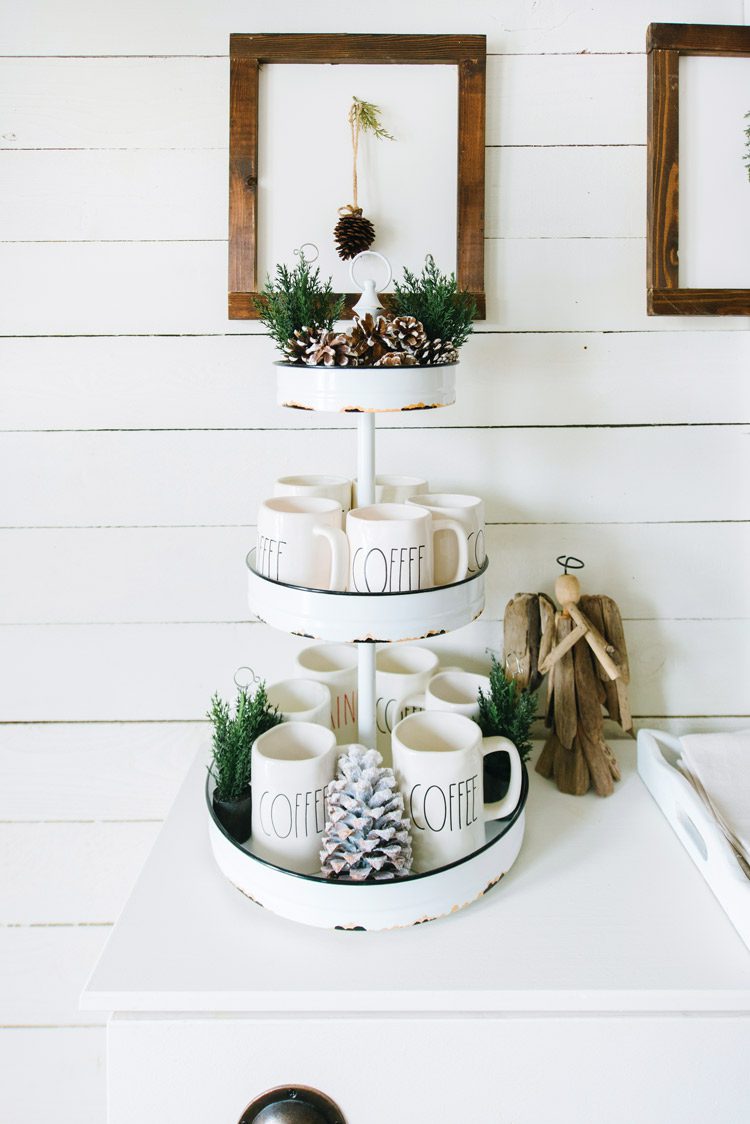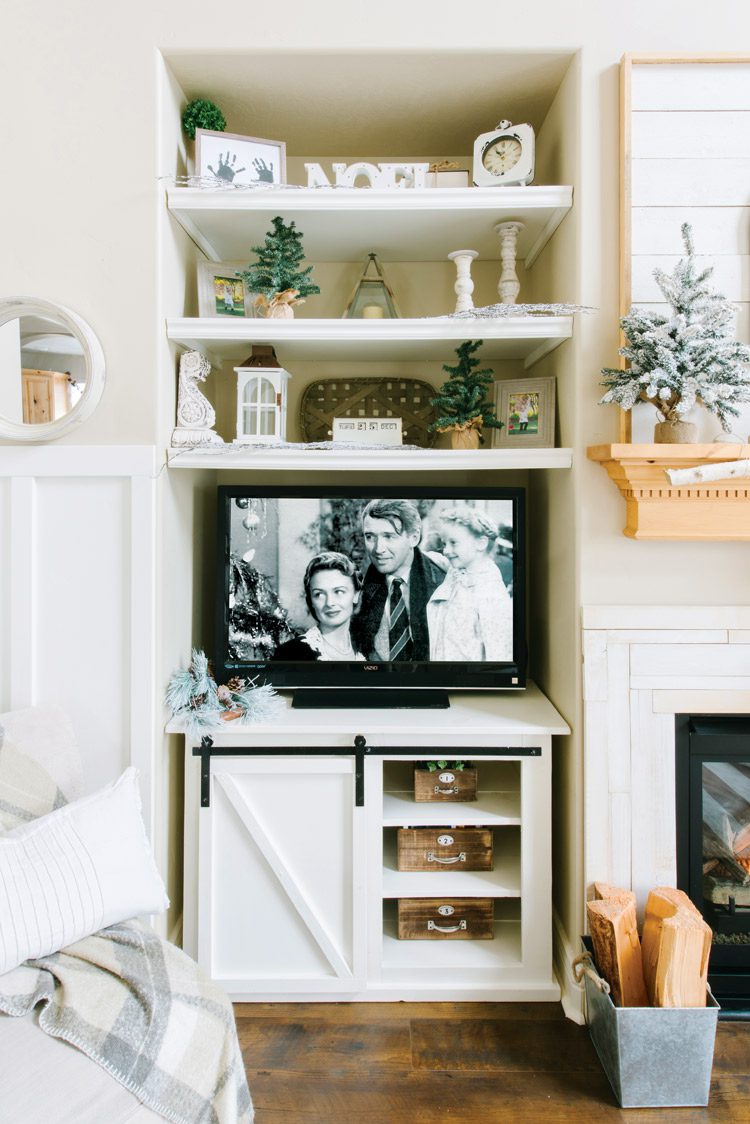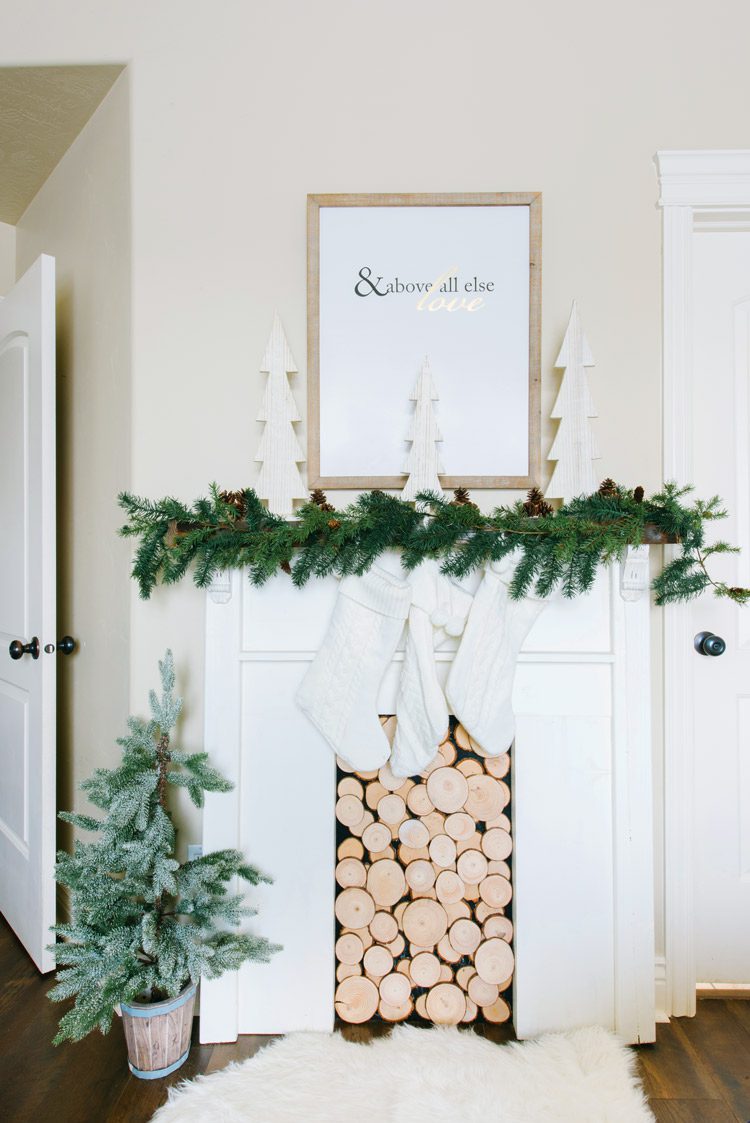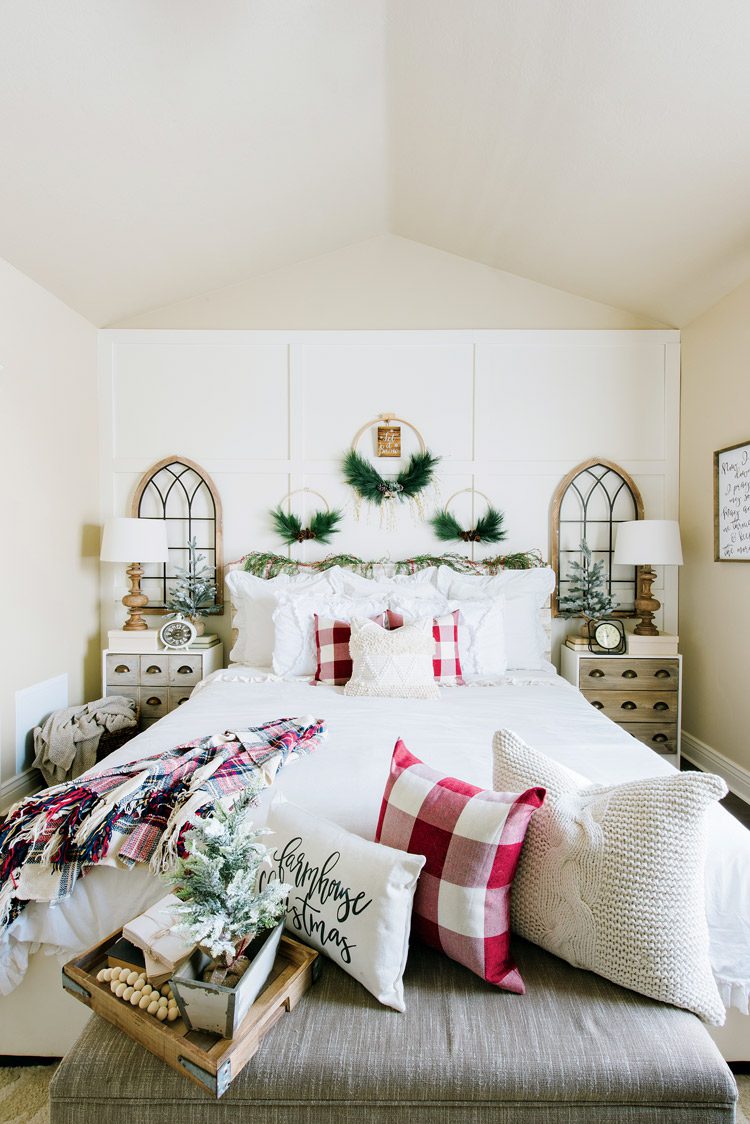 A Christmas Bath
The first thought that hit Alicia when she walked into the master bathroom? "That tub! It was a dream come true," she says. Sold on the tub, she got to work updating the everyday bathroom to farmhouse chic. "I took down the standard towel holders and replaced them with stained-wood floating shelves," she said. "I added ruffle curtains and faux shiplap to complete the space."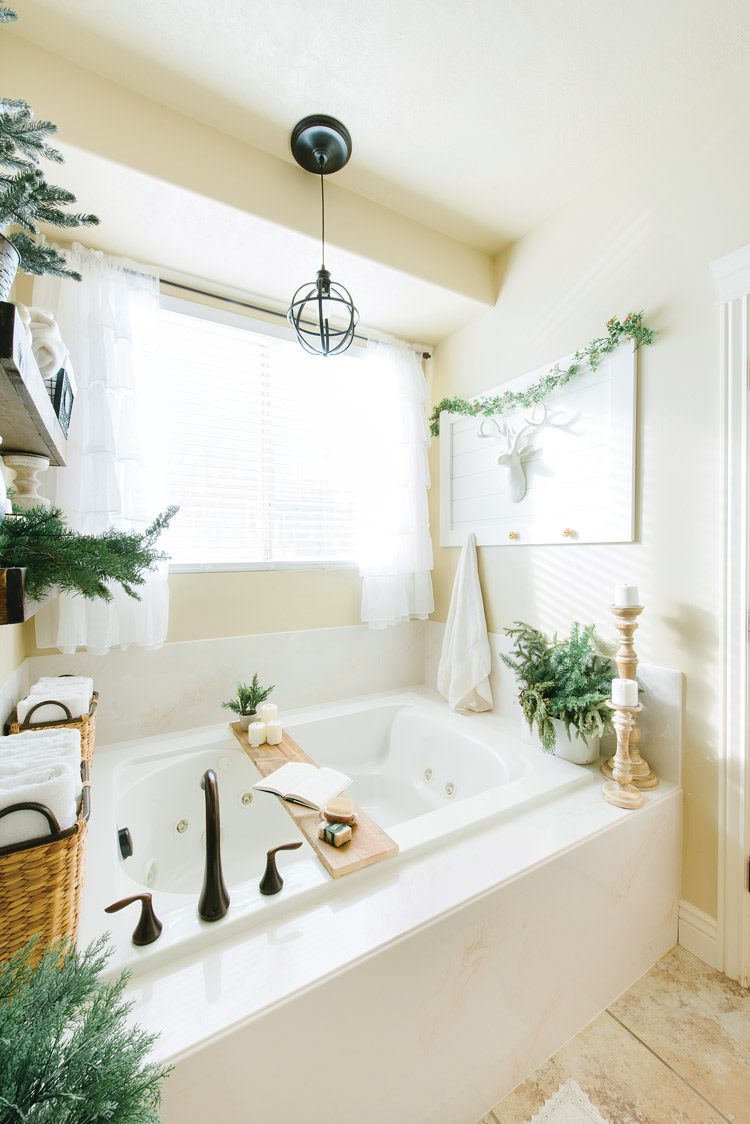 In December, a Christmas bath is absolutely essential for soaking away hours of shopping, decorating and gift wrapping. To bring Yuletide cheer to the bathroom, Alicia adds fresh-cut greens on the shelves. "The small space really maximizes the aroma," she says. "I also put up a letter board. It's fun to add short Christmas phrases."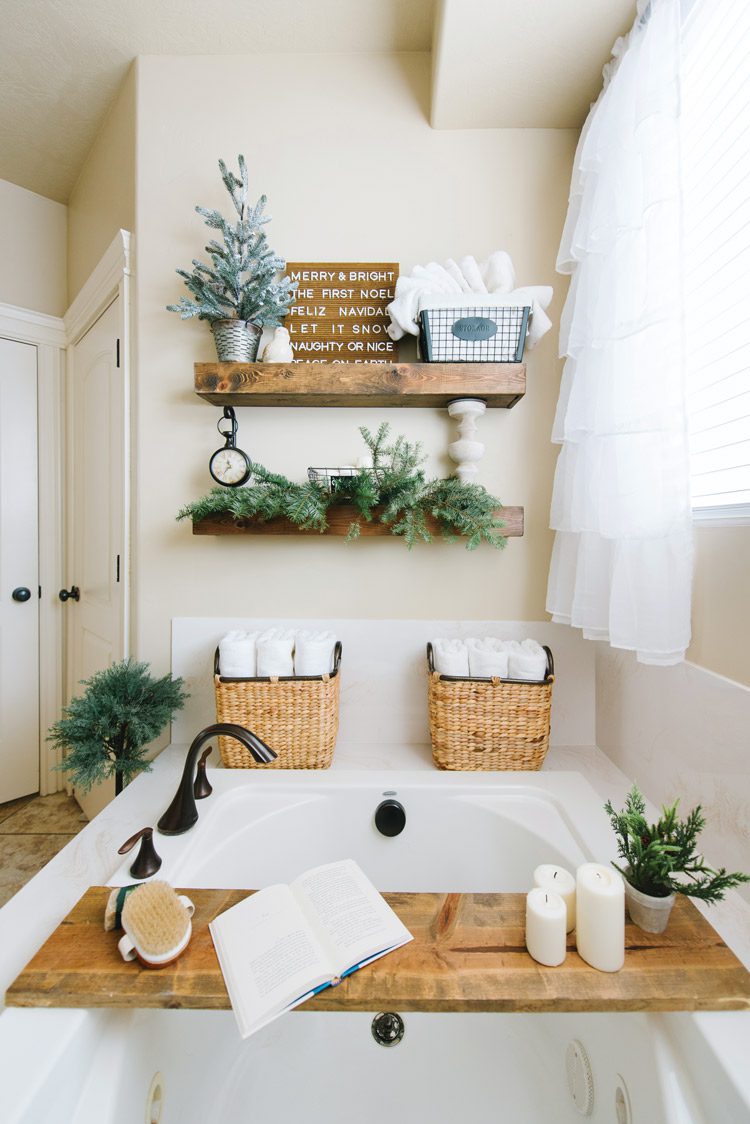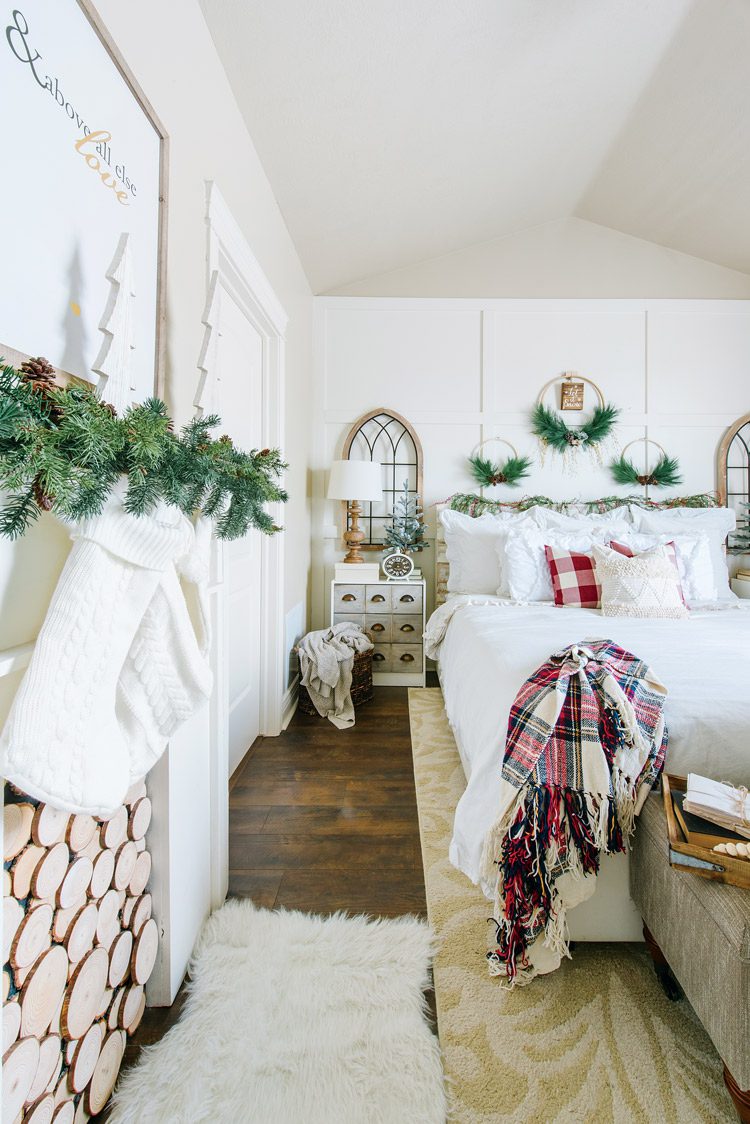 ---
Love this Utah farmhouse? This 1950s ranch got a farmhouse makeover, too. Of course, don't forget to follow us on Instagram, Facebook and Pinterest to get your daily dose of farmhouse inspiration!