A Modern Boho Farmhouse in Georgia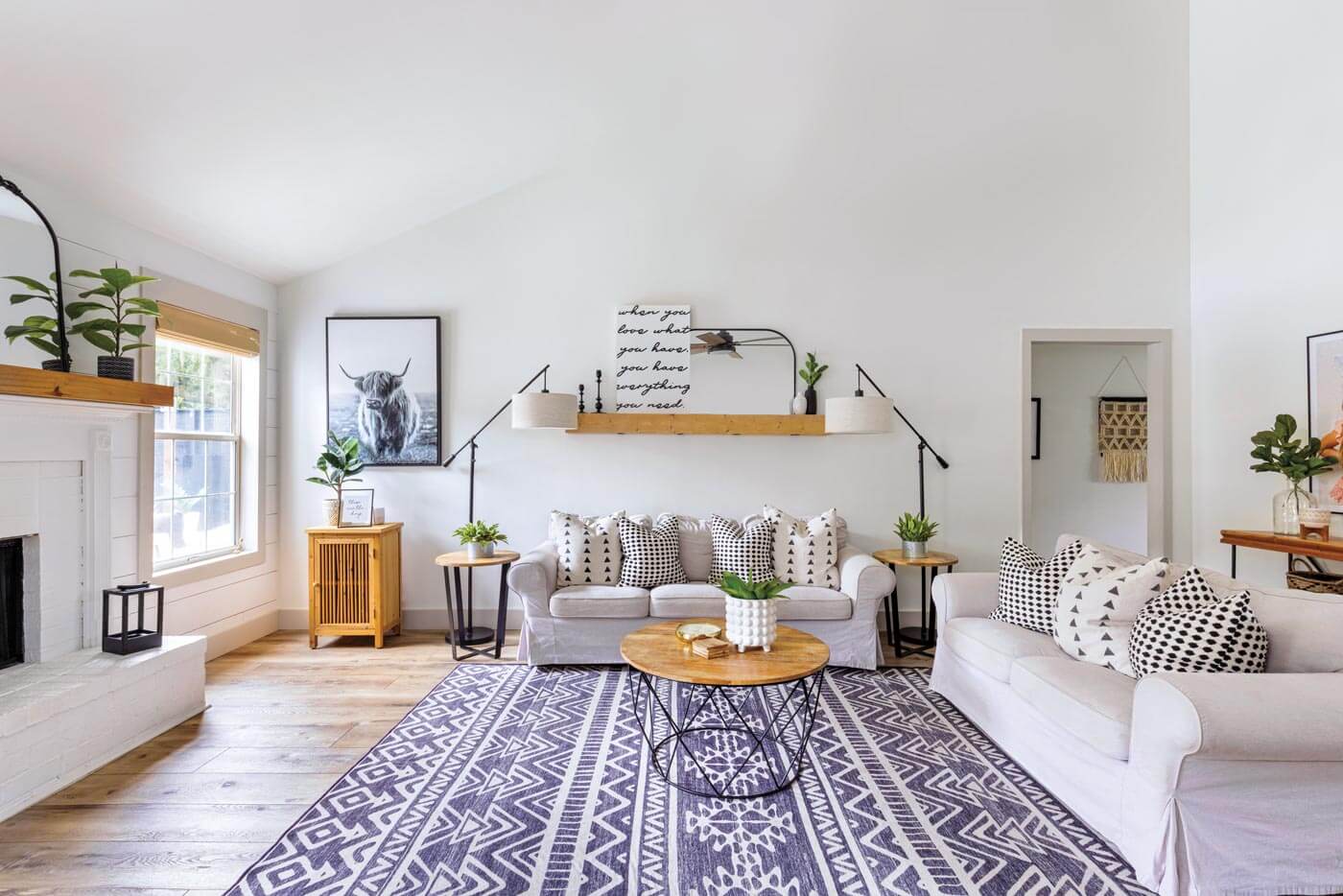 A pair of Savannah newlyweds turned their starter home into a dreamy modern boho farmhouse fit for the long haul.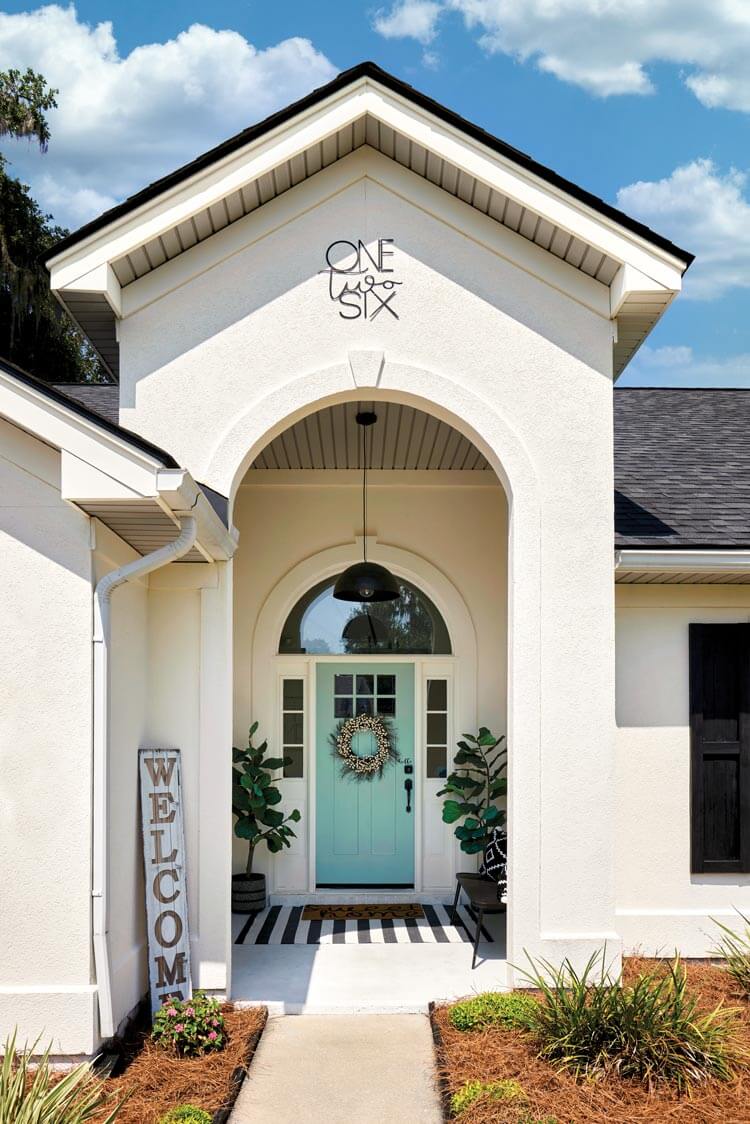 When newlyweds Stacy and Bret Smith purchased their first house in Savannah, Georgia in 2012, it was in need of some updates. "Think '90s wallpaper with fruit all over the walls, green laminate countertops and very dark cabinets," Stacy says. "I feel like most people probably would have turned and walked away when they saw the amount of cosmetic work that was required, but the bones were good." The result is a modern boho farmhouse for the long haul.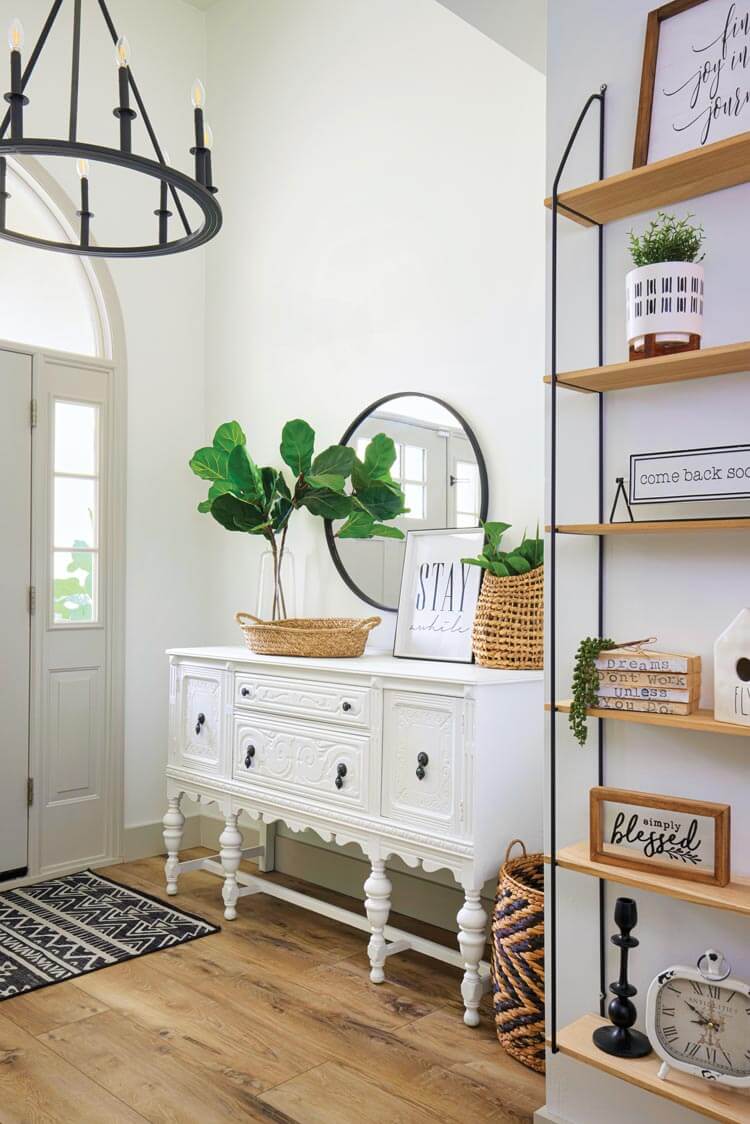 DIY Friendly
With the help of their extended family, the couple started renovations to create a space more to their liking. "Thankfully, my husband and father-in-law are super handy when it comes to building and finding budget-friendly ways to accomplish the look I was going for," Stacy says. "We found ways to make the vision I really wanted work without adding the extra cost of major renovations."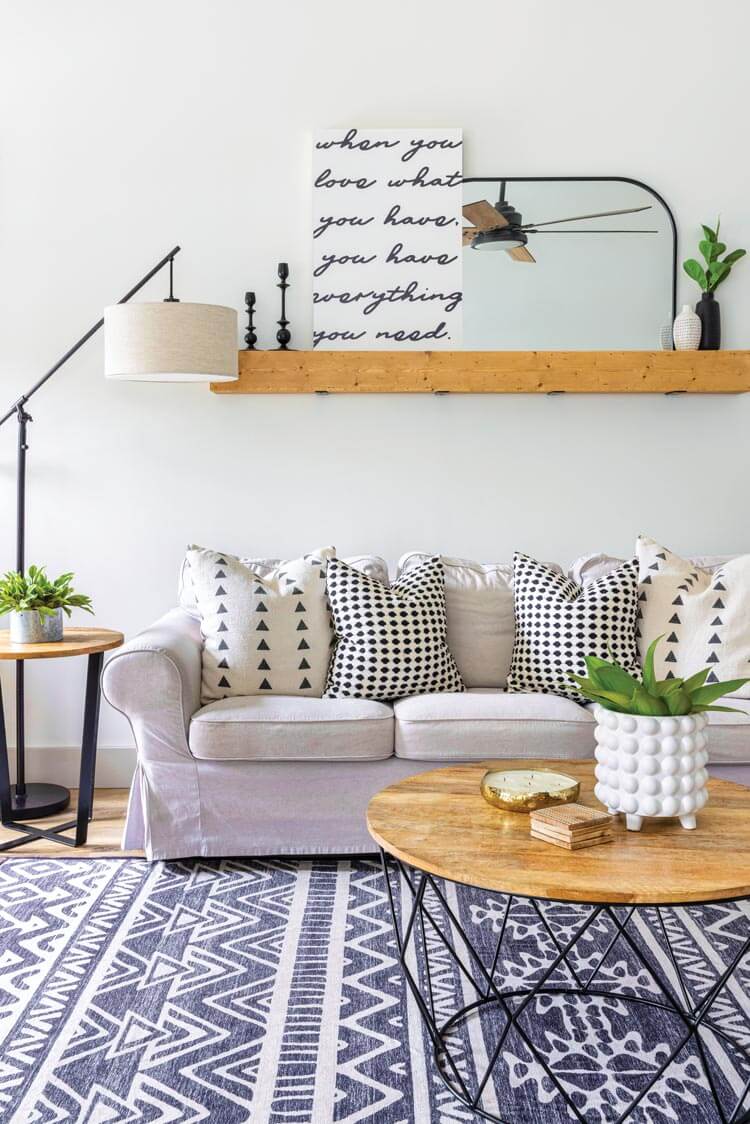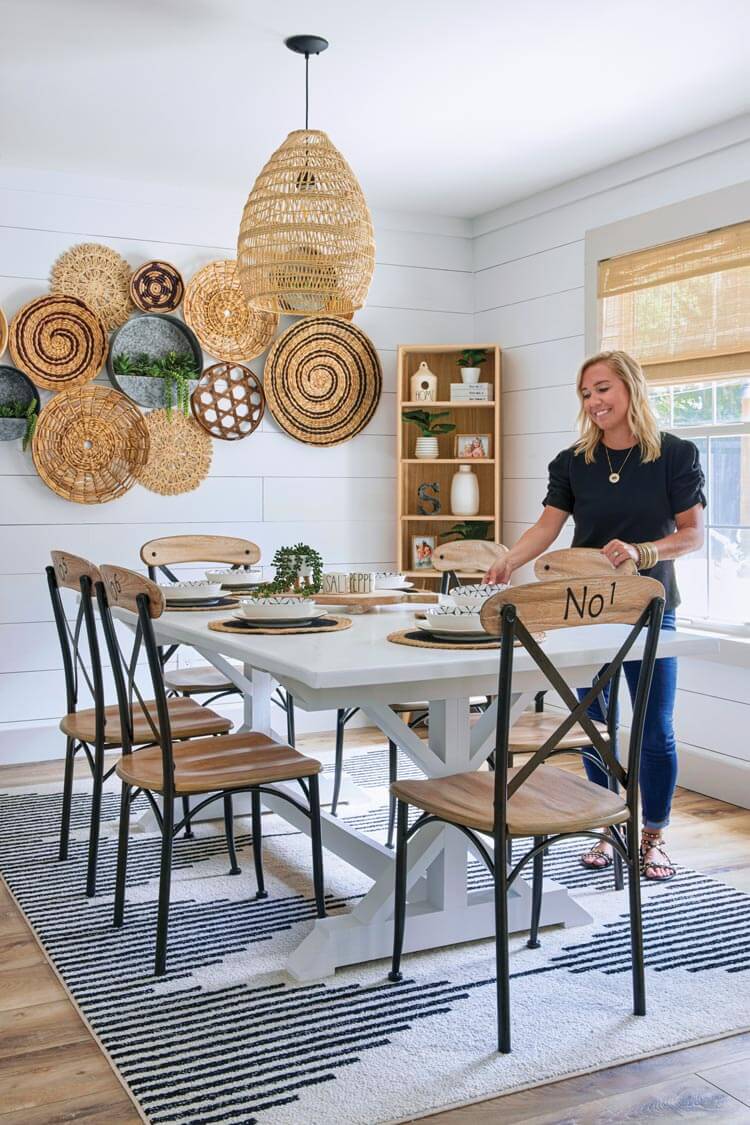 The couple started renovations by removing the popcorn ceiling, old wallpaper and carpet. Then they painted the entire house from top to bottom. Without changing the existing footprint, they also made updates to the kitchen and both bathrooms, exchanging a double sink in the primary bathroom for a single vanity and extra storage. "There is not a space in our house that hasn't been touched," Stacy says.
Stacy's style changes have resulted in an effortless continuity that carries throughout the house, yet makes each space unique.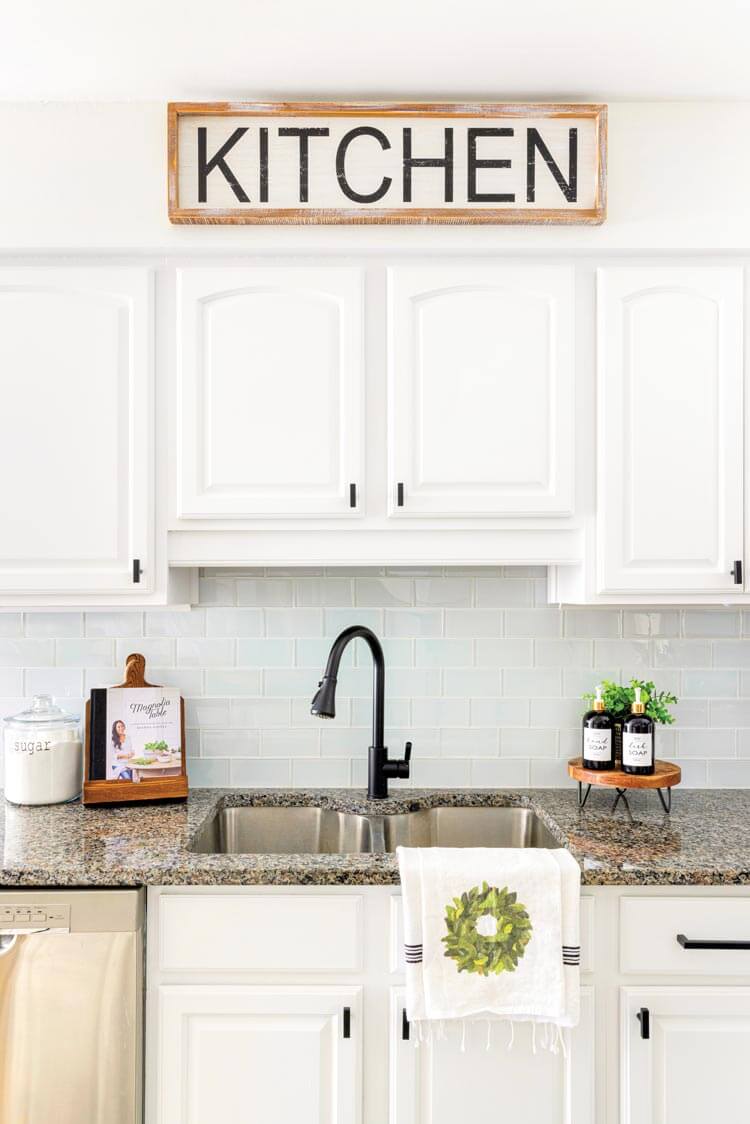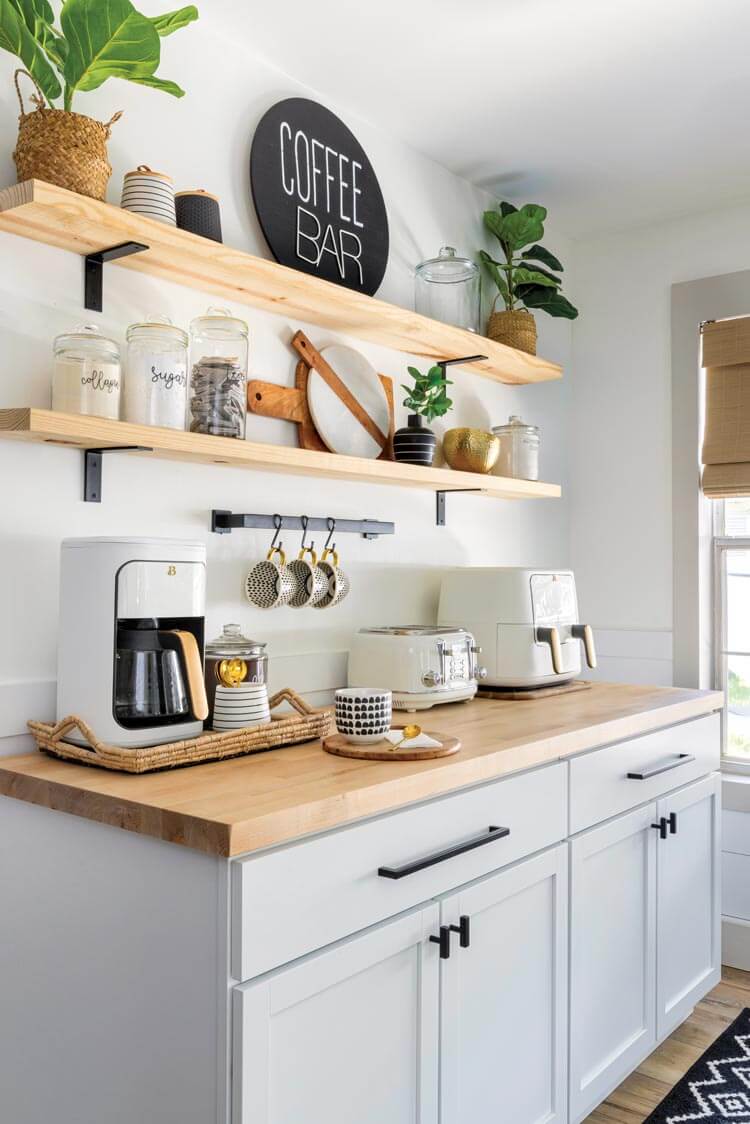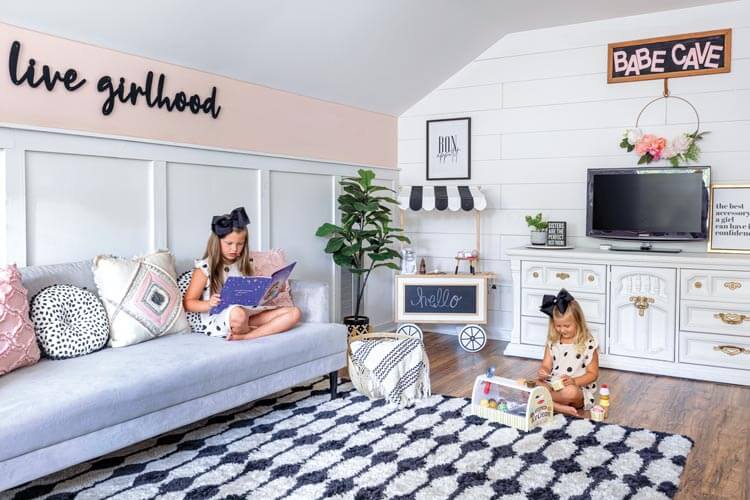 Stacy and Brett even turned an upstairs bonus room into a darling "babe cave" once the couple had two daughters. "My husband likes to say he was booted out of this room," Stacy says. "It was his man cave before we had kids." They've put years of work into the house and there's always more to come. "This house has been a work in progress for us from the day we bought it," Stacy says.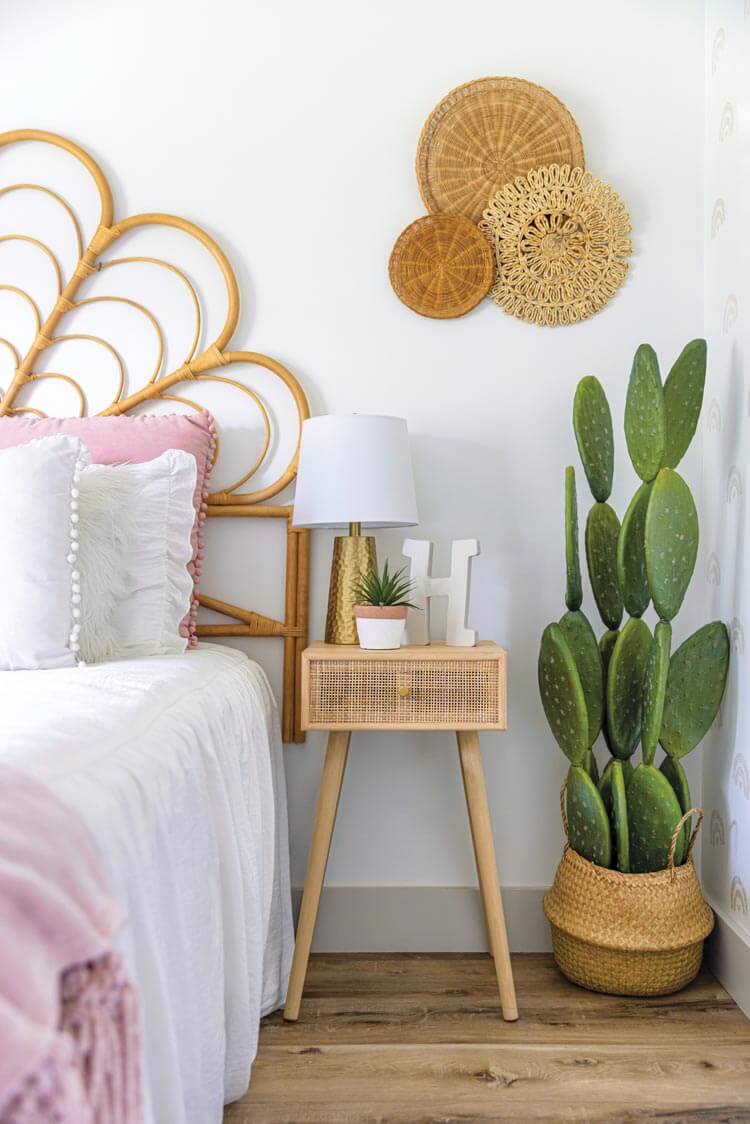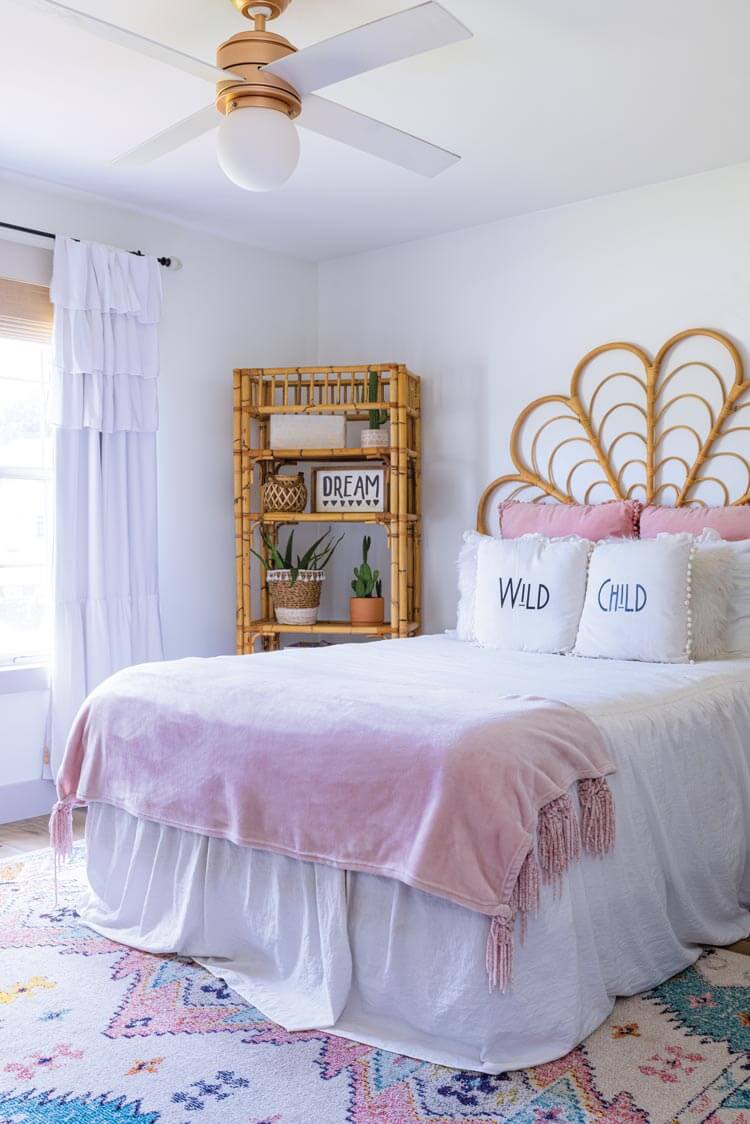 Design Style
Stacy's aesthetics have changed over time, but have landed in a place that feels like home to her. "I used to be really into all farmhouse," she says, "but I got to the point where I just wanted to declutter everything and start fresh with what was calming to me." Now, she describes her style as "modern farmhouse with a minimalistic boho twist." Stacy gravitates toward clean and simple with an emphasis on neutral colors, black-and-white, subtle warmth from natural wood and touches of greenery.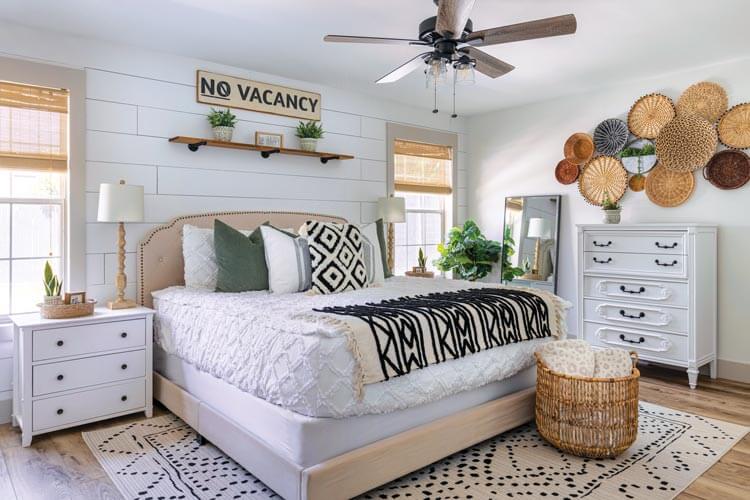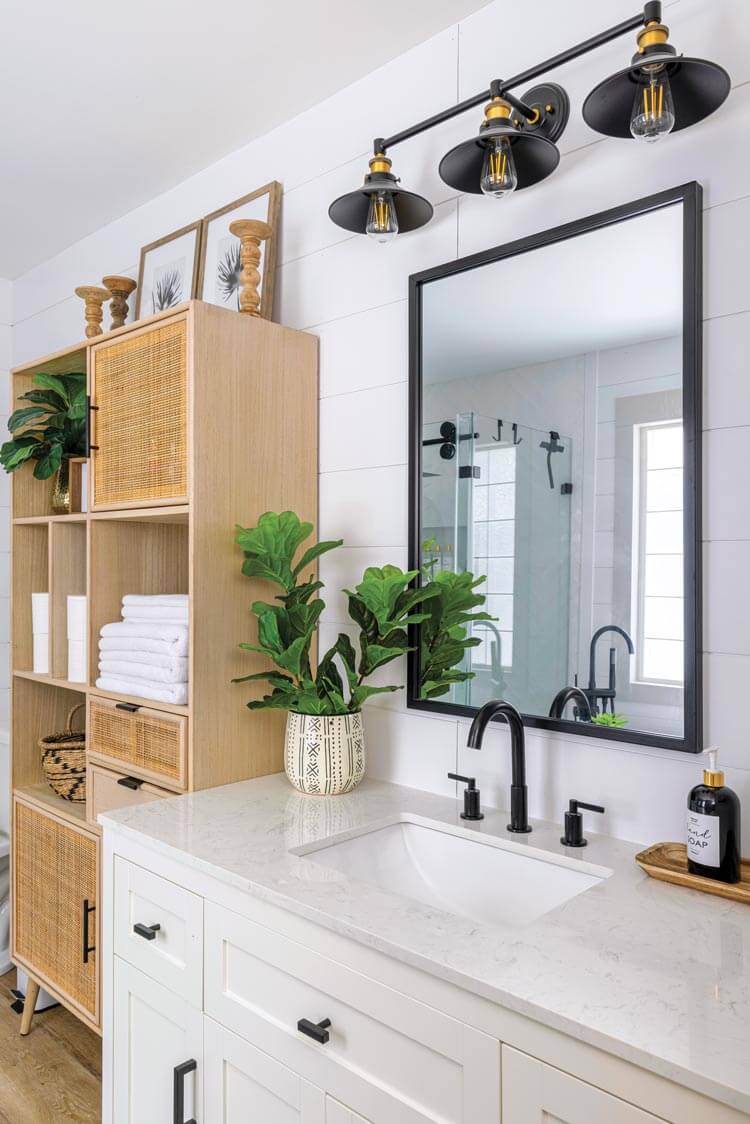 Her style changes have resulted in an effortless continuity that carries throughout the house, yet makes each space unique. For example, the guest bathroom has bold starburst wallpaper that lends a dramatic air to the room, while the living room is open, bright and peaceful. "Our living room is where we as a family spend 95% of our time," Stacy says. "My favorite aspect is definitely the high vaulted ceiling; it makes the space feel much more open and airy."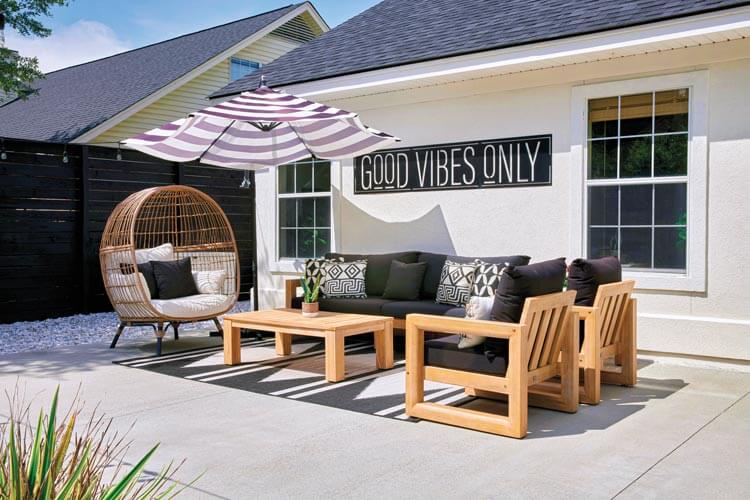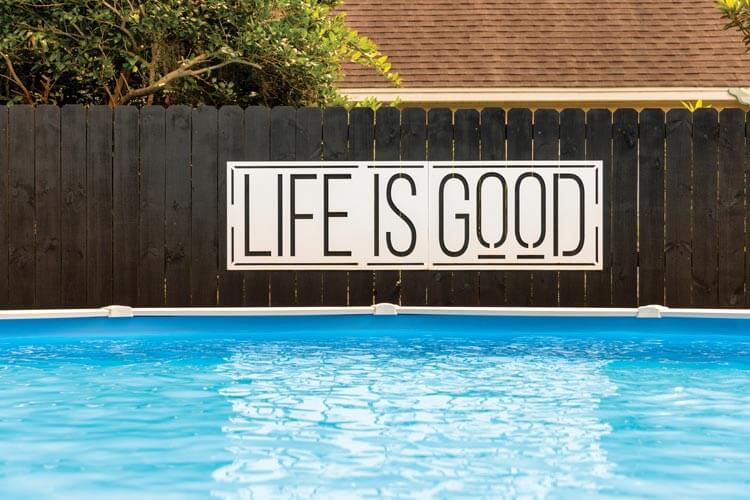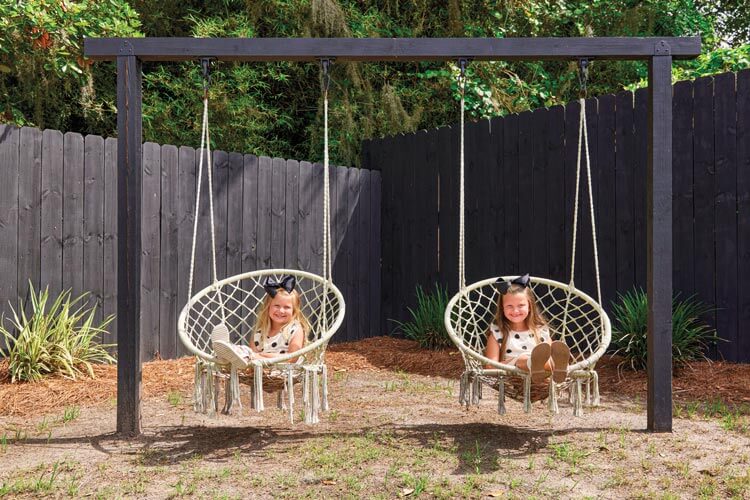 Together with the help of their extended family, Stacy and Brett have completely overhauled the home's interior and created a backyard for entertaining and family fun from scratch.
"All of our family have had some part in making this house a home for us," Stacy says. "If we ever decide to move one day, it's not going to be an easy place to leave." All their hard work has paid off to create a bright and welcoming boho farmhouse where they can happily raise their family.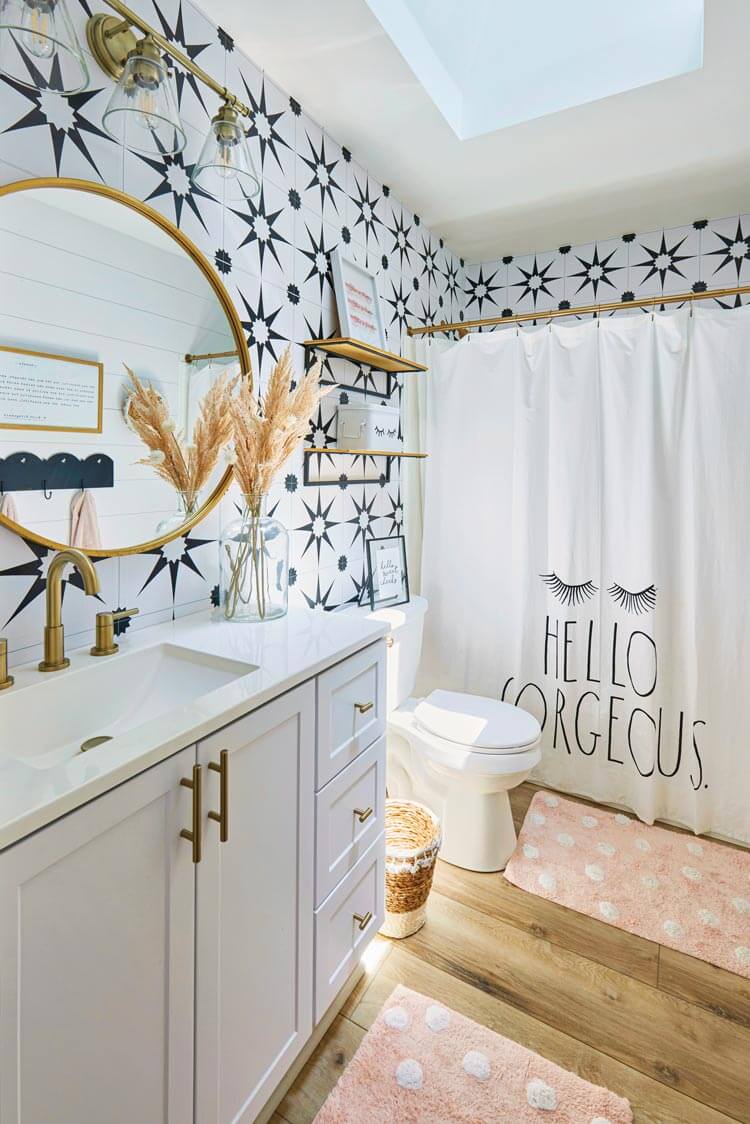 Tips for Modern Boho Farmhouse Style
Want this fun vibe in your own home? Here are a few recommendations from homeowner Stacy Smith of Farmhouse to Frills for how to get a modern boho farmhouse look.
Declutter. While this may seem counterintuitive for busy boho style, for Stacy, it's a key part of the aesthetic. "Get rid of things that do not serve a purpose in your home," she says. This will allow your décor to shine through.
Add contrast and textures. The boho vibe is about both simplicity and fun. "If you go for a muted or neutral base for your wall color, floor tile or backsplash, then go for a patterned rug, or fun pillows and blankets to play against those simple bases," Stacy says. "And don't be afraid to mix patterns; that's ultimately what boho style is."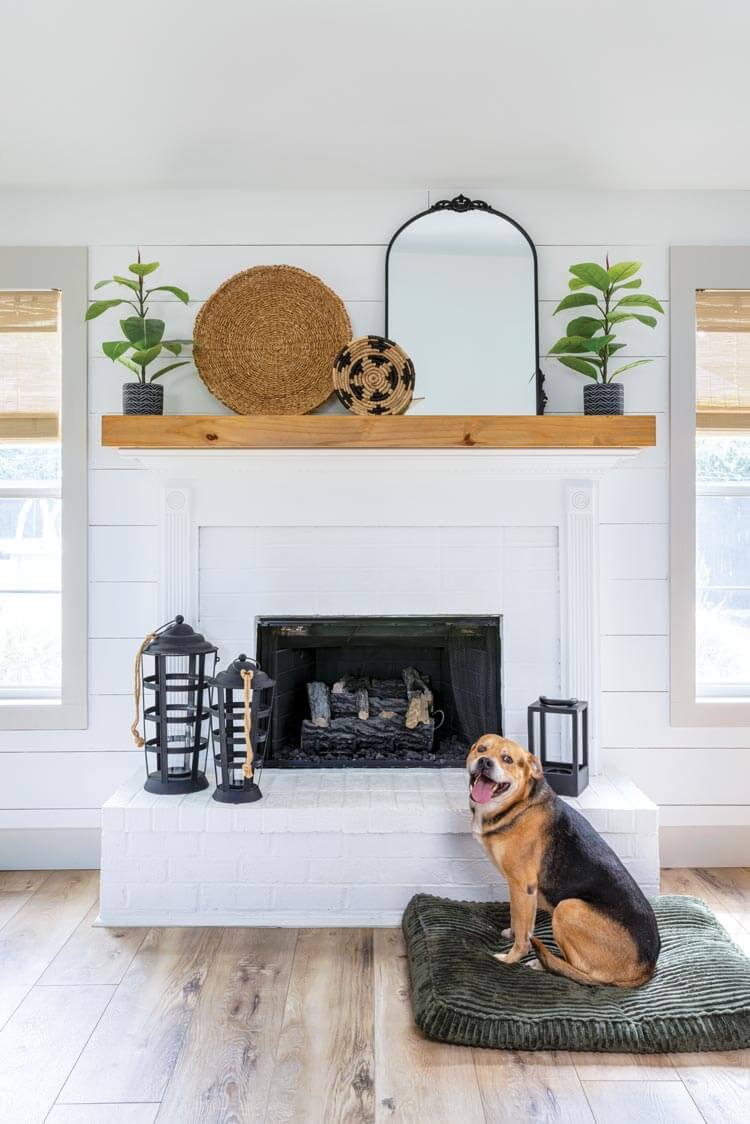 Plants, plants and more plants. "This is a staple," Stacy says. Fill your home with house plants, from snake plants and cactuses to the classic farmhouse fiddle leaf fig. If you don't have a green thumb, you can opt for faux plants, or even try some of each.
Natural touches. Wood tones are where farmhouse and boho styles meet. "I love using natural wood elements for warmth and neutral baskets for storage," Stacy says. "Even using a basket chandelier is a great way to tie in the natural elements for a simple boho look."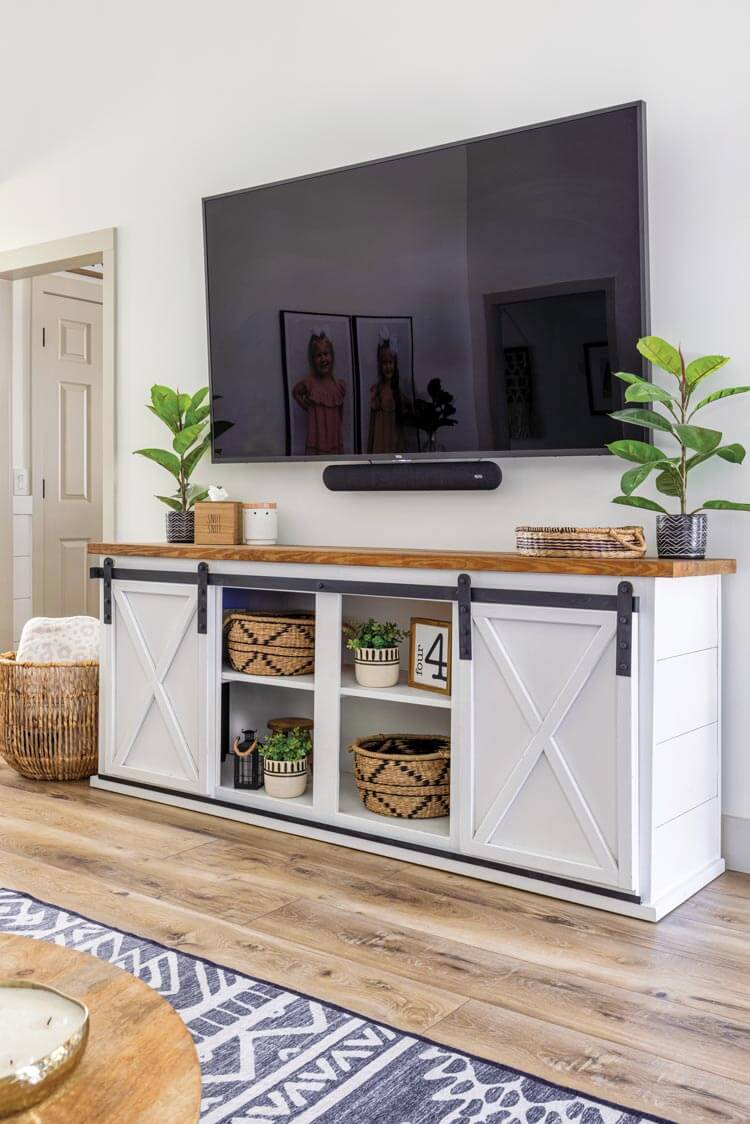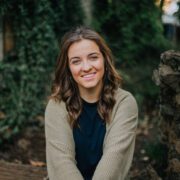 Lauren Hofer
A native Californian with a love for adventure and fun, you'll find Lauren writing freelance articles in a coffee shop, taking a road trip or swimming in whatever body of water is nearby. With a passion for writing, communicating and storytelling, she currently works and writes for The Adventure Challenge in Redding, CA and is a certified funeral celebrant. Learn more at laurenhofer.com.