Home for Christmas at the Farmhouse Wish List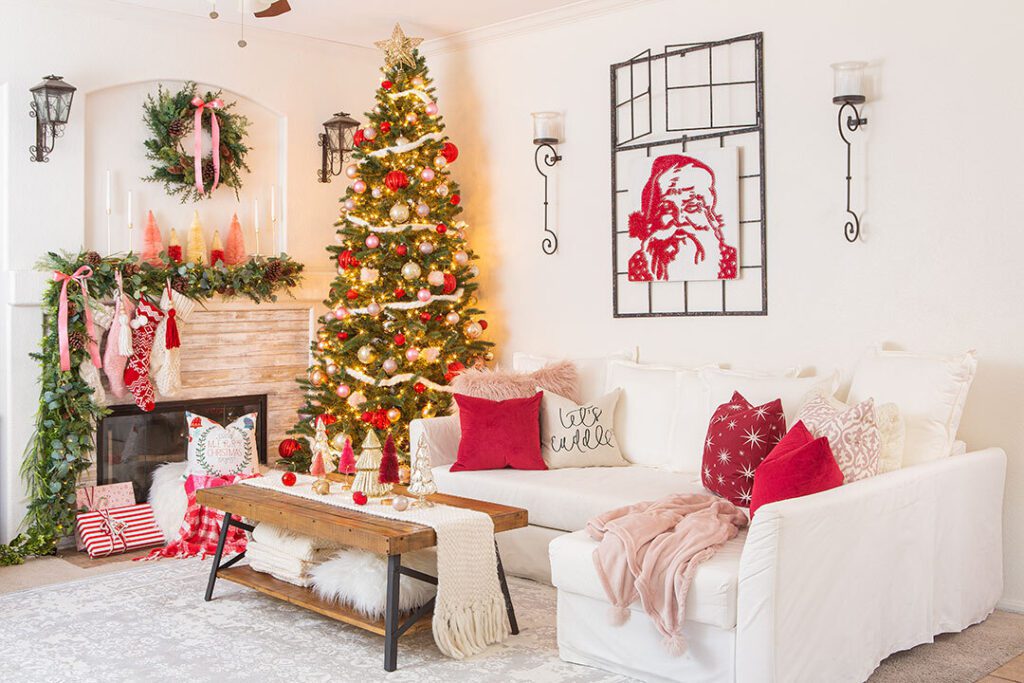 There's no place like home for the holidays! While we count down the days 'till Christmas, we're planning ahead to deck the halls and get our gifts in order. Follow along with us over the next 10 weeks as we share our favorite festive finds. From decor inspiration to gift ideas, our Farmhouse Wish List items are guaranteed to make your spirits bright this holiday season.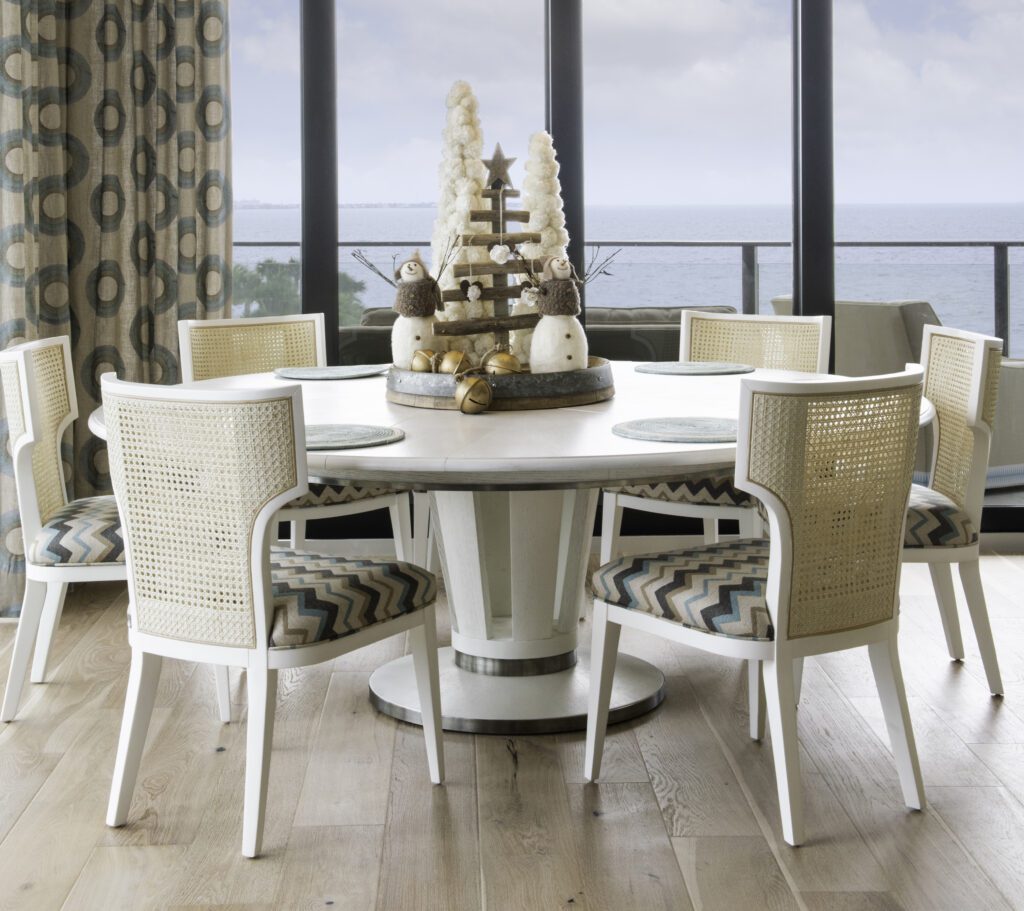 The contemporary Jupe round dining room table is offered in a working white finish. Antiqued stainless steel bands circulate around the lower apron and base for avant-garde distinction. The top is veneered in oak veneer. The table top has pull-out sections that reveal stored leaves within the table. Leaves lift into place making the tabletop surface expandable—such masterful engineering and a BSEID top seller.
Find the Jupe table and more at BSEID.com.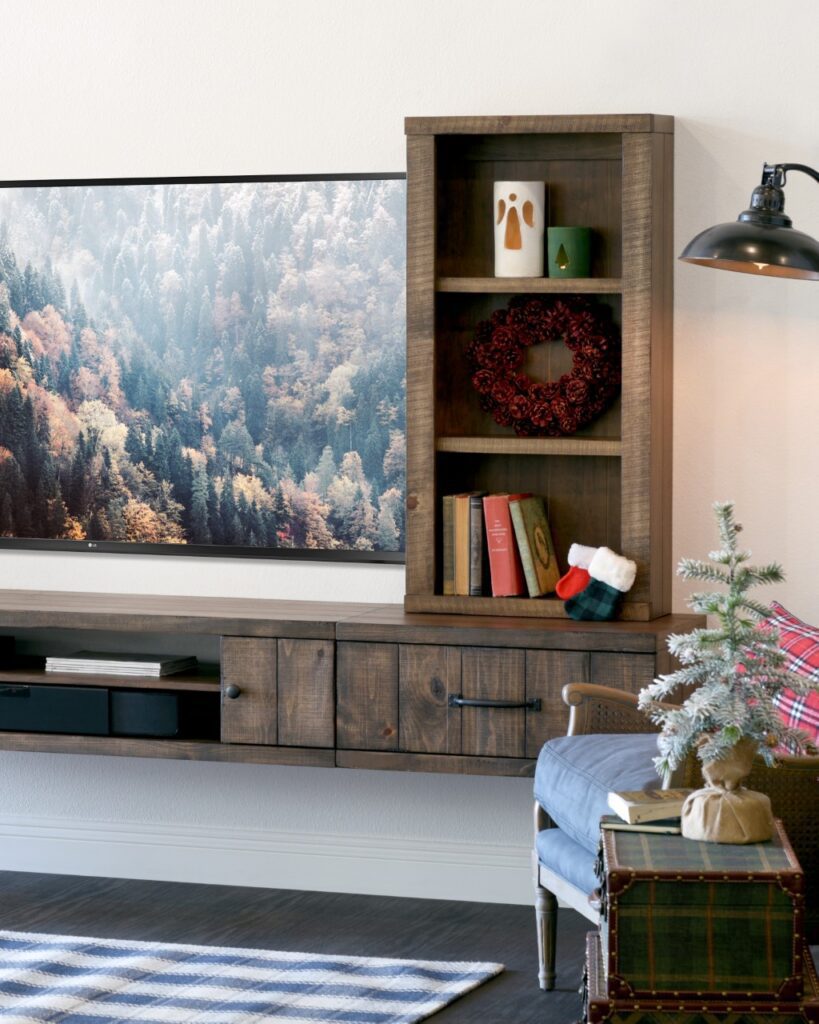 This stunning Rustic Farmhouse Floating TV Stand Entertainment Center Console in Spice from Woodwaves is the perfect combination of rustic charm and modern functionality. Keep clutter to a minimum with this low profile wall mount design. The natural beauty of the wood adds warmth to any space.
Find the entertainment center and more at Woodwaves.com.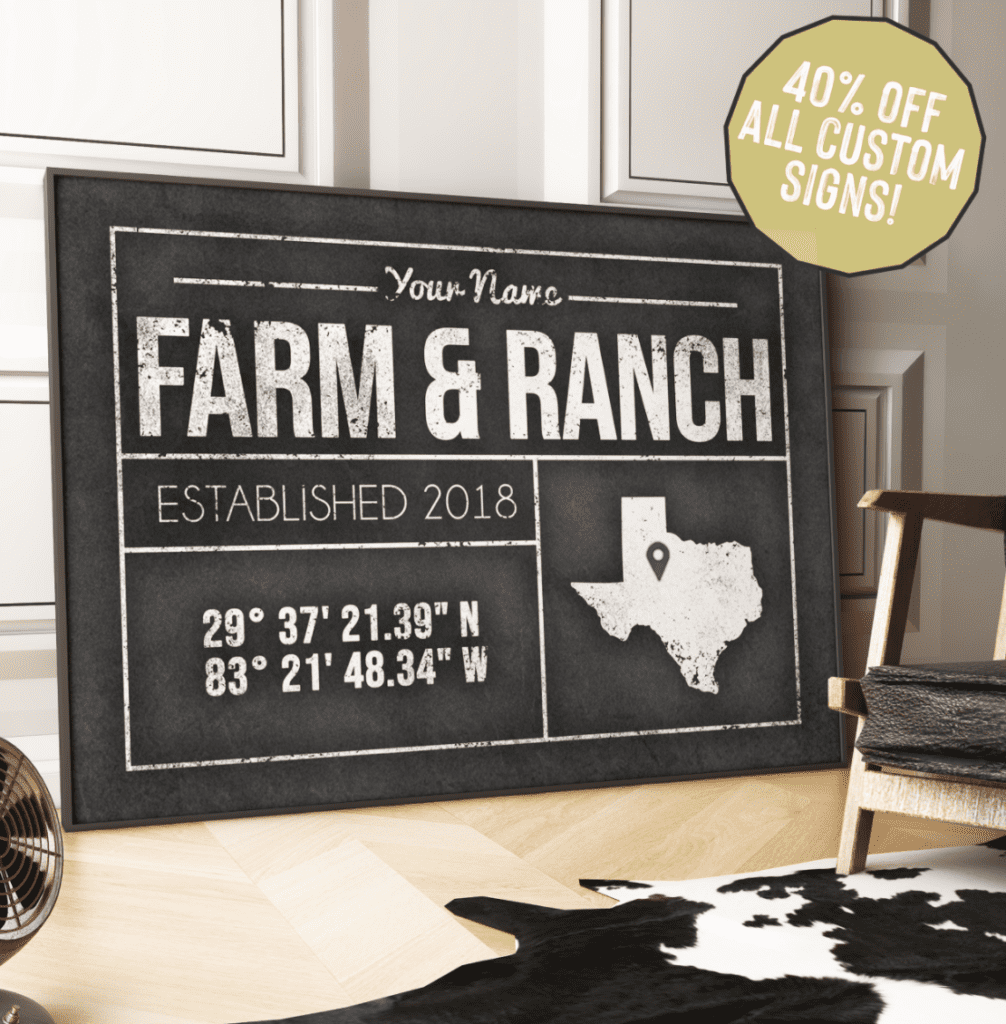 Custom signs by Denver to Dallas feature all of the things that make your family unique and your home one of a kind. Each sign is personal because it's created by you. Choose from dozens of designs and styles to create a special piece of custom art that your family will cherish for generations. Whether it's for the lake house or the farm house, the ski cabin or the beach retreat, Denver to Dallas signs feature your own custom text and add a touch of personal character to any space. These signs make perfect gifts, too! Every sign receives a quality-check before being sent out, and everything ships free. Denver to Dallas has over one hundred five star reviews, and that's because quality and customer satisfaction is their top priority. Come see why people love Denver to Dallas and create your own beautiful sign today!
Find their signs and more at DenverToDallas.com.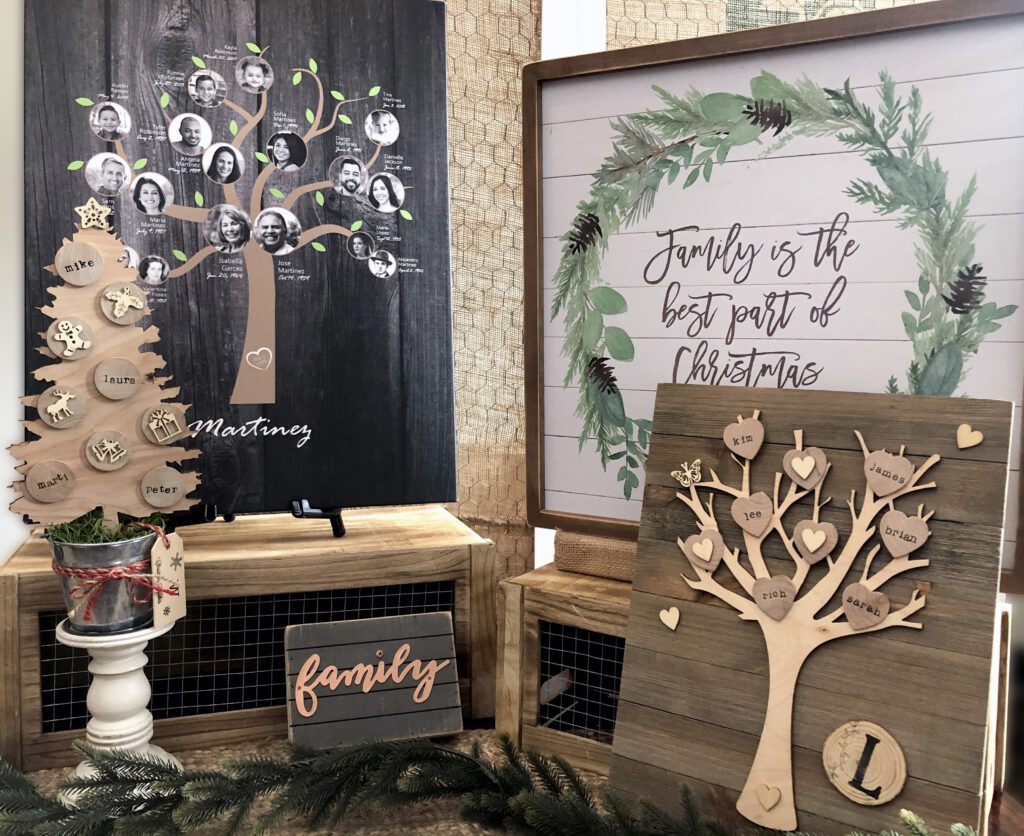 Show your family some love. FamilyTree Traditions offers unique family trees and craft kits that put your loved ones on display. You'll also find a selection of custom art, jewelry and décor that celebrate family, pets, home and heritage. Prices start at $5.95. FamilyTree Traditions is a small, women-owned business based in North Carolina. Each custom tree design is crafted by a trained artist and professional genealogist to tell your family story. And check out this exclusive discount for American Farmhouse followers— $10 off any purchase of $75 or more with code FARMFAM10.
Find their art and more at FamilyTreeTraditions.com.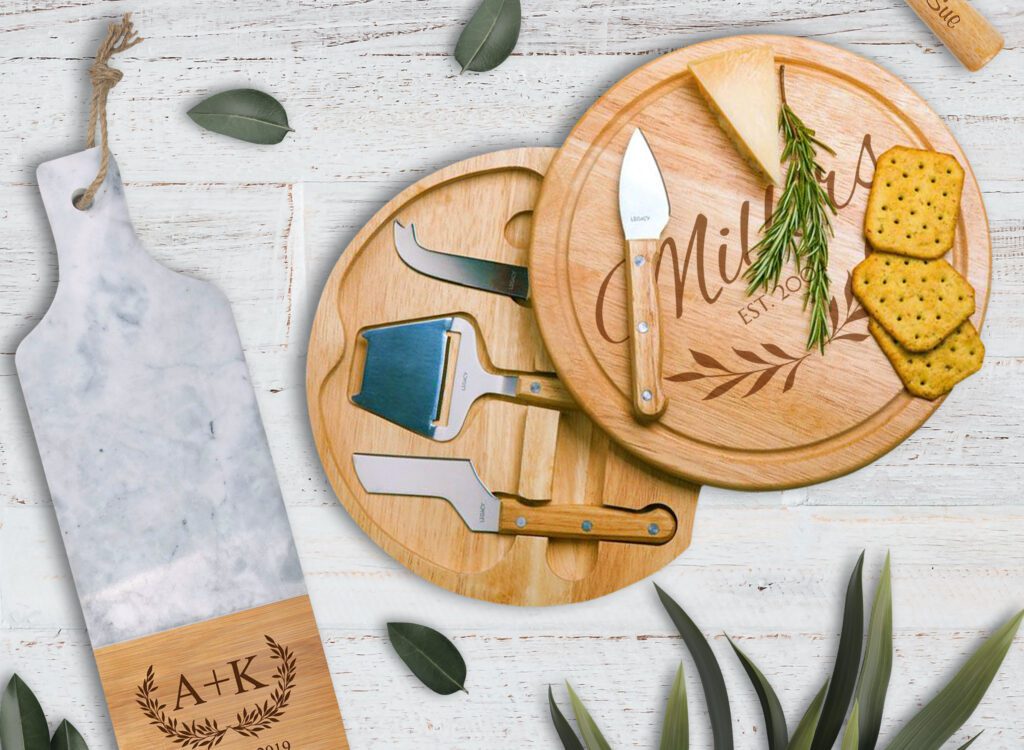 Personalized Memento has a unique selection of personalized gifts, ready for any occasion. Whether you are shopping for a Christmas gift or a little something for yourself, you are sure to fall in love with Personalized Memento's elegant and classic designs, like their custom cheese boards, cutting boards and puzzles!
Find their designs and more at Etsy.com/shop/PersonalizedMemento!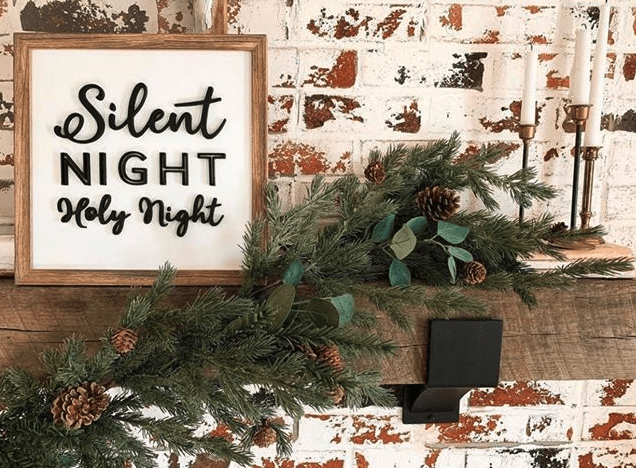 Industrial Farm Co. is a family-owned business that creates handmade metal corbels, metal hooks, countertop supports and hardware for your modern farmhouse, industrial decor or cottage style. Their selection of made-in-the-USA steel brackets is exactly what you need to give your mantel some farmhouse style for Christmas! Your stockings will have never looked better.
Find their hardware and more at IndustrialFarmCo.com!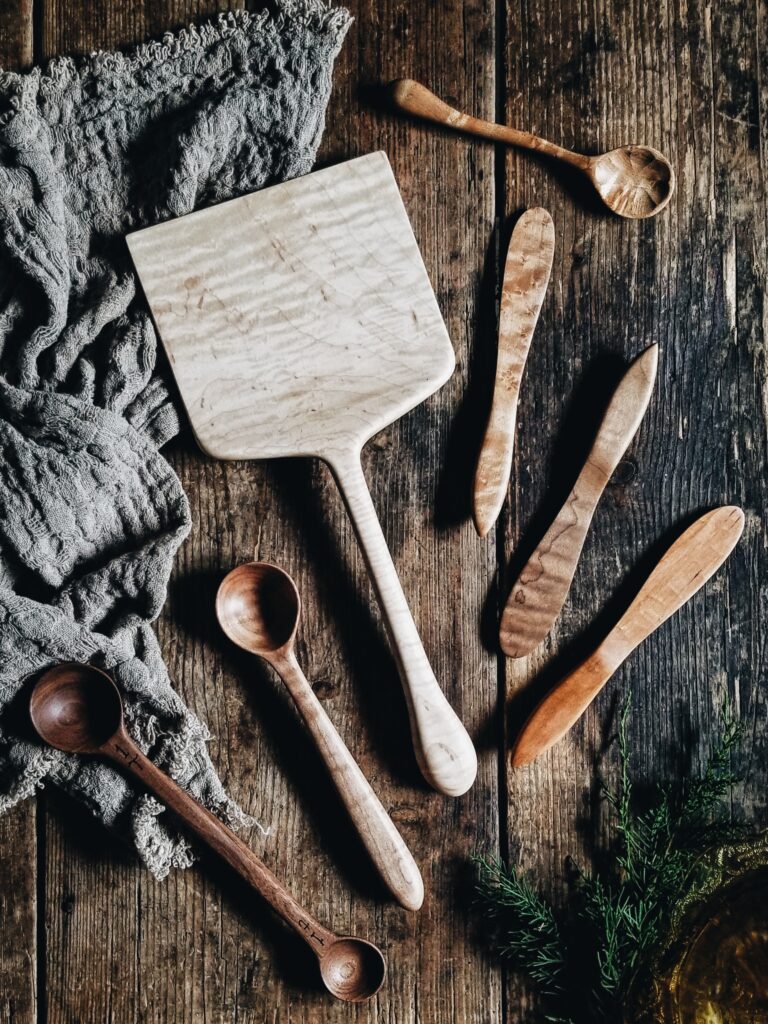 Make your holiday baking memories extra-special this year with these beautiful heirloom-quality utensils by Old World Kitchen. Since 2009, the Polder Family has been designing and creating their line of dreamy wooden kitchen utensils which they appropriately call "dreamware." Each piece of dreamware is handcrafted in the mountains of Virginia from solid hardwoods and comes with a lifetime guarantee. Old World Kitchen offers a variety of beautiful and functional handcrafted spatulas, spoons, scoops and spreaders for all of your holiday cooking and baking needs.
Find their hand-carved dreamware and more at: www.poldersoldworldmarket.com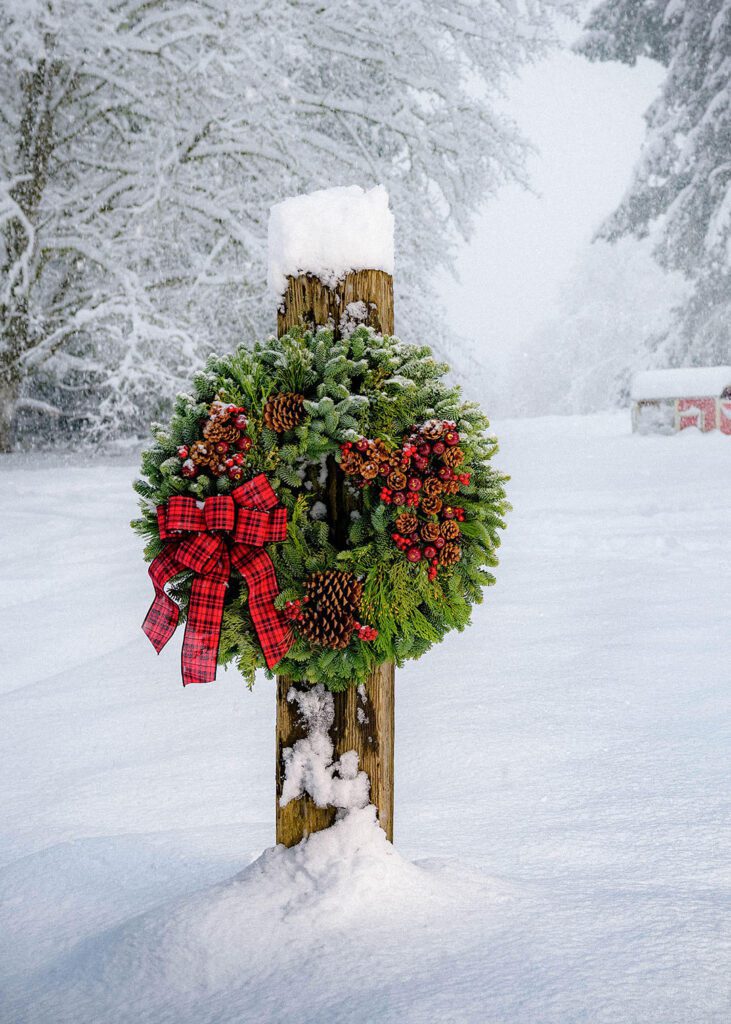 This stunning Country Christmas Wreath from Lynch Creek Farm adds a classic, farmhouse look for the holidays and has quickly become a bestseller. The lush evergreen wreath is hand-assembled with fresh noble fir, pine, juniper, incense cedar, and topped off with natural ponderosa pine cones. It is then adorned with faux country apples and bright red berries, clusters of smaller pine cones, and a gorgeous hand-tied tartan plaid bow that is truly eye-catching.
A small family-owned business in Washington state, Lynch Creek Farm has been making wreaths since 1980. The bows are tied by real people, not made in a factory, and their wreaths are the best in the business. This wreath bursts with evergreens and the wonderful fragrance of Christmas! It is available in 26" or 32" sizes. Shipped in a beautiful red gift box, it is a favorite for gift giving and looks impressive in any home.
Find the Country Christmas Wreath and more at LynchCreekWreaths.com.