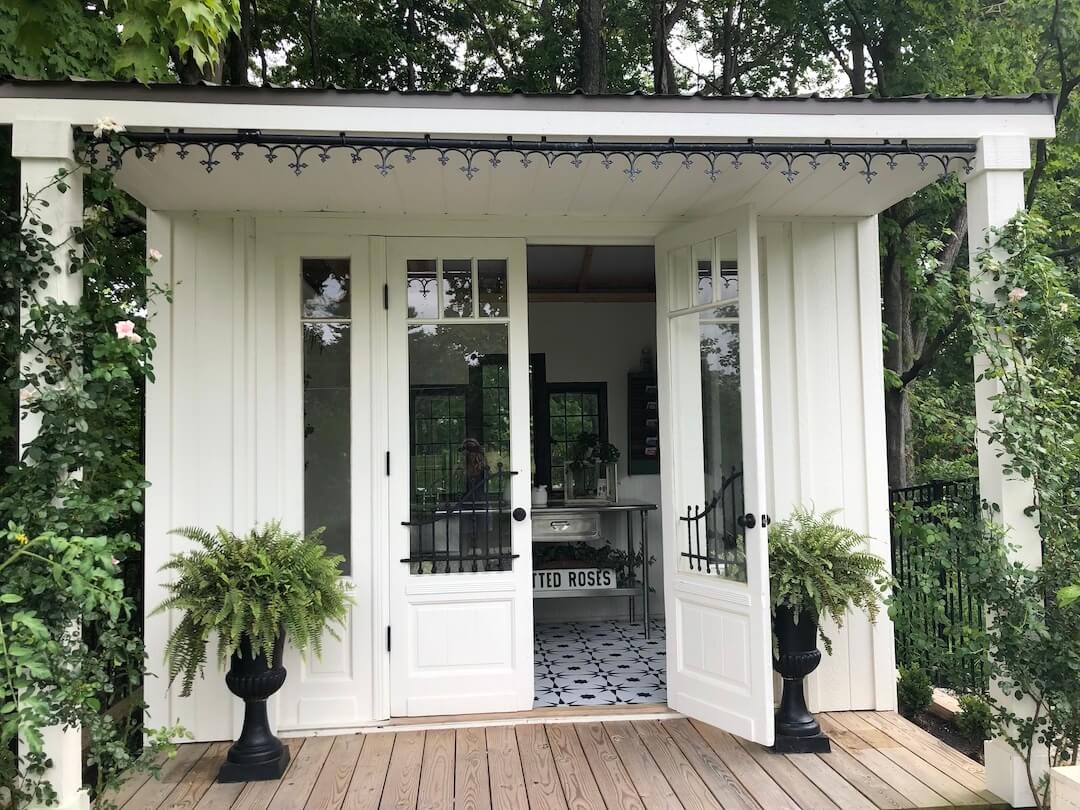 Written and photographed by Dawn Hutta
Spring and summer months send us running outdoors. Picnics, parades and children's baseball games fill our sun-drenched days. Summer's promise of ever changing landscape provides daily gifts of new blossoms for our gardens and homes, and a vintage shed is at the heart of this garden.
A vintage shed is the heart of the garden, and it anchors our passion. This structure was originally a prefabbed building. A bucket list trip to Round Top, Texas, scored vintage doors and antique windows. This sweet vintage shed features a repurposed Victorian fence top installed upside down. It frames the porch top. The charm of the century-old salvaged doors and windows beckons us inside the delightful but purposeful structure.
Come tour this space to get inspiration for your own garden space!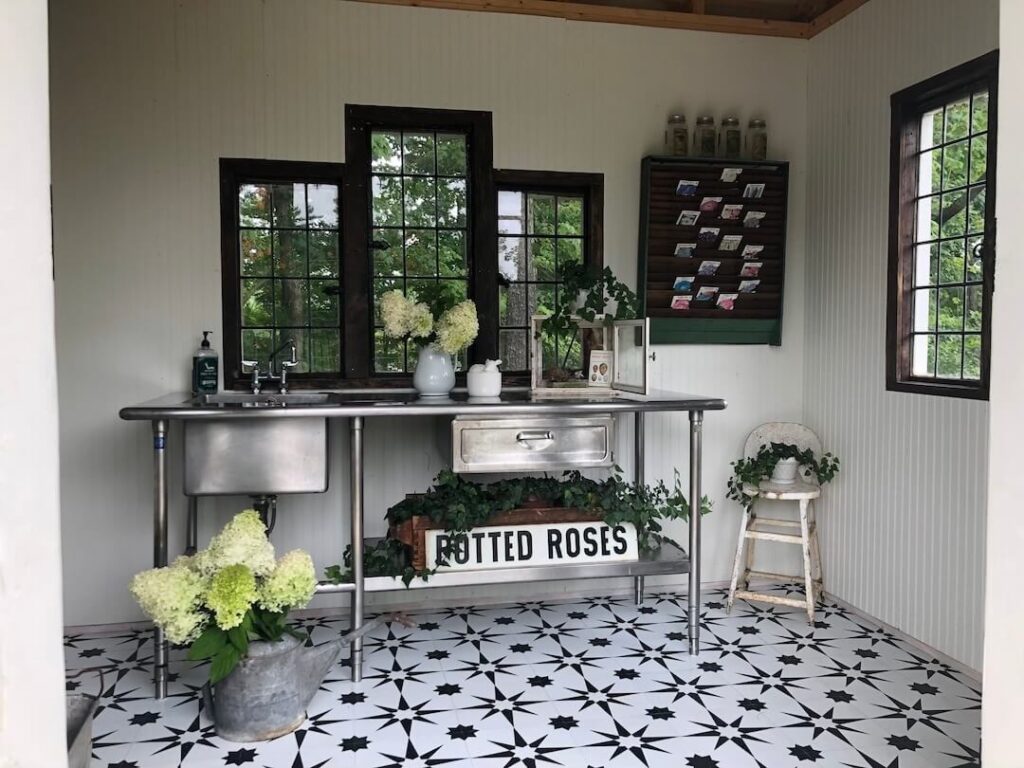 Vintage Shed Work Space
A workbench is a must to organize tools. It stores extra pots and provide counter space to nurture tender plants. A trip to the local restaurant supply store scored the salvaged stainless steel restaurant sink and counter unit. The old commercial workstation provides easy cleanup, after repotting heirloom vegetables and flowers. A simple garden hose connected to the back of the original faucet provides needed water for young plants during the dog days of summer.
The worn galvanized bucket finds new life holding a stunning bouquet of fresh white peonies from the garden. A black and white vintage Potted Roses sign reminds the owner of her gardening passion inside her vintage shed.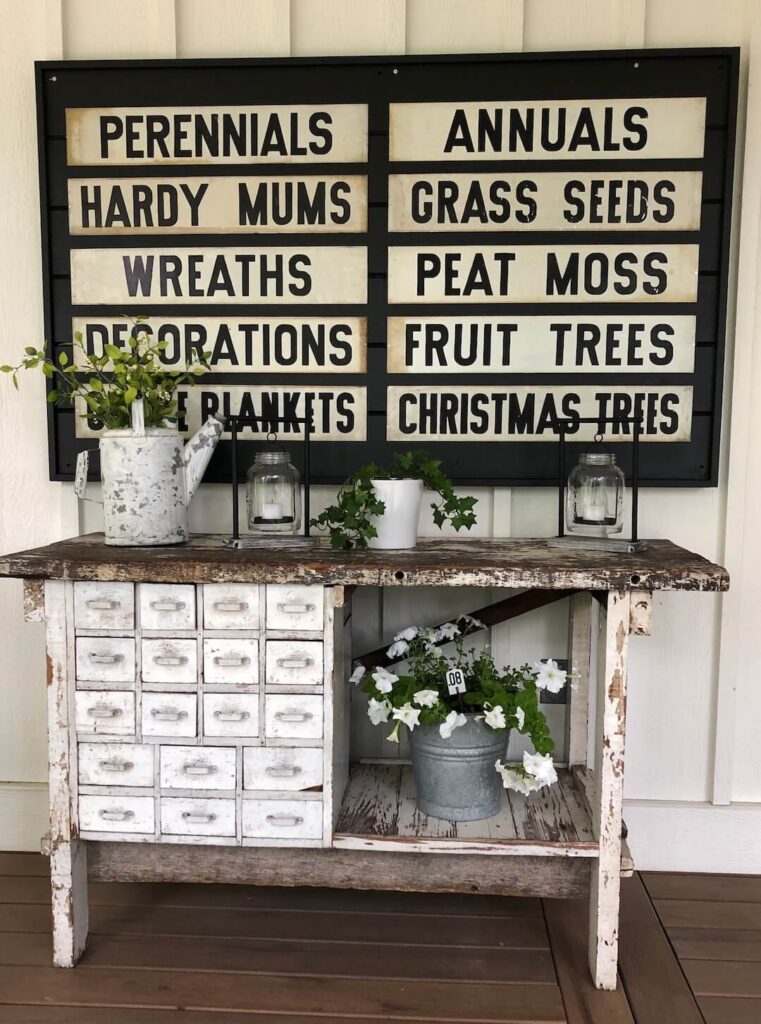 Potting Bench
When a garden plot is not a possibility, a hard working potting bench just outside your kitchen door is a great alternative. The chipped white paint on this vintage workbench creates an enchanting cottage feel, and sets the stage for blooms and herbs just a few steps away from the vintage shed. The quaint drawers made of old cheese boxes provide ample storage for gardening tools.
A pop up barn sale scored a box full of garden center signs from a long ago business. They have the perfect home hanging above the timeworn workbench, and celebrate the ever-changing seasons of a dedicated gardener.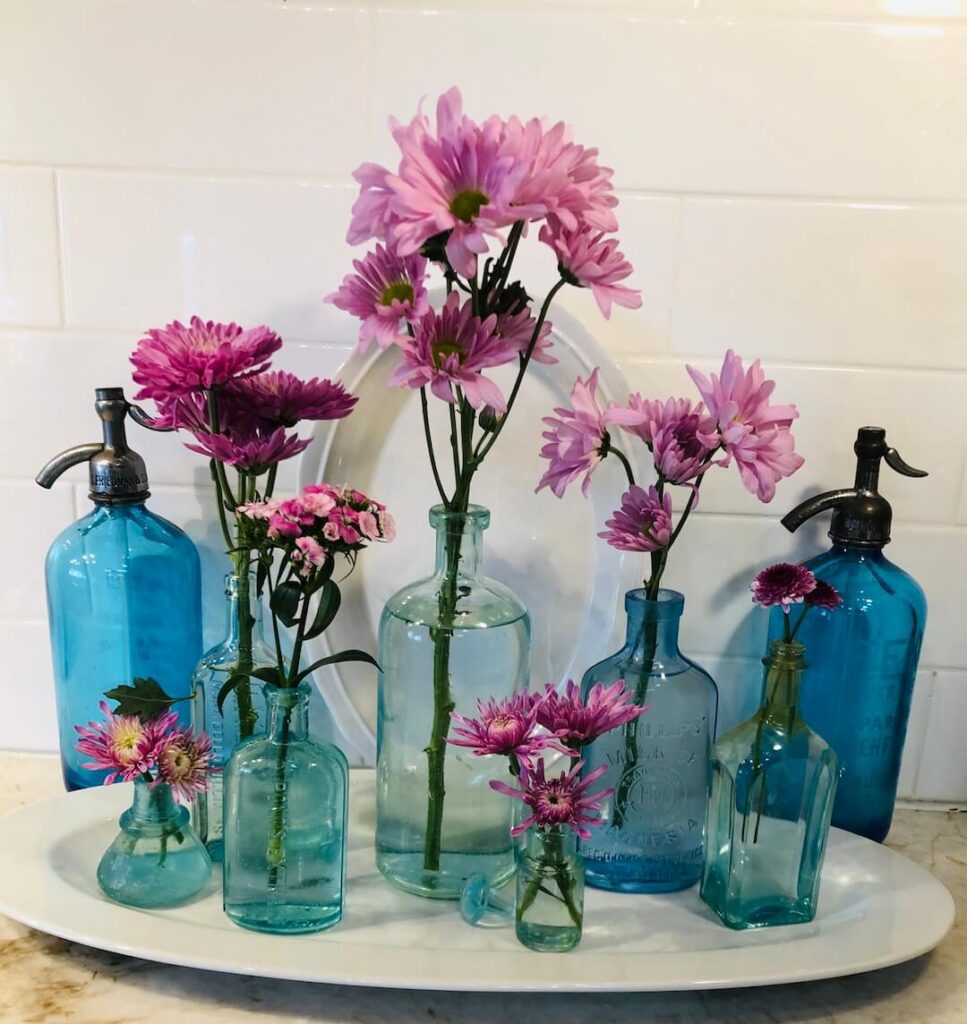 Fresh Florals
As we embrace summer with its fresh garden harvests, don't forget to bring the outside in. Don't worry if you don't have the space or time for a garden. Take a trip to your local farmers market, floral shop or blossoms from a kind neighbor's garden. These will provide plenty of happy choices.
Fill your home with fresh flowers by placing them in vintage containers that create a warm and welcoming atmosphere. In this vintage shed, a mismatched group of orphaned blue bottles draw the colors of the summer skies into the home. They all look better together and can often be purchased for a song at vintage flea markets. Varying shades of pink flowers help create a pop of color that brighten a country kitchen.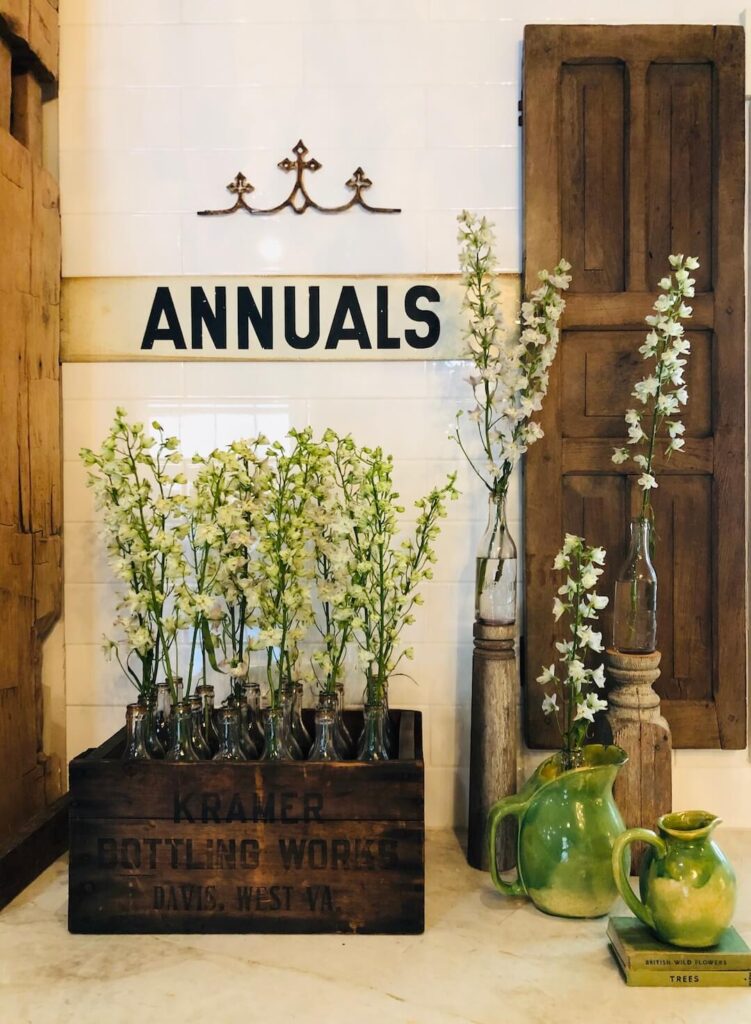 Old Bottles for a Vintage Shed
A collection of Kramer bottles in their original crate provide an eclectic home for summer floral cuttings in the vintage shed. A carved wood shutter is the perfect backdrop for two family treasures. In this case, it's a set of vintage green pitchers crafted by a beloved grandfather. The remnants of wooden porch columns, the Annuals sign and a fragment of Victorian fence top finish bringing the outside in.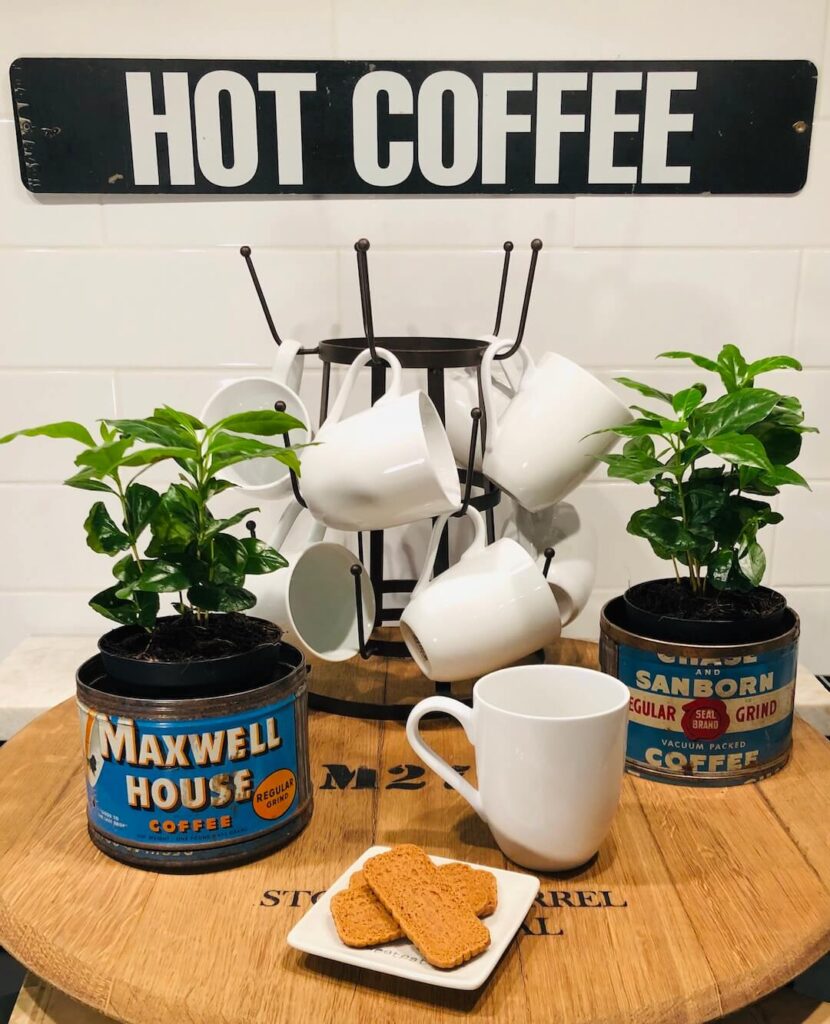 Welcome the Vintage Shed Indoors
Even the smallest space on your kitchen counter can be an ideal garden plot. The time-worn diner coffee sign is anchored with white cups and waits for a hot beverage. This sets the stage for the quaint planters. Two coffee plants nestle in vintage metal coffee tins and add just the right amount of whimsy to the kitchen. Whether you stumble on the tins at a flea market or in your father's garage storing misc nails and screws, they make perfect containers for your plants.
Regardless of the size of your garden, whether a plot in the yard or a spot on your kitchen counter, nature's gift of flowers will always brighten your day. And so will a little vintage shed love.
---
Want more garden shed tips? Head here! Of course, don't forget to follow us on Instagram, Facebook and Pinterest to get your daily dose of farmhouse inspiration!