A Mid Century Farmhouse for Fall
Written and photographed by Shannon Fontaine
Styling by Holly Thompson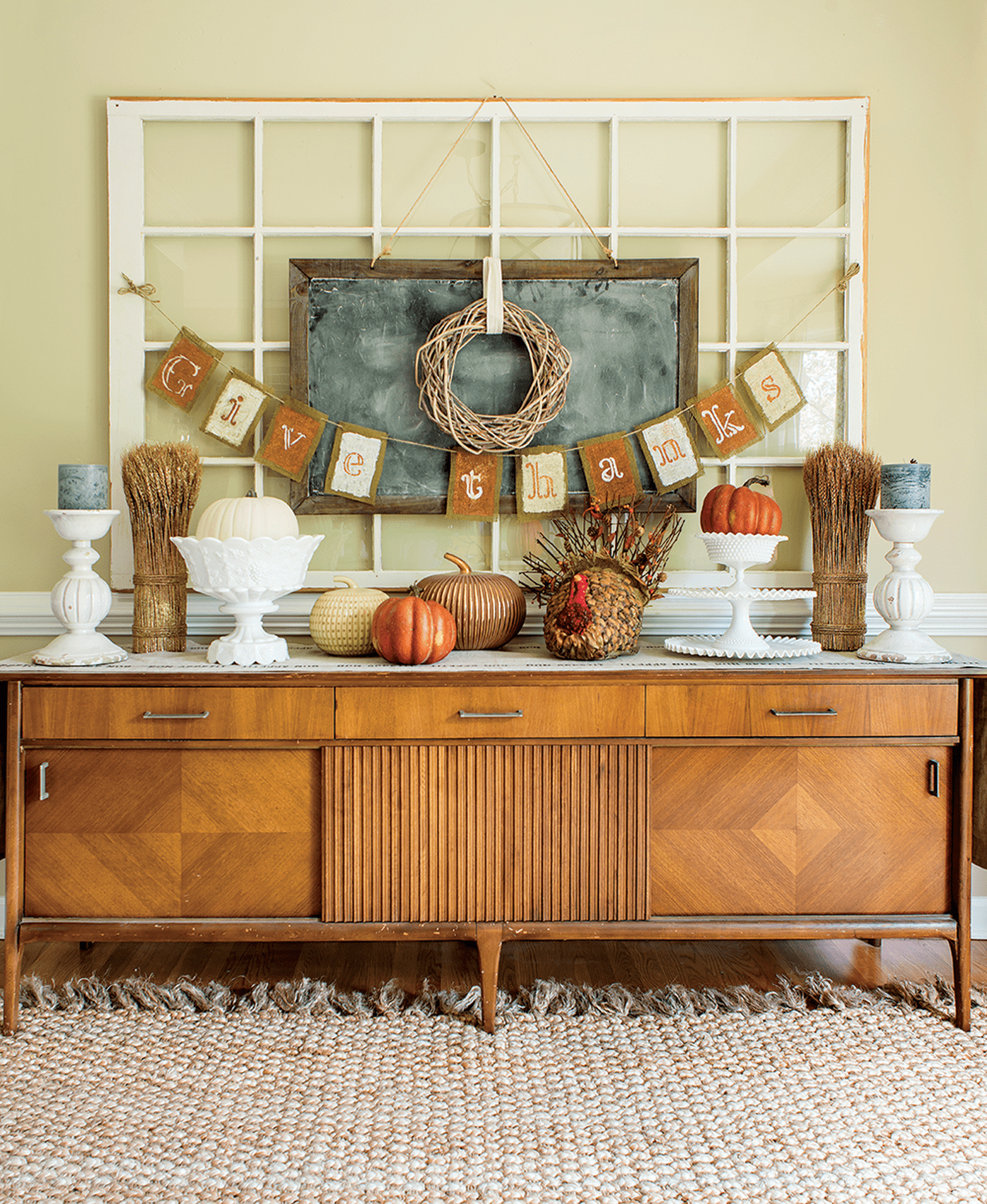 Written and photographed by Shannon Fontaine
Styling by Holly Thompson
From the outside, the home of Dave and Holly Thompson in Franklin, Tennessee is unassuming. It's a well-kept brick home in a subdivision full of well-kept brick homes. If you drove by, there would be little reason to notice the structure. But just wait until you step inside. The magic of Holly's balanced design pulls you into a space that is the perfect mix of farmhouse style with a touch of Mid Century charm—two styles you don't often see in the same sentence.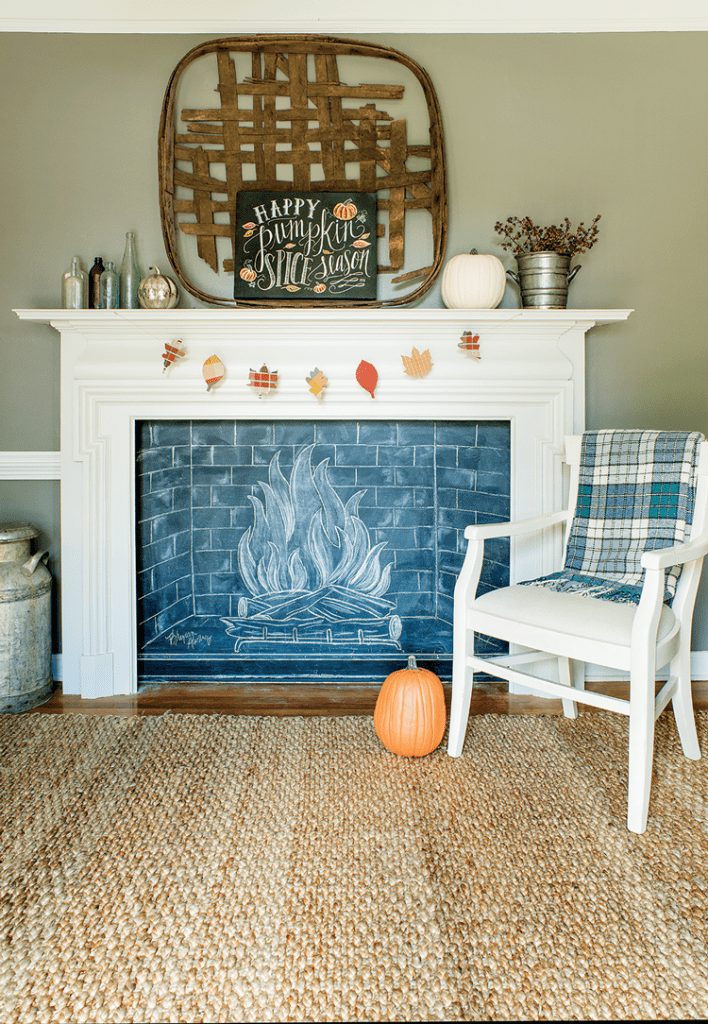 DIY Upgrades
When your home is a cookie-cutter tract house, what can you do to make it unique? Holly, who is a designer, and Dave, who runs their kitchen showroom and renovation business, decided to add architectural features, such as in the formal dining room.
"This room was originally builder grade, which is basically just a box with drywall," Holly says. "Once we put the table in, there was just a lot of wood and drywall and no character." This wouldn't do, so the couple got to work. "I added the mantel with the chalkboard inside, like a faux fireplace," she says.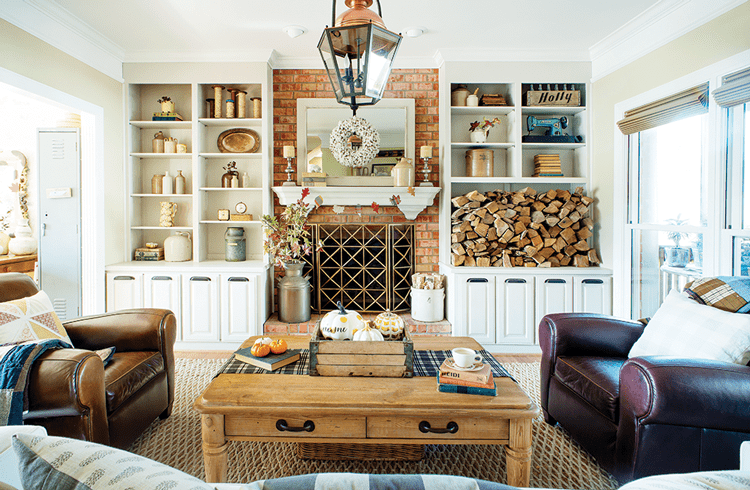 For many of their DIY upgrades, Holly has used her secret weapon: her husband. While it's Holly's vision that's stamped indelibly on every room in the house, Dave's skill as a builder and renovator has given it life. You can see this in the mantel and bookshelves framing the fireplace in the living room.
"We took out the '80s mantel that was here, and Dave actually constructed this mantel by cutting down a bigger one we found," Holly says. "The bookshelves used to be honey oak. We painted them and replaced the original 1990 pulls on the cabinets."
The Perfect Kitchen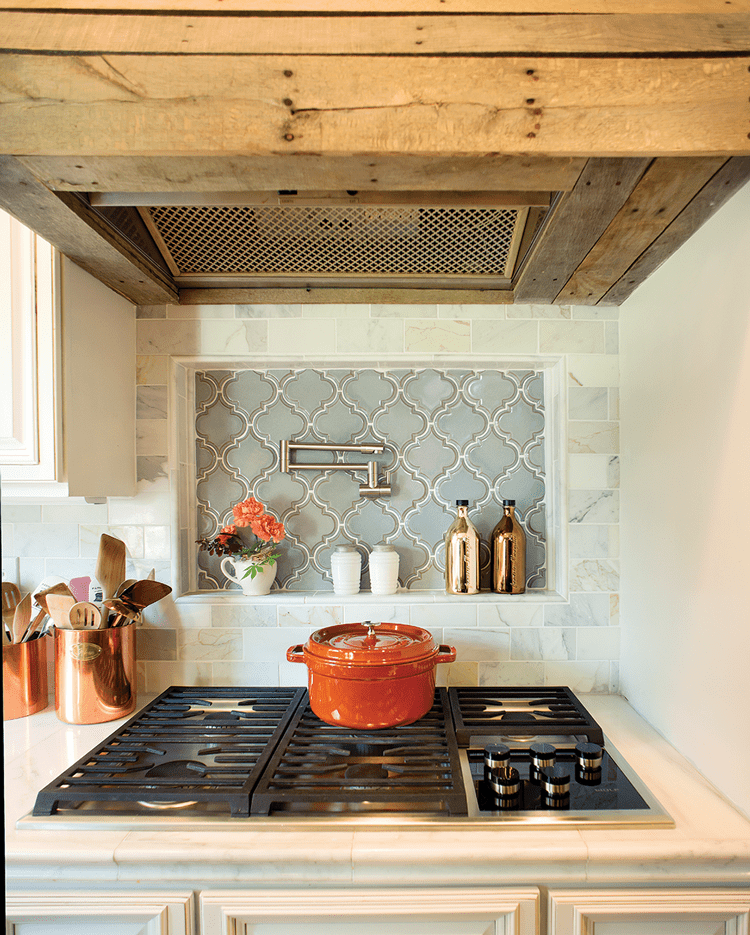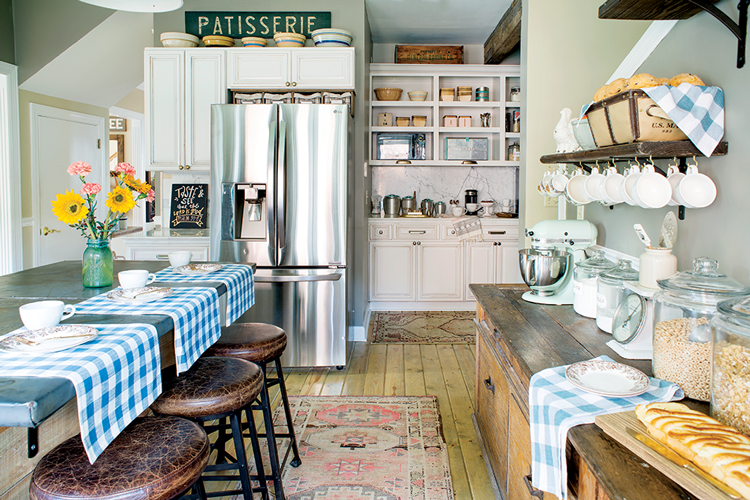 In the kitchen, the couple added to the layout with a DIY island that also serves as their everyday kitchen table. "We happened to find this counter [constructed] as a table," Holly says. "Dave cut the legs off, and we found the two cabinets underneath. One of the cabinets is actually a spice rack, and Dave just put it all together so the metal top would fit over everything." The addition makes the layout flow well, as the surface functions as both a work and eating space.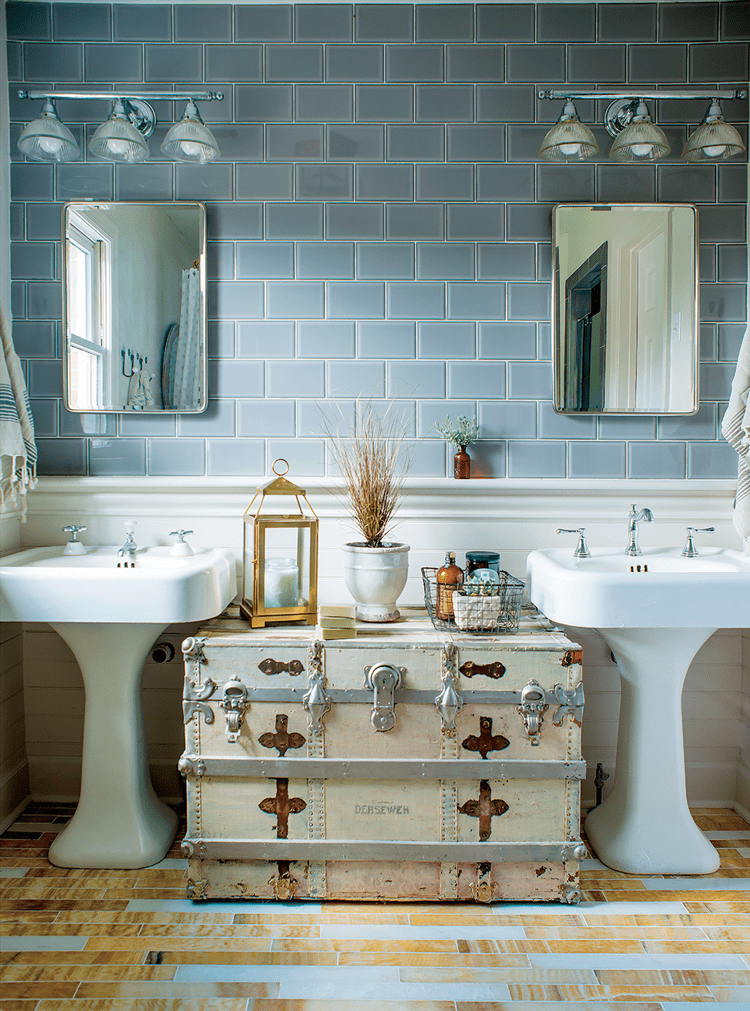 Mid Century Farmhouse Mashup
Holly doesn't limit herself to just one style while she's shopping at estate sales. Her home is predominately farmhouse, but she also incorporates unique Mid Century pieces into the various rooms. "I really like Mid Century, and I really like farmhouse that is done in an authentic way," she says. "I think that if you get authentic pieces, not reproductions, a lot of them can work together."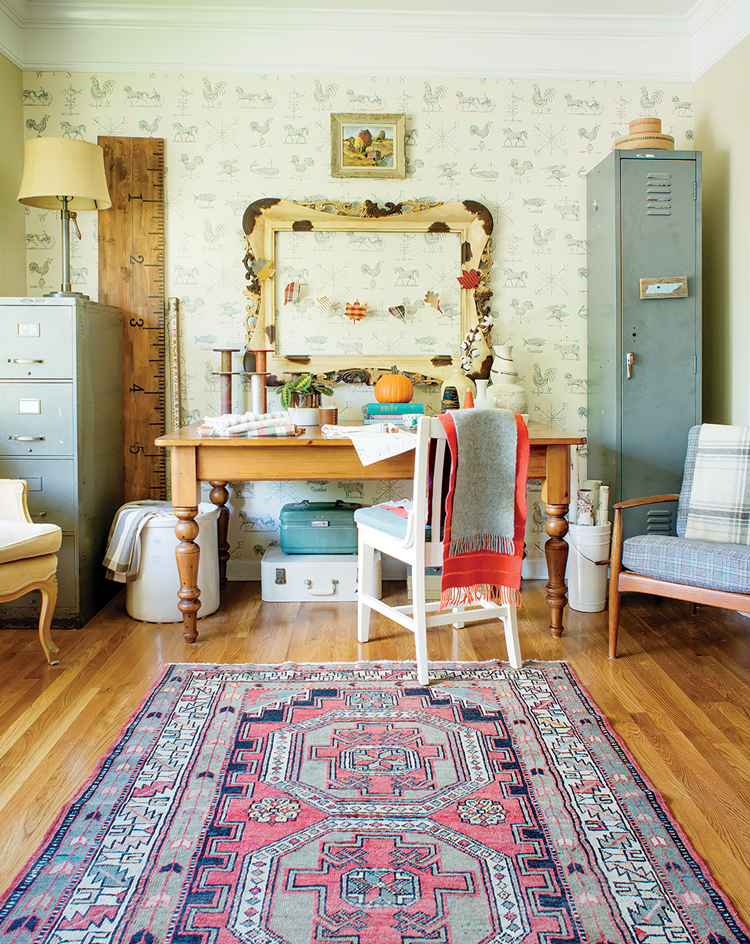 For example, just off the living room is Holly's craft room. The style here features her unique mashup of farmhouse and Mid Century styles, as well as her love of a bargain. "I use the drawers and the cubbies for craft storage," Holly says.
"The dresser here is rustic and very much farmhouse, but the chair in front is Mid Century." By allowing a few Mid Century pieces to enter her farmhouse sanctuary, Holly has created a unique style all her own.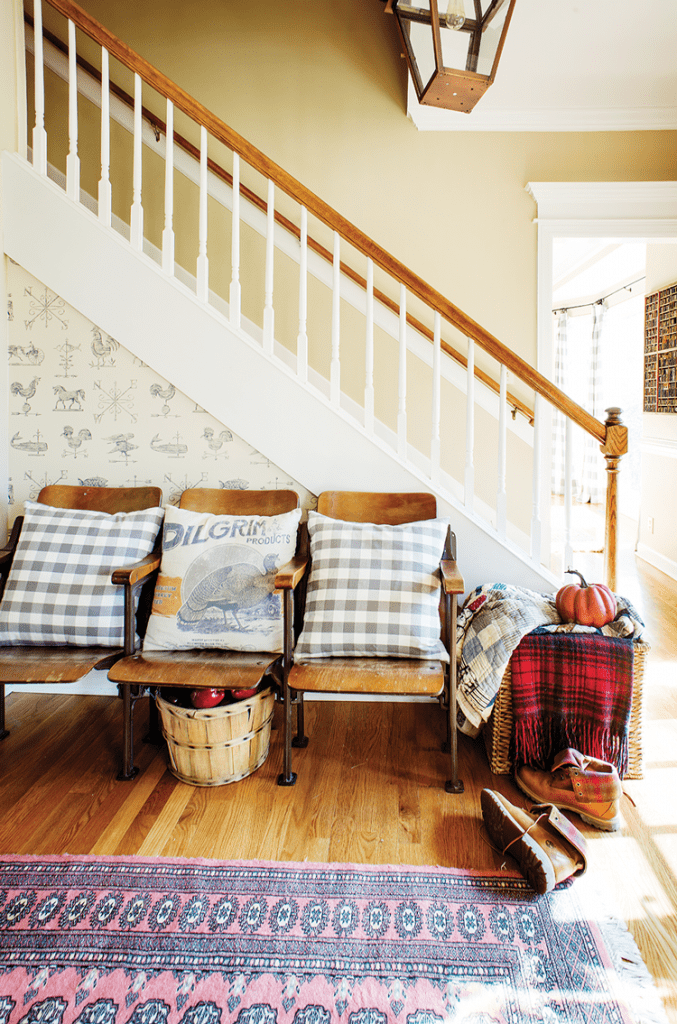 Collecting Pieces
From the moment you enter the house and encounter the vintage theater seats in the foyer, to the door wall in the master bedroom, Holly's vintage collections shine. She's gathered the pieces over time from various local sources, always with a keen eye for both style and a bargain.
"I love vintage things, and I love real things, so most of the accessories you see are the real item," she says. "They are not expensive if you shop estate sales; you just have to hunt. I prefer that to buying pretend farmhouse stuff from a store that sells reproductions."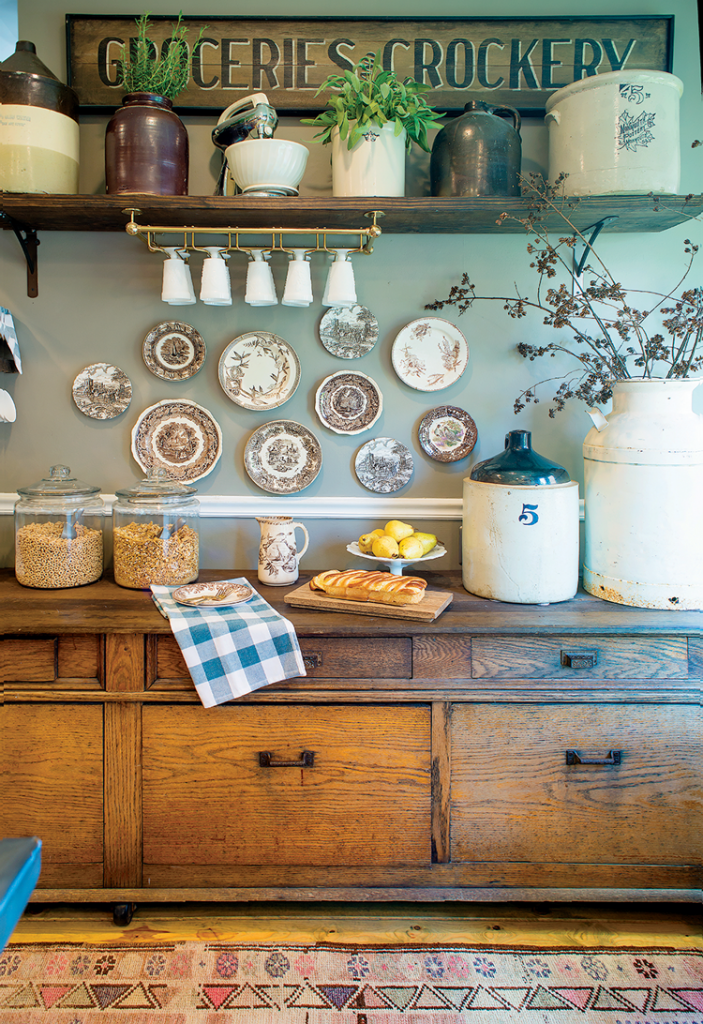 Besides large furniture pieces, Holly also has vignettes with smaller collectibles throughout the house. In the kitchen, a set of brown transferware acts as hanging art. "The brown plates are all different finds at flea markets," she says. "I love brown transferware and have been collecting for a long time."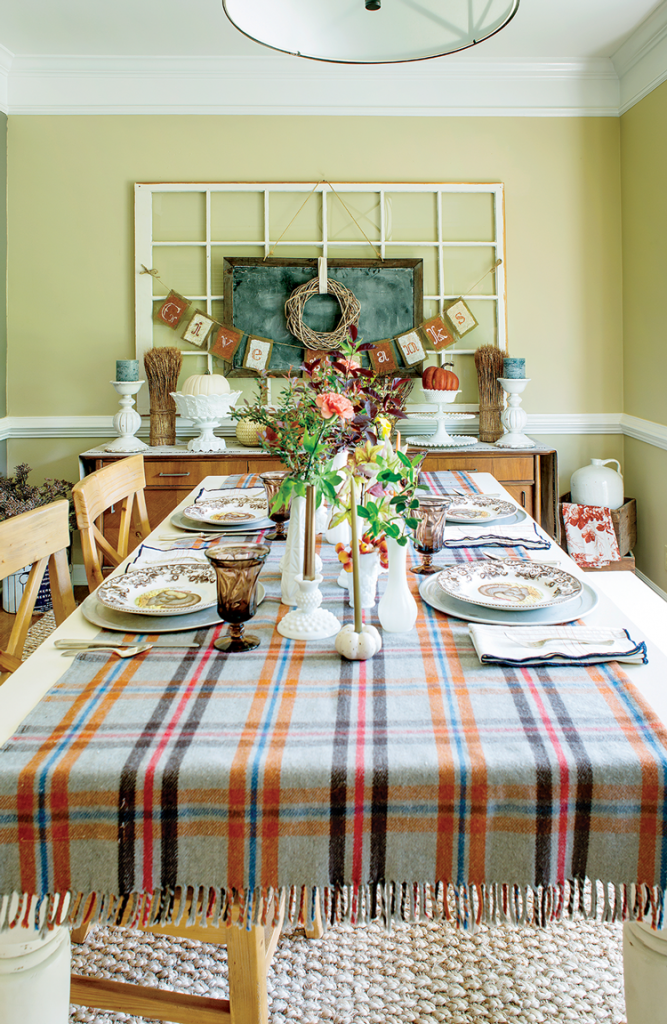 The dining room table has a centerpiece made of vintage milk glass vases, and various vintage quilts make appearances throughout the house. The Thompsons' home is a direct reflection of Holly's style as a decorator. For her, it's all about authenticity, in the pieces she buys and the carefully selected accessories she uses. Mid Century Farmhouse—remarkable.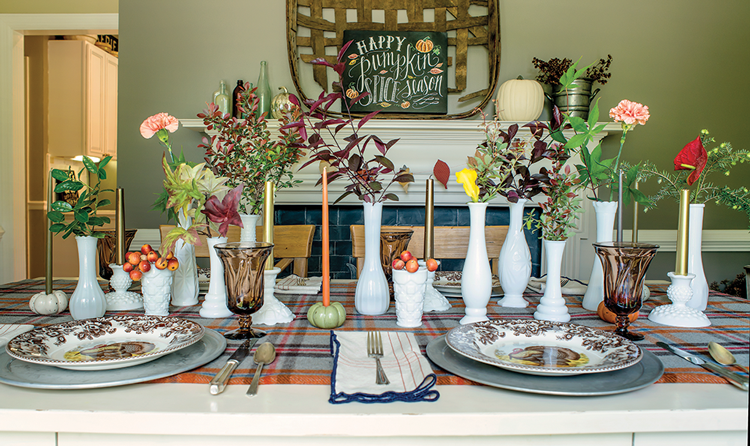 How To Get The Perfect Fall Centerpiece
Ready for fall entertaining? Follow these two fool-proof steps to a create your centerpiece.
1. Start with a single piece. This might be a burlap table runner you love, a vase of beautiful fall florals or even a collection of bud vases. Use this starting point as your inspiration and build off of it—literally. Place the item on your table and build around, on top of and between it.
2. Layer. The ultimate rule of a good centerpiece is to layer—textures, colors and heights. If you're starting with a large vase of flowers, layer in smaller, shorter pieces around it such as tea candles, baby pumpkins and a table runner. Add multiple kinds of items visually, so the centerpiece remains interesting.
---
Check out this sun-soaked California farmhouse for more home-grown inspiration! And of course, don't forget to follow us on Instagram, Facebook and Pinterest to get your daily dose of farmhouse inspiration!