Farmhouse Christmas Decorating Ideas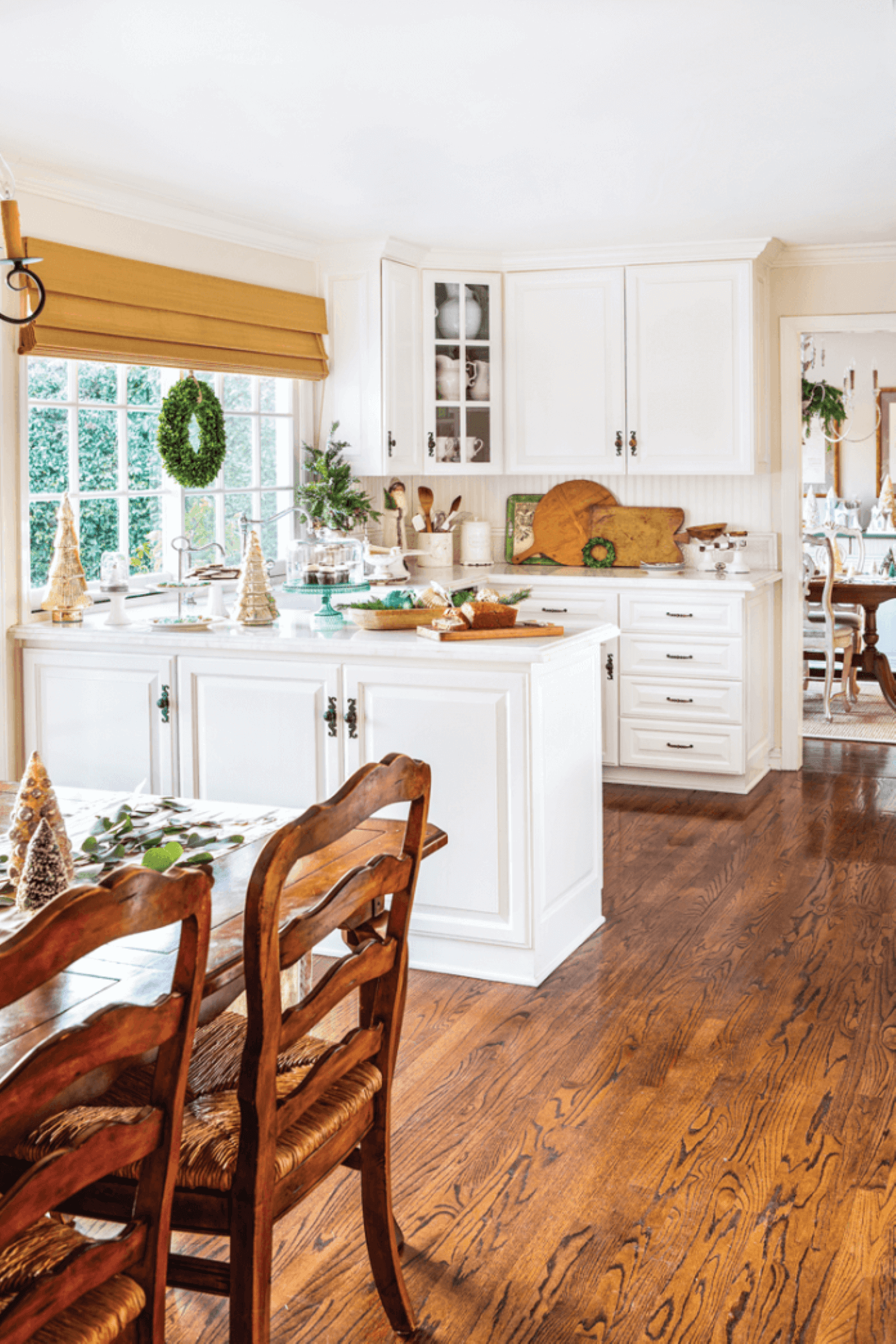 Courtesy of Cottages and Bungalows
Christmas in the city is fun for the holidays, but there's something extra special about Christmas on the farm! Perhaps it's the charming color palette or rustic touches. Either way, Christmas nostalgia feels sweeter in the countryside. So, get ready to deck your home with farmhouse Christmas decorating this holiday. These farmhouse Christmas decorating ideas will have you counting down the days until Santa arrives!
Start Right, Start Bright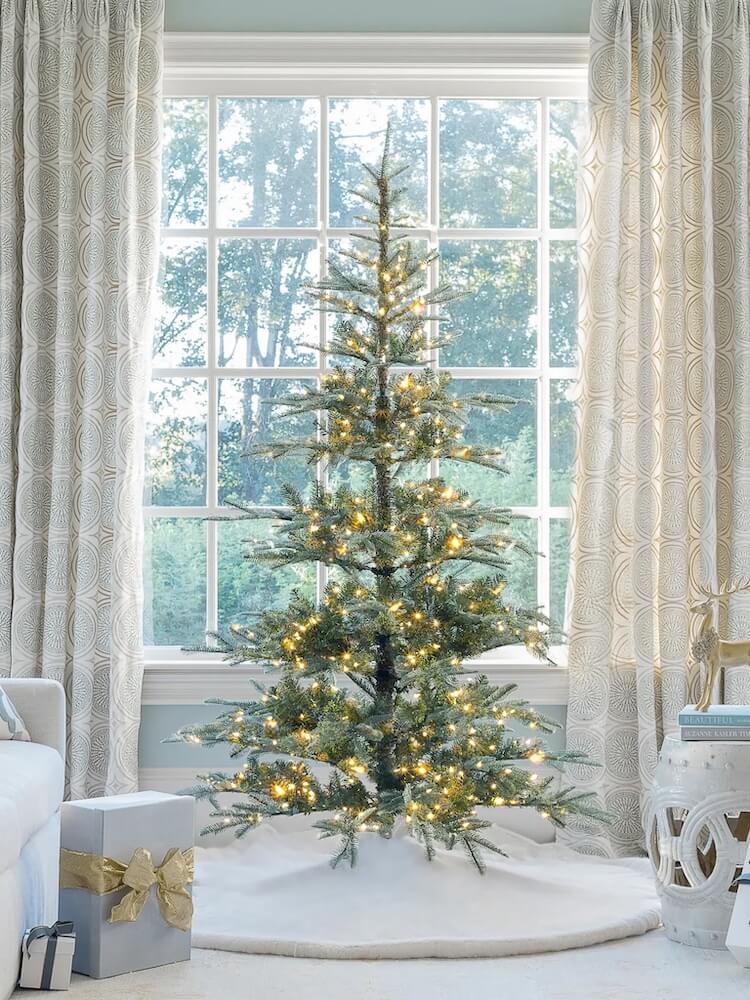 Of course, the foundation of any Christmas decorating is a good tree. There's a lot to be said for a quality, pre-lit tree. At 7 feet tall, this tree provides the structure you need to build your holiday centerpiece.
Sprinkle in Nostalgia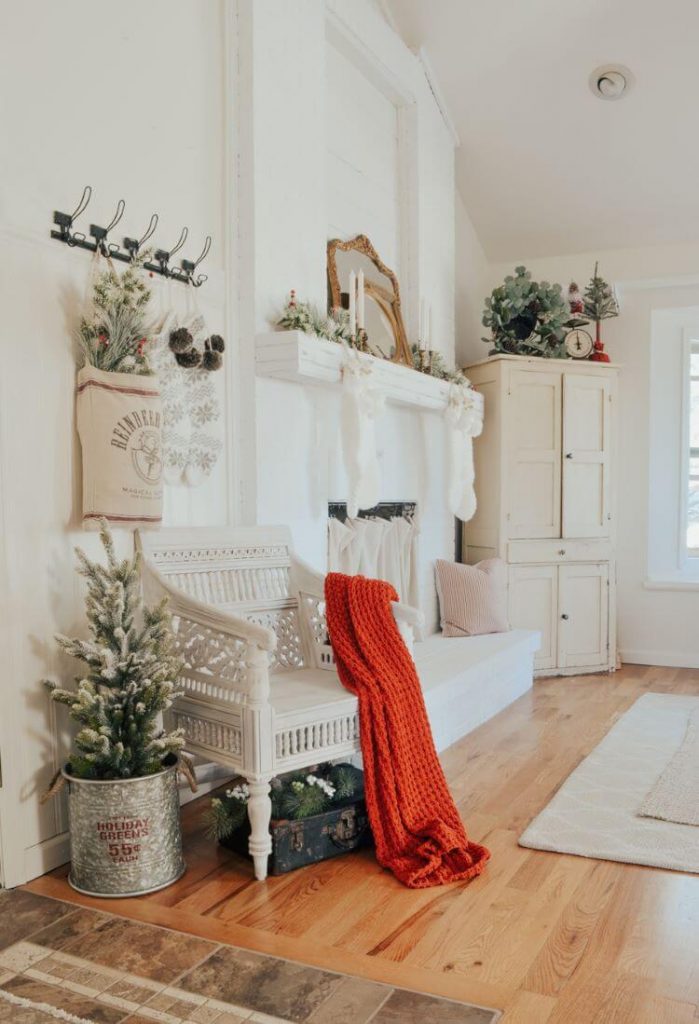 Entryways are easily overlooked while decorating for the holidays. But these spaces are where your guests will first step foot! Add nostalgic touches like this wood chair, or this galvanized metal pail with rope handles, to render a simple elegance to your farmhouse Christmas. Plus, you can't go wrong with mini trees for a bonus woodland theme.
Modern Farmhouse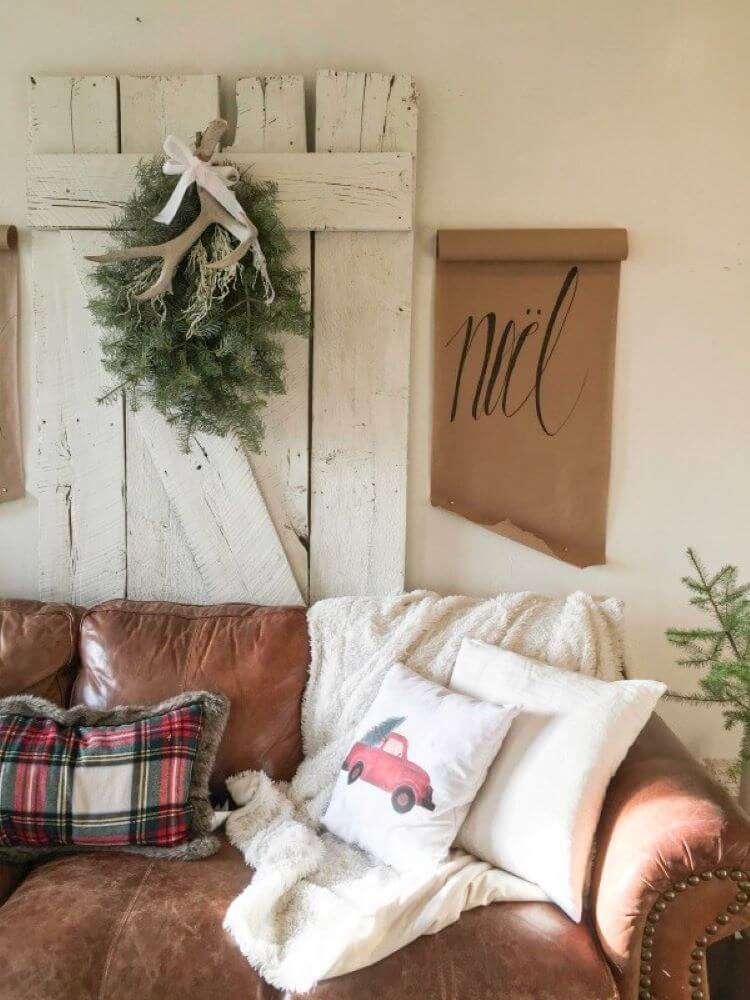 A simple leather couch is dressed up with plaid and pickup truck throw pillows that can easily be swapped out after the holidays. We love the dangling spruce and antler, a call to Christmas reindeer.
All is Calm
Metallic Christmas touches, pinecones, garland and a small string of snowflakes complement the wood designs on the paneled refrigerator and island, both of which homeowner Shannon did herself.
Evergreen Homestead
Dramatic colors like this bold painted wall in Midnight Stroll by Clark & Kensington can do with a little spruce for instant classic Christmas! The antique gold mirror acts as the ultimate backdrop for enhancing vintage holiday collectibles like this zinc tray, trees and miniature house.
Cozy Christmas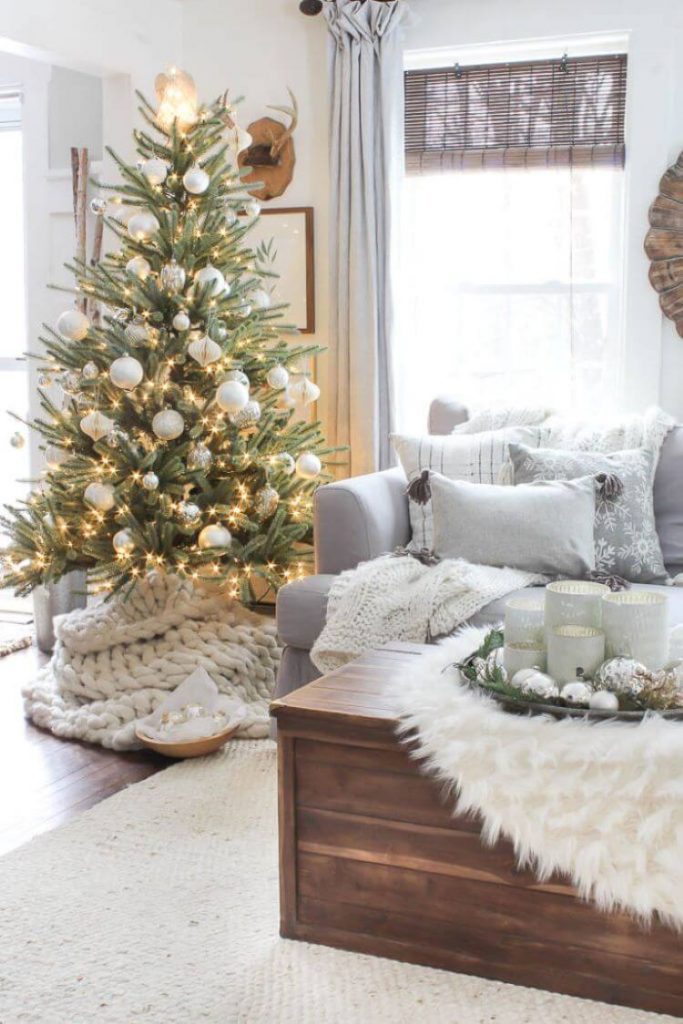 One word best describes this living room: cozy! The chunky wool throw draped around the tree adds a cozy feel to the room. Who doesn't want to dream of a white Christmas on this comfy couch nestled among the throw pillows?
Dreaming of a Green Christmas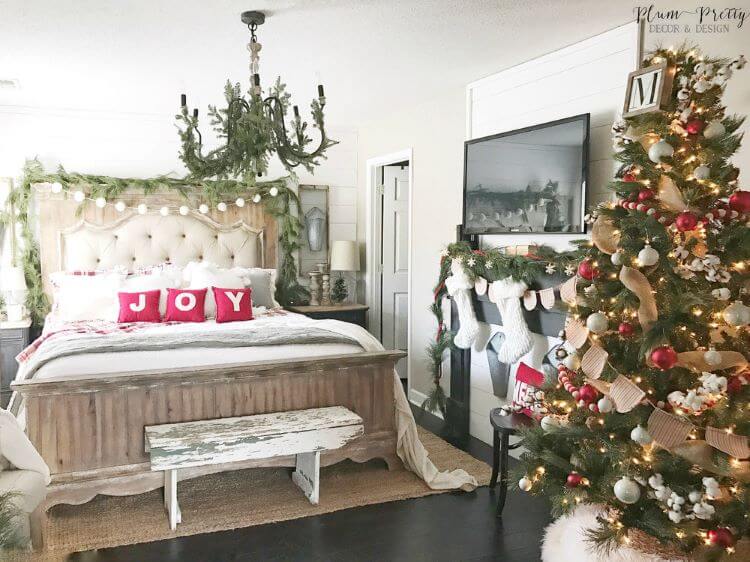 We love this bedroom decked in Christmas greenery! Weathered wood in the bedframe ushers in a Christmas farmhouse vibe, while the greenery and bright red throw pillows ring in the joy.
Touch of Tartan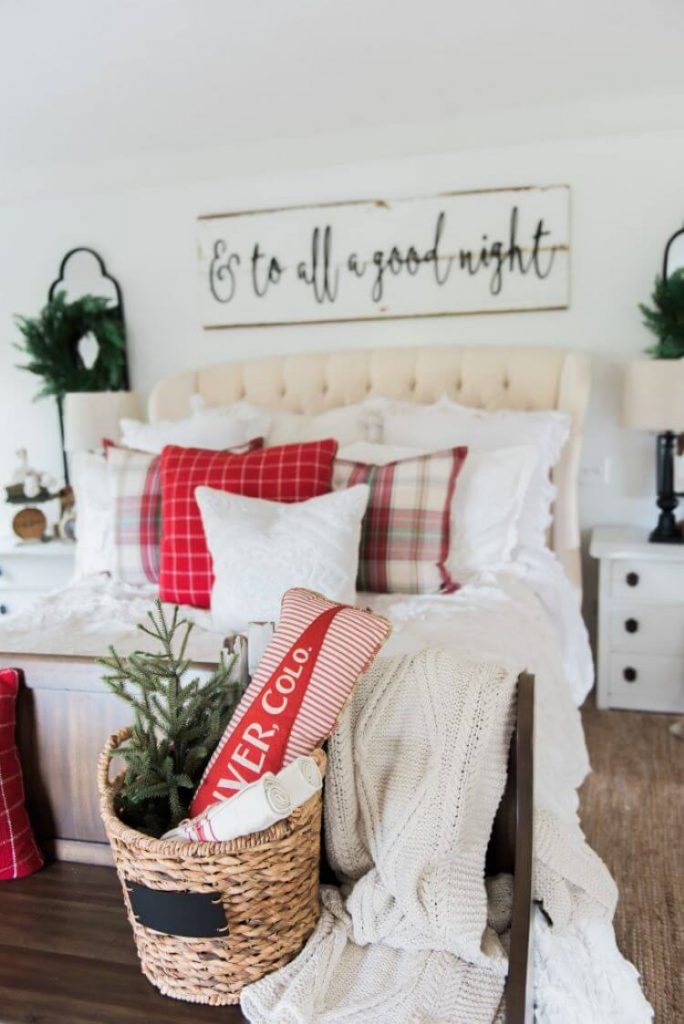 In an otherwise white bedroom, pops of tartan and plaid keep the space feeling like a holly jolly farmhouse.
Sweet and Simple Holiday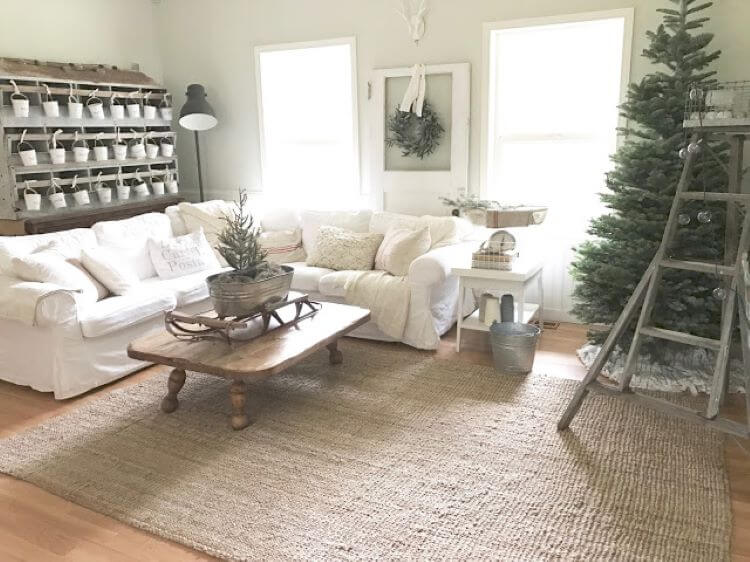 Pails hung behind the couch act as a unique advent calendar, while pops of rustic motifs become an instant holiday vignette in this simple farmhouse.
Fresh & Fragrant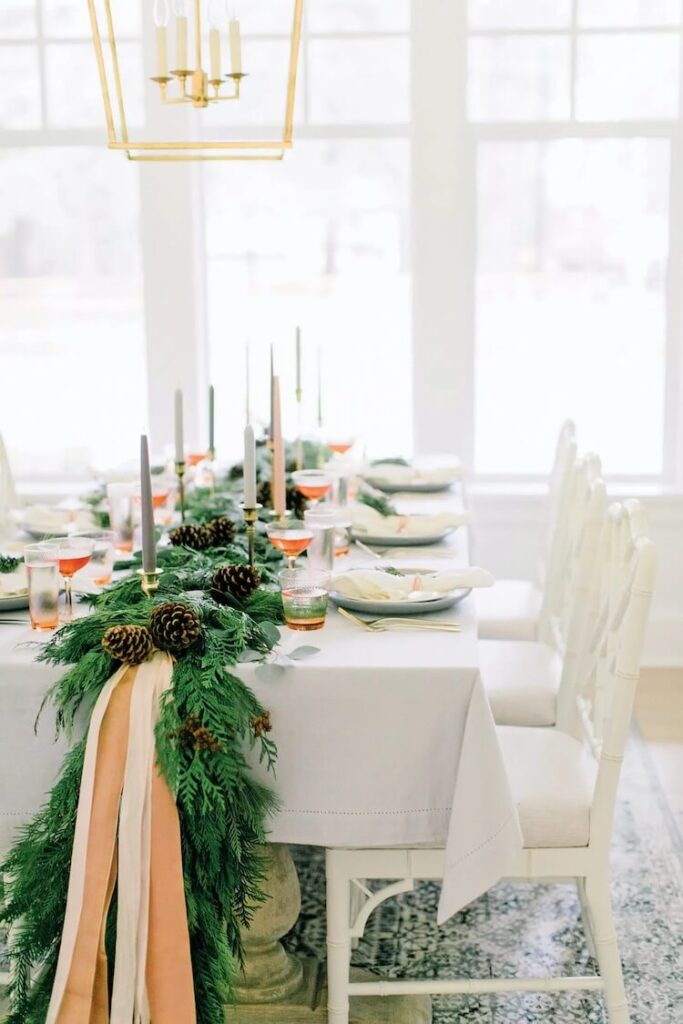 There's no beating the fresh fragrance of cedar leaves, whose lacy structure also makes the perfect table runner for your Christmas table.
Scripted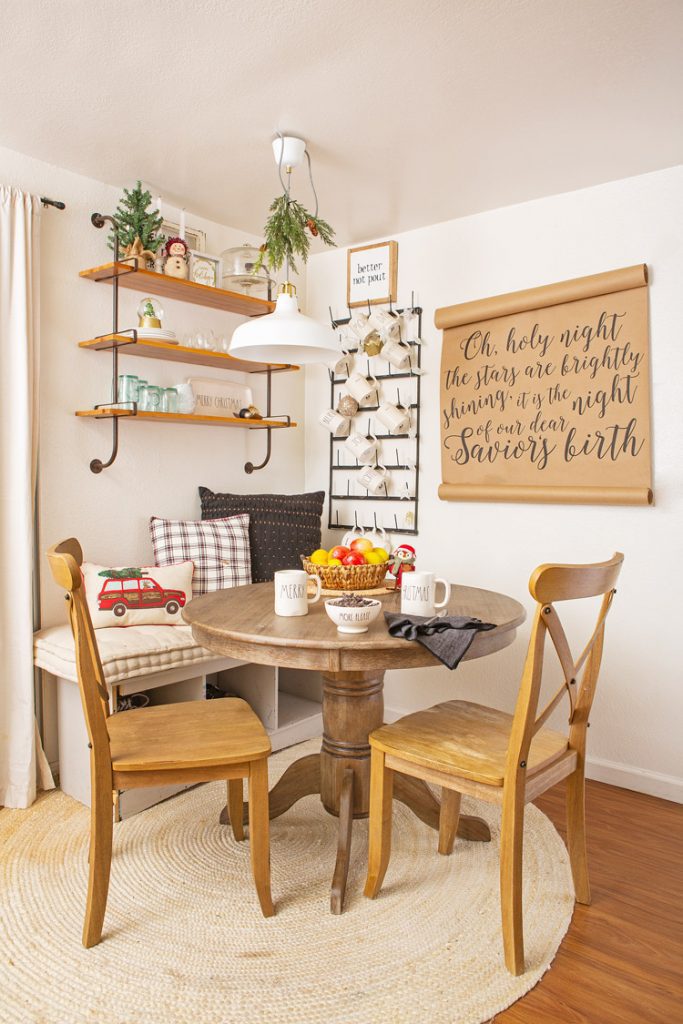 The kitchen nook takes on subtle holiday charm through touches of greenery and a scroll with lyrics from a popular Christmas carol. The mugs, bowl, platter and wall art also feature text but don't overwhelm thanks to a predominantly neutral palette.
A Festive Retreat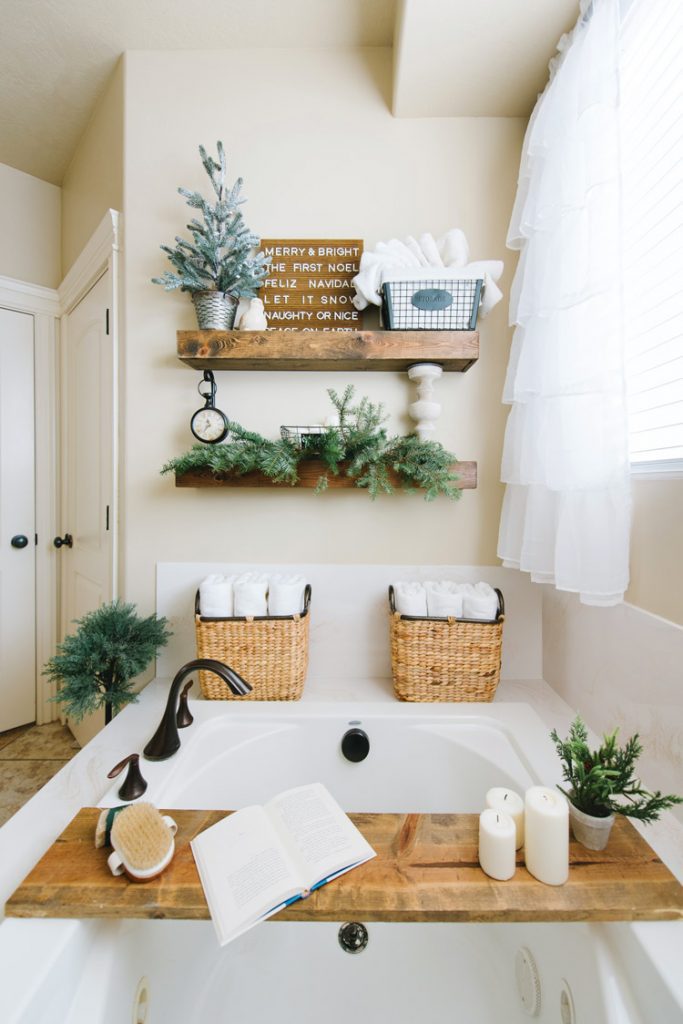 This home's rustic take on holiday decor is inspiring, as is the very idea that even your bathtub can participate in the holiday cheer.
Vintage & DIY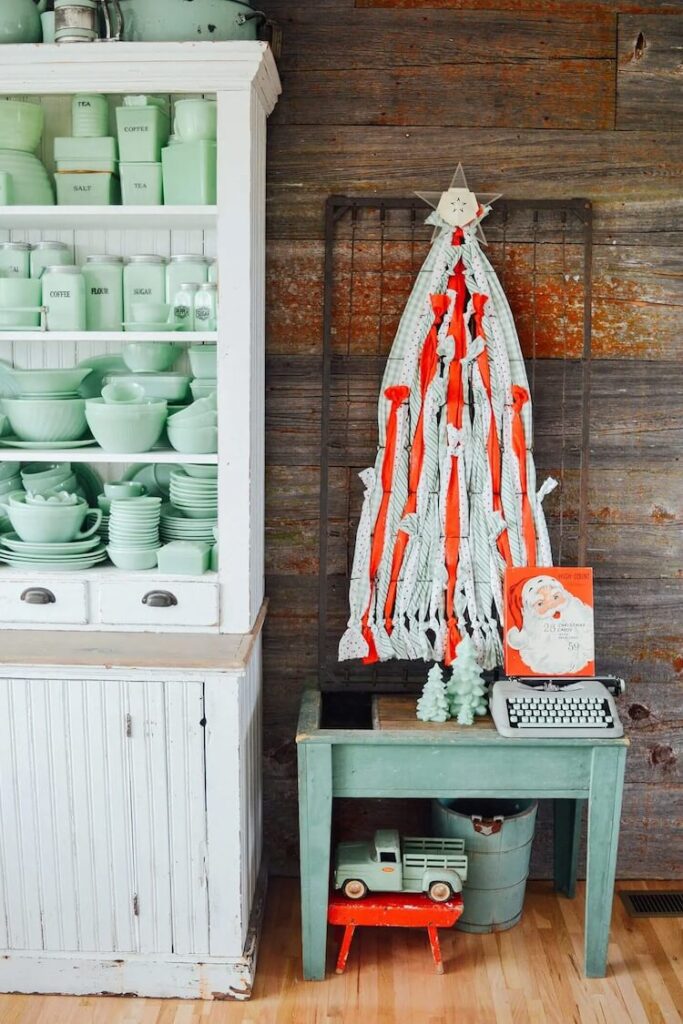 Give your home a handmade and vintage touch using fabric scraps and retro colors of turquoise and orangey reds. For instructions, see Courtney Vettel's step-by-step instructions here.
Peace on Earth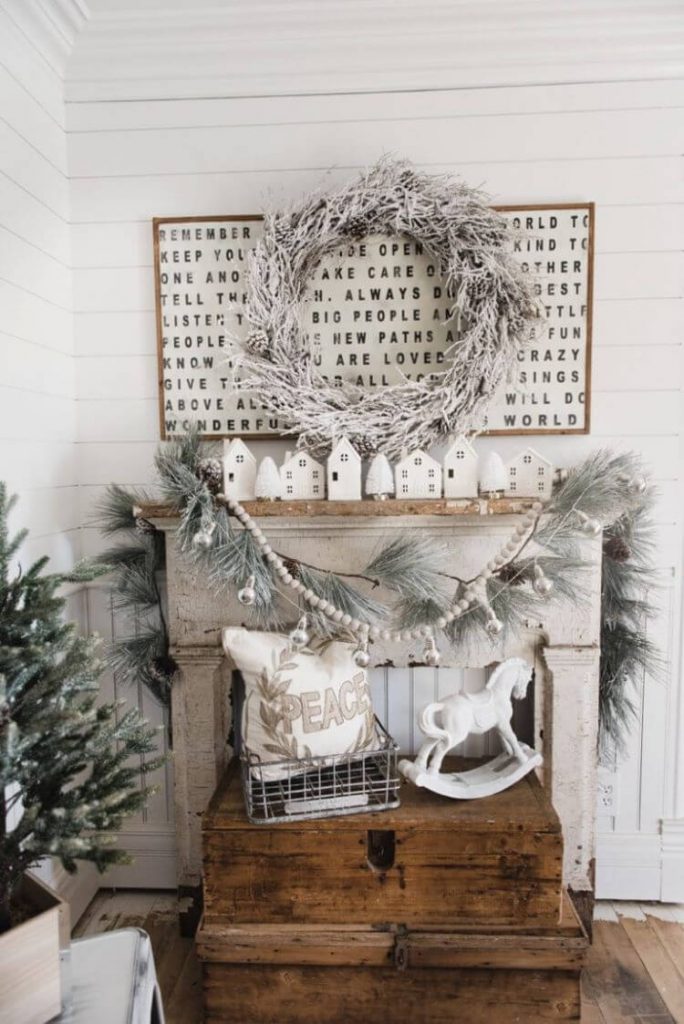 This space has an heirloom quality to it, what with the interesting hope chest before the mantelpiece. White, green, brown and grey add to the peaceful scene of quiet mini homes waiting for Santa's visit.
A Vintage Christmas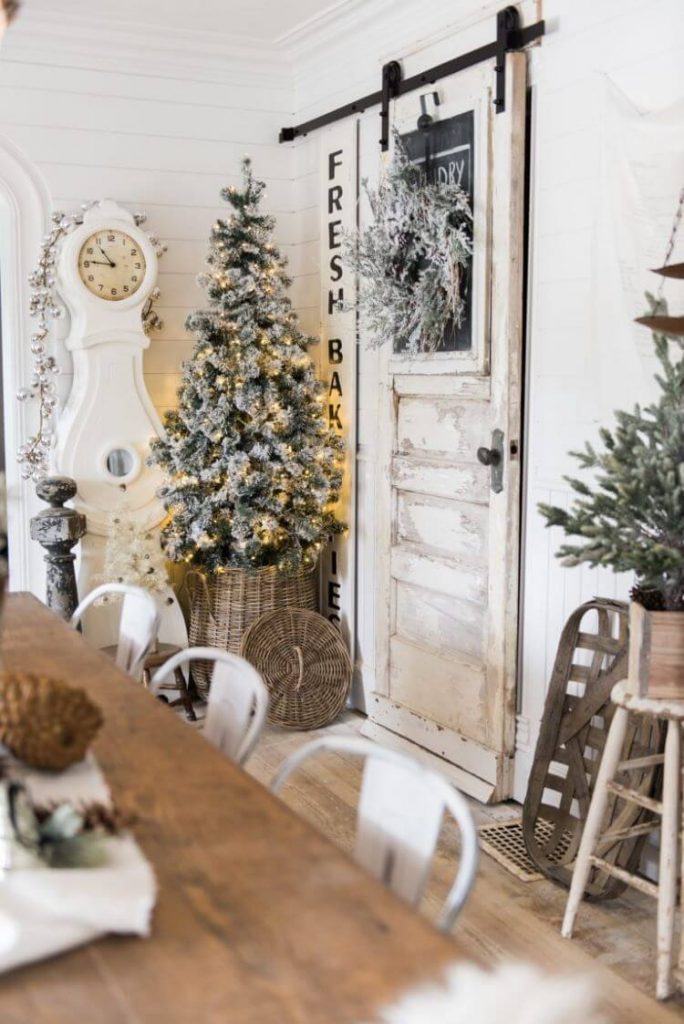 What a treasure trove of farmhouse motifs! Wicker baskets, chippy wood and chalkboard complete this vintage vignette.
Red, White, Green and Natural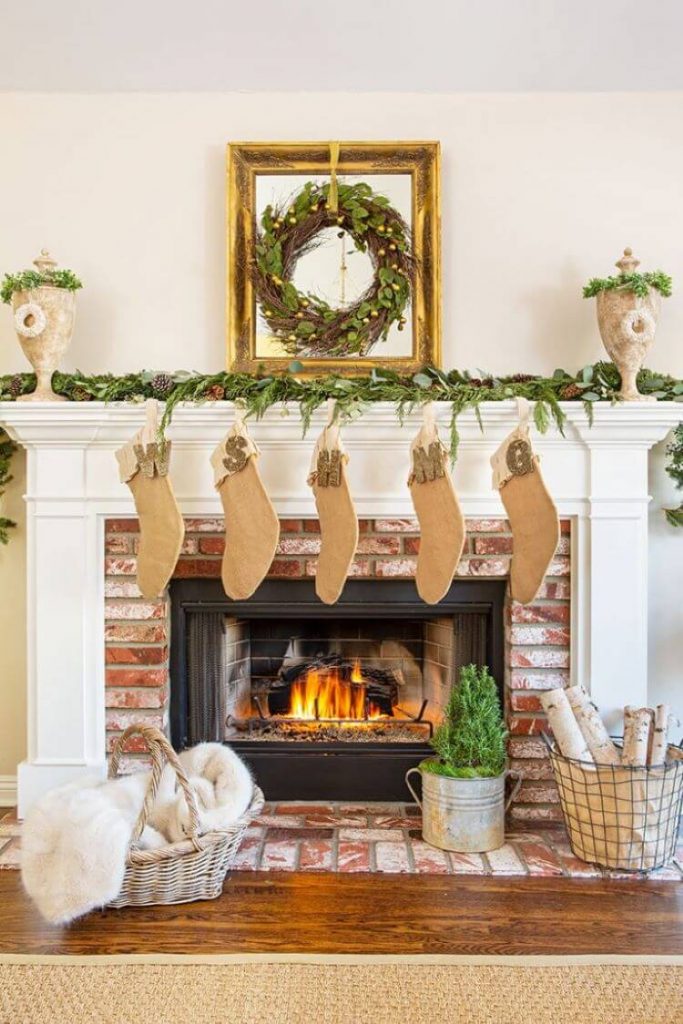 This fireplace embraces the return to nature celebrated in farmhouse style. Stockings are hung with care but are made of natural fibers offset by greenery and the pop of gold in the vintage mirror above. The red brick and white paint complete the grouping of classic Christmas colors.
Wooded Elegance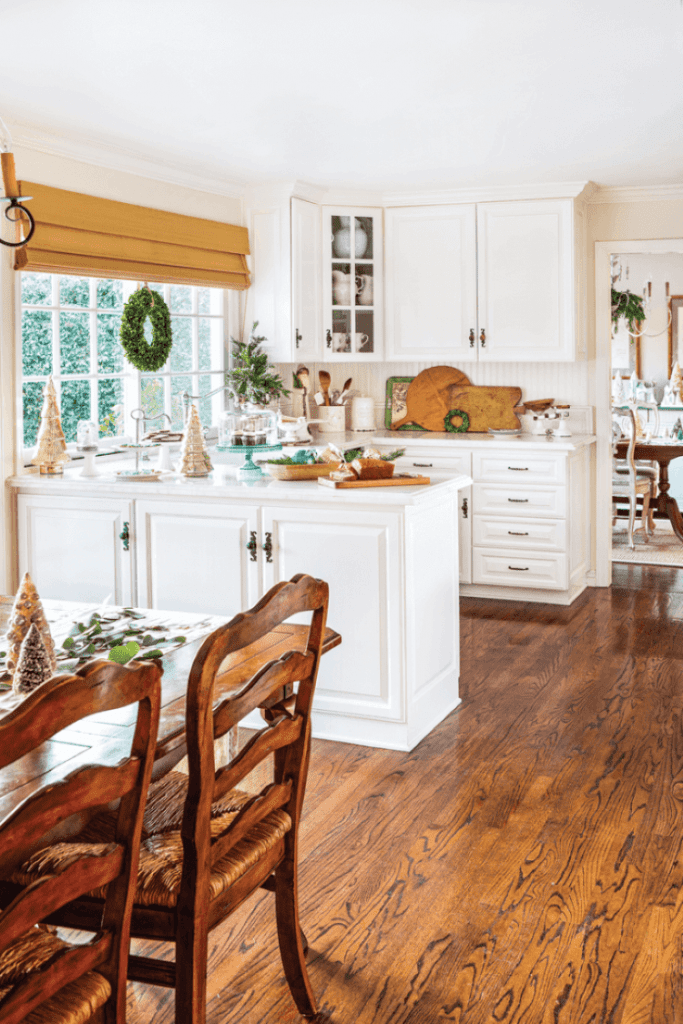 A single wreath tied to the window, along with tiny tree figurines here and there, elevates this kitchen to a festive farmhouse, while the ample wood is reminiscent of a rustic Christmas lodge.
Jingle Bells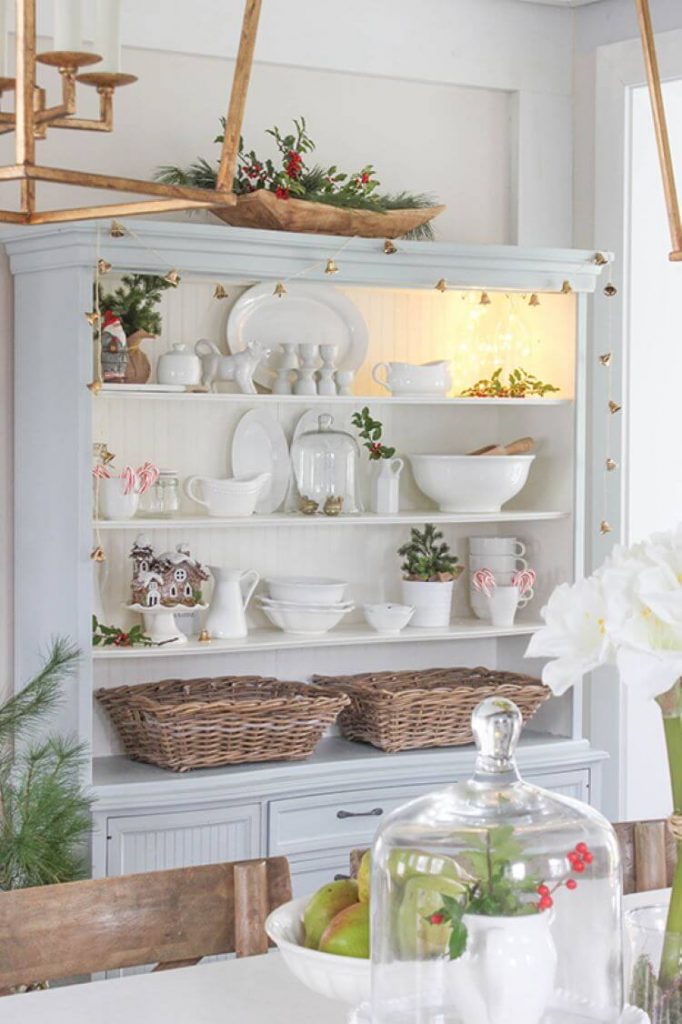 Tiny gold bells are hung with care in this farmhouse dinning room, the perfect space to ring in Christmas morning! The distinctive assortment of white dishware adds charming space for the spots of green and bundles of traditional Christmas candy canes!
Joy to the World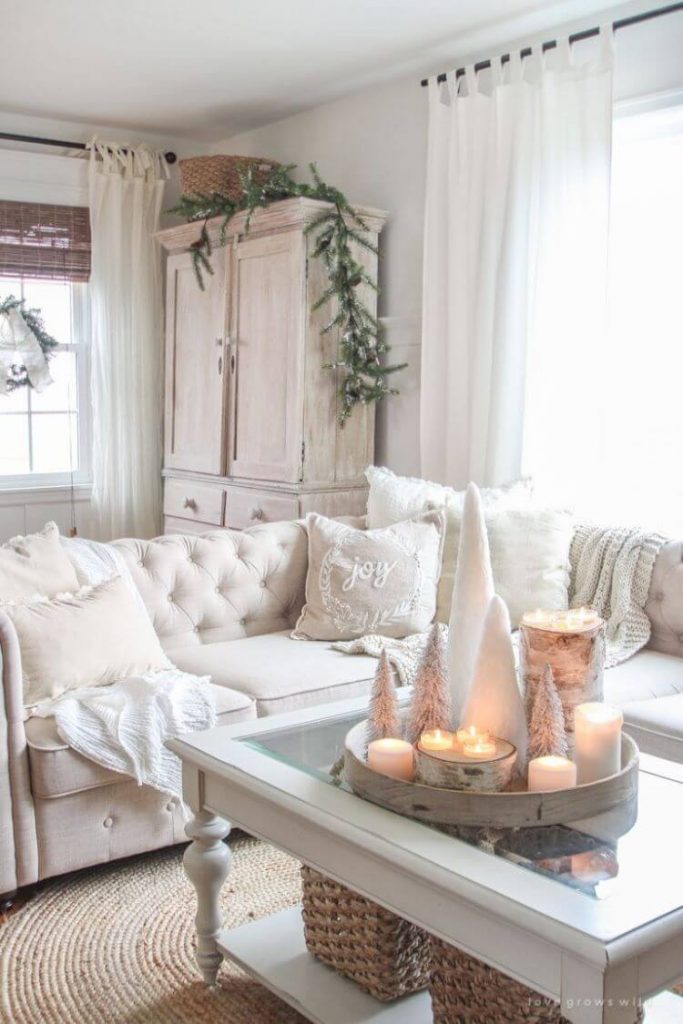 Were it not for the green wreath and tree figures, this space's décor could work year round. Simple additions such as these add Christmas charm without breaking the bank.
All is Calm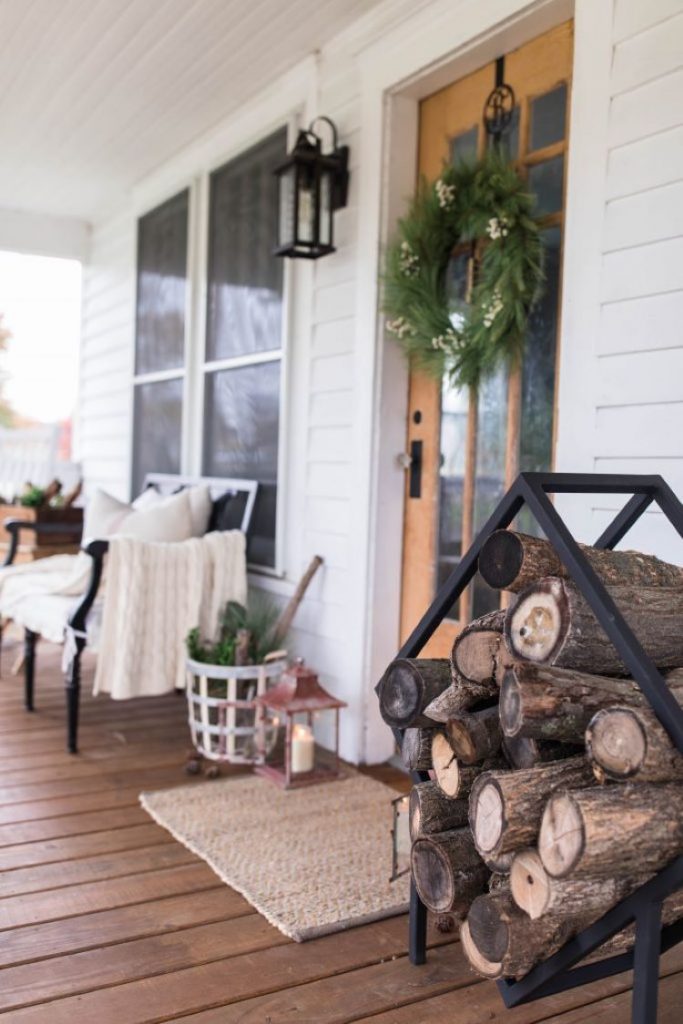 This porch benefits from two or three festive pieces. Check out the red lantern, cozy throw blanket and simple wreath. Small details like these go a long way in setting visitors up for the farmhouse splendor inside.
---
Debating over whether to buy a faux Christmas tree? Check out the pros and cons of buying a real or fake Christmas tree. Of course, don't forget to follow us on Instagram, Facebook and Pinterest for your daily dose of farmhouse inspiration!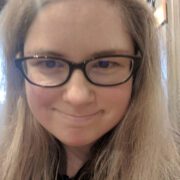 Michelle Mastro
Michelle Mastro is a freelance writer and editor. She covers lifestyle, parenting, travel, food, and health/wellness topics for magazines (and their websites). She especially loves writing about homes and has a deep affection for farmhouses of all kinds. She is currently based in the Midwest but loves to travel as much as she can. You can follow her on Twitter, LinkedIn, and Instagram.